Lviv-style Ukrainian cuisine is a blend of tradition and unique flavors, a path to satisfaction for true food enthusiasts.
Experience the culinary magic of the city and visit restaurants, cafes, and traditional establishments that offer hospitality and an unmatched taste experience. Here, you can indulge in authentic Ukrainian dishes, with special attention given to borsch.
Borsch is a unique dish of Ukrainian cuisine, its gastronomic signature. There are various ways to prepare it: with meat or vegetarian, with beans and cabbage, with smoked plums or mushrooms, red with beets or green with sorrel... The recipes may vary, but what unites them is the preservation of gastronomic traditions. Ukrainian borsch has even been included in UNESCO's list of intangible cultural heritage.
Where to taste borsch in Lviv?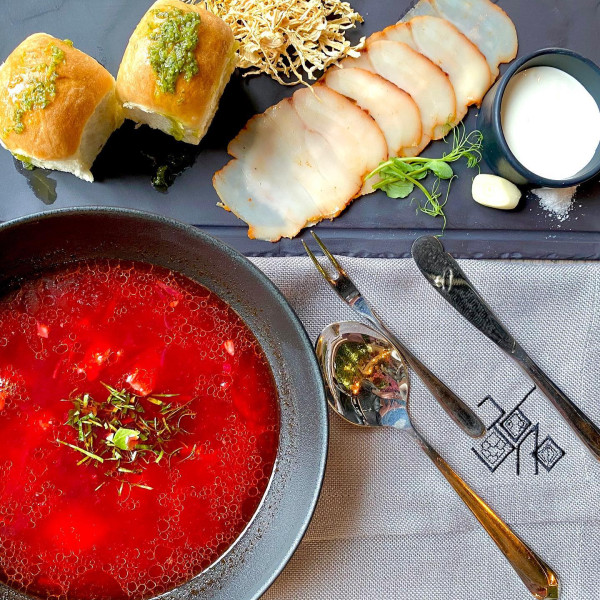 36 Rynok Square
Monday - Thursday: 8 AM - 23 PM
Friday - Sunday: 8 AM - 12 AM
"36Po" is a restaurant in the city center where you can enjoy delicious Ukrainian cuisine. Here, borsch is cooked with rosehip broth and served with bacon, garlic doughnuts and herbs. As a complement to a delicious lunch, we recommend ordering traditional dumplings (varenyky) with potatoes and mushrooms or try it with pike or rabbit filling.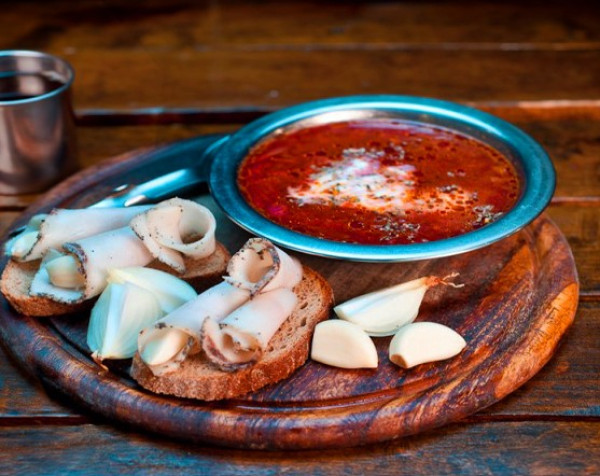 14 Rynok Square
Monday - Friday: 11 AM - 10:45 PM
Saturday, Sunday: 10 AM - 10:45 PM
A legendary place in Lviv with a unique interior and flavor, stylized as a partisan hideout. Here you have the opportunity to learn a brief history of the liberation struggle and taste a variety of Ukrainian cuisine. Be sure to try the red borsch, which has its own special history and recipe. We recommend ordering garlic donuts as an accompaniment to borsch - it's delicious!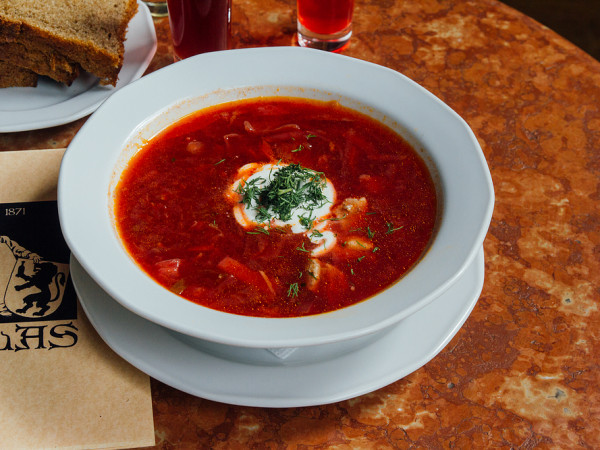 45 Rynok Square
9 AM - 11 PM
Walking along Rynok Square in the historic center of Lviv, visit the "Atlas" restaurant: stylized interior, delicious European and Ukrainian cuisine, breakfast menu and a wonderful summer terrace. We recommend visiting "Atlas" for lunch and ordering borsch, which is cooked with pork and served with sour cream and herbs. The menu offers a wide variety of dishes that will be the perfect addition to your meal.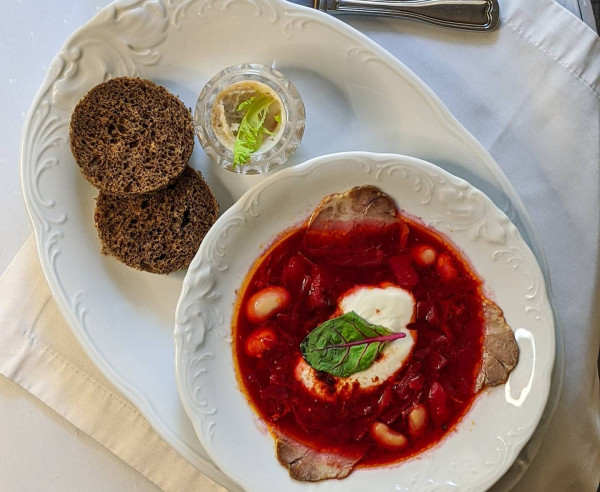 "Pidpilnyi Kindrat" ("Underground Kindrat")
25 Valova St.
10 AM - 10 PM
We recommend visiting the restaurant "Pidpilnyi Kindrat" ("Underground Kindrat") to try the delicious "Young Borshch", cooked with pork, young beets, carrots and potatoes. It is served with pies stuffed with potatoes and cabbage or with croutons and homemade lard. You can also try the "Green Borsch" made of young sorrel, potatoes, carrots, cooked with pork and served with eggs and sour cream. The restaurant "Underground Kindrat" is famous not only for its delicious Galician cuisine, but also for a wide selection of author's craft tinctures and balsams made from natural ingredients.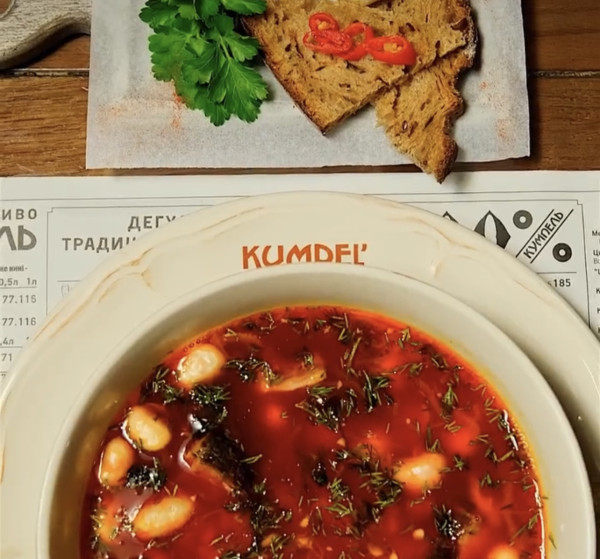 Kumpel Group
6 Vynnychenka St., Mytna Square: 10 AM - 9:30 PM
2b Chornovola Ave. 2b: 11AM - 10 PM
18 Rynok Square: 12 PM - 10 PM
Red borsch with pork rib, beans, smoked plum, cooked according to an ancient recipe, served with bacon, onions, sour cream and fragrant donuts, which are greased with garlic, or Galician drinking borsch with meat pancake - choose a restaurant from the Kumpel Group chain to taste delicious borsch in Lviv. The menu also offers tasting sets of liqueurs, beer, Lviv cuisine and even desserts, which gives you a great opportunity to get acquainted with the colorful Galician cuisine.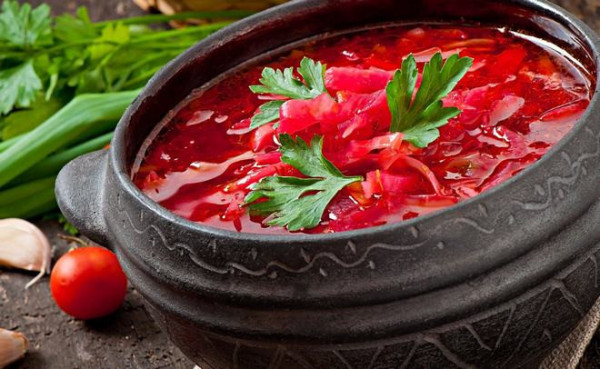 Restaurant "Krumpli"
38 Rynok Square
Monday - Thursday: 11 AM - 11 PM
Friday - Sunday: 11 AM - 12 AM
The Krumpli restaurant has a cozy interior with a transparent ceiling, delicious Galician cuisine, craft beer and branded liqueurs. It is worth coming here for traditional Ukrainian borsch, served with "Yavorivskyi pie" and sour cream. We also recommend trying "Golubtsi" (stuffed cabbage rolls) with grated potatoes and mushroom sauce. Another highlight on the menu is the "Borsch with Sourness cocktail", which is made with mashed beets.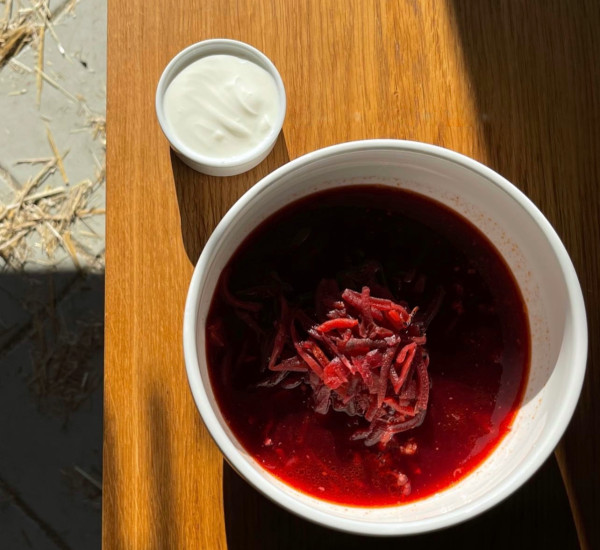 Bistro "Others" (Inshi)
2a Soborna Sq.
7 AM - 10 PM
"Others" is a restaurant in Lviv founded by the famous chef Yevhen Klopotenko and Inna Popereshniuk (co-founder of Nova Poshta). The menu is varied and often updated, but there is one thing that is unchanged - Ukrainian borsch. Here it is prepared with plum jam and smoked sour cream. You can order a classic version with meat or a lean one. Also, in the Other restaurant, you should try an original green borsch.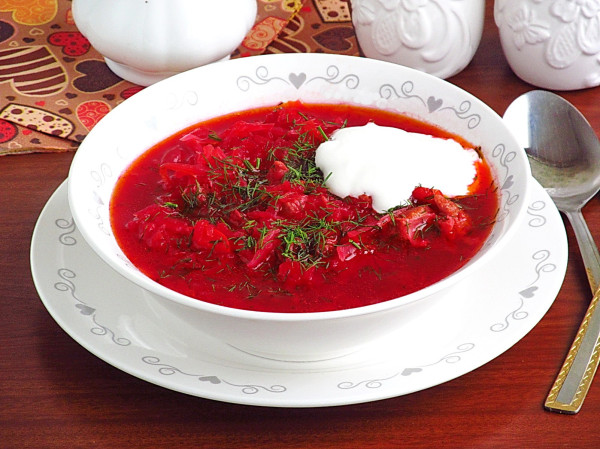 Warm piets (Teplyi piets)
50 Staroyevreiska St.
10 AM - 9:30 PM
What could be more delicious than borsch made from warm piets ( special stove)? Here you will taste it in a special way. Complement your lunch with traditional dumplings (varenyky) or try potato pancakes (deruny). "Teplyi piets" is a unique and original interior with a collection of pietses (an old Lviv stove), where you can enjoy delicious breakfasts, hearty lunches and a cup of aromatic Lviv coffee.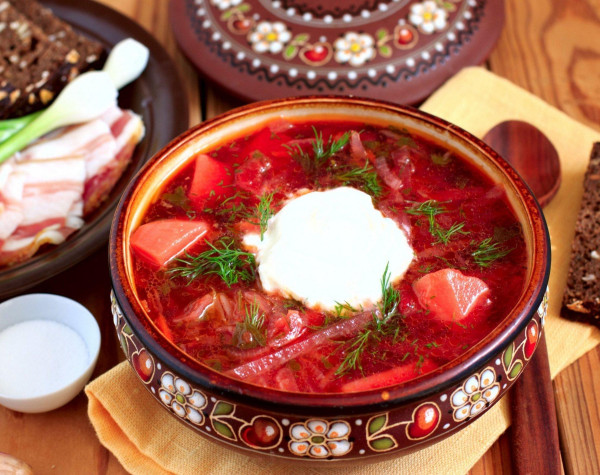 Refectory of ideas (Trapezna Idei)
18a Valova St.
Monday - Thursday: 11AM - 9 PM
Friday - Sunday: 11 AM - 10 PM
"Trapezna Idei" is a restaurant of Galician cuisine in the center of ancient Lviv. The menu offers several variants of borsch: "Bo borsch" (rich borsch); "Mo borsch" (monastery borsch) with meat, cream, sour cream and garlic; and even green borsch - you will find it on the menu under the name "the borsch". The restaurant has loyal prices, a pleasant atmosphere and delicious cuisine.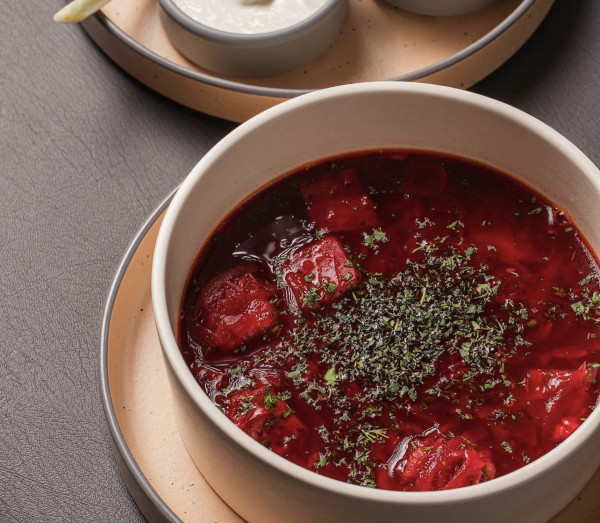 Zashkvarka
2 Pekarska str.
11 AM - 9 PM
"Zashkvarka" specializes in Ukrainian cuisine. Here they cook borsch in meat broth, serve it with freshly baked brioche, lard, bacon and sour cream. In addition, we recommend ordering "vushka" or "varenyky" - they are prepared with a variety of fillings: from classic potato and cheese to sweet halva.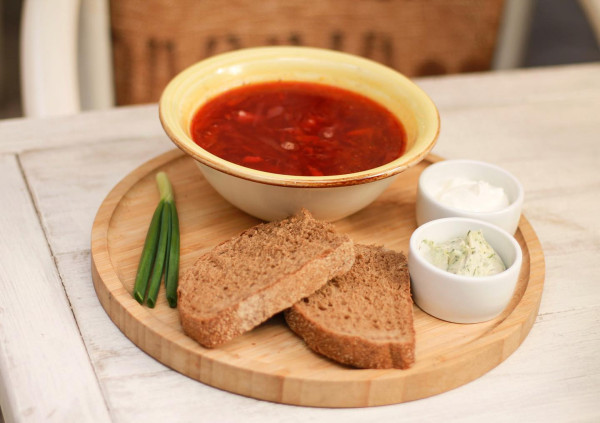 MEDIVNIA
17 Krakivska St.
6 AM - 12 AM
"Medivnia" is a Ukrainian cuisine restaurant where you can taste real traditional borsch and many other dishes, order wine or medovuha (honey liqueur) tasting. There is also a very cozy courtyard where you can not only enjoy Ukrainian cuisine, but also visit live music evenings in a pleasant atmosphere. You can come to the restaurant with your pet, as it is pet-friendly.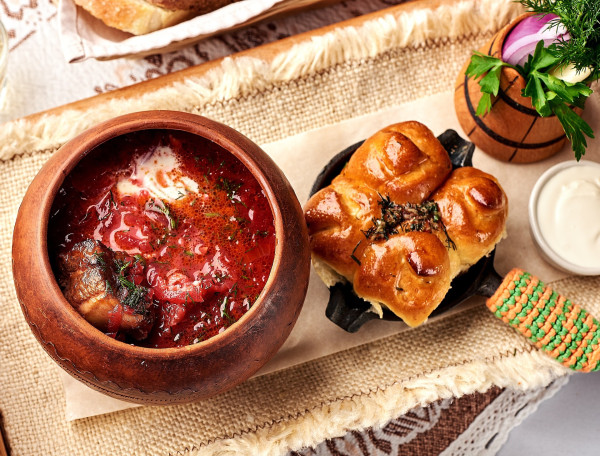 Restaurant "Hungry Nicholas" (Holodnyi Mykola)
352, Stryiska St.
Monday - Friday: 11 AM - 10 PM
Saturday - Sunday: 11 AM - 10:30 PM
"Hungry Mykola" (Holodnyi Mykola) is the world's largest Galician restaurant with its own bakery, brewery, spacious territory and playground. It is a great location for family dinners, celebrations of important events, and cozy evenings. It's worth visiting for the delicious borsch from a special oven, served with flavorful freshly baked donuts, sour cream and onions.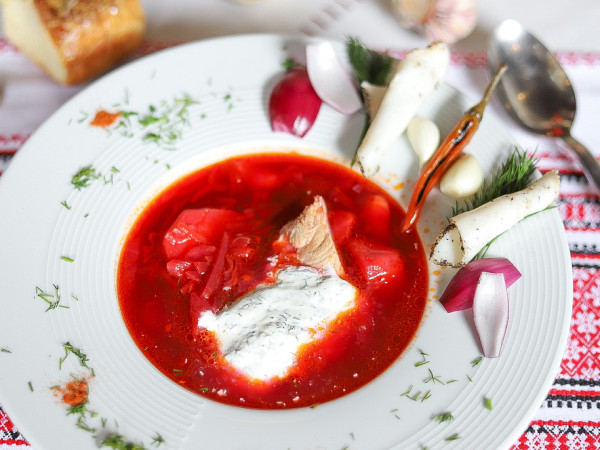 Restaurant-museum "Seven pigs"
9 S. Bandera St.
11 AM - 10 PM
Convenient location in the city center, colorful Ukrainian-style interior, traditional national dishes - this is all about the Seven Little Pigs restaurant-museum. Come here to taste authentic Ukrainian borsch, which is prepared according to ancient recipes.
Experience the authentic taste of Galician delicacies prepared with love and care. The combination of fresh ingredients, traditional recipes, and a special harmonious blend of flavors creates an unparalleled gastronomic journey.
Lviv's Ukrainian cuisine is a path to true satisfaction. Join us in Lviv and indulge in this unbeatable culinary adventure!
Enjoy your meal!