Tourism as a phenomenon and an industry can be combined with a snowball that rushes from a mountain and gradually turns into an unrestrained avalanche. Indeed, tourism is one of the fastest growing sectors of the economy, attractions for spending time and even people's lifestyles. Gradually, the poorest third world countries and totalitarian regimes opened their doors to the thirsty for tourists, and one of the models of attractiveness of the country was its level of tourism, because it is unrealistic to ignore such a powerful engine of economy and prosperity. New forms and types of tourism are constantly appearing: fans visit the places of youth of their idols, gourmands travel in search of new tastes, extremists go to the end of the world for new impressions. Medical tourism, shopping tourism, sex tourism, festival tourism, cinema tourism, industrial tourism and dozens of other types and types of tourism have emerged.
Beer tourism is a type of gastronomic tourism, connected with history, technology of production and culture of beer consumption, purchase and consumption of beer, its tasting directly from the producers.
Beer tourism is a type of travel where beer is a motivating factor for a trip. Of course, this tourism is often combined with other types of tourism: arriving in Lviv, the tourist will not go only to pubs - he will be interested in the traditions, cuisine, history of the country and the cities in which he first visited. However, it is about an app that aims to simplify the search and choice of beer lover, whether it is a tourist or a local fan of the brewery we would like to tell you today: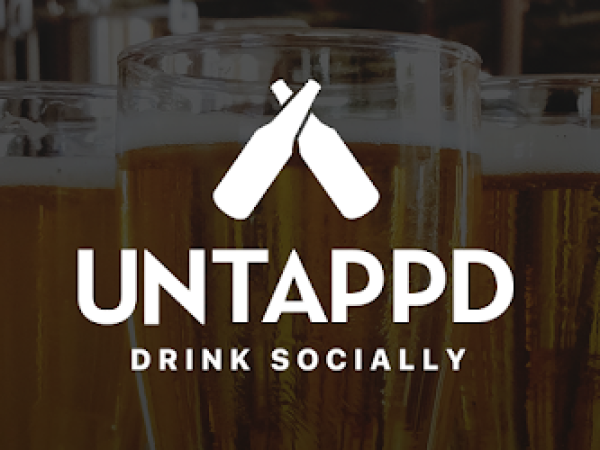 Untappd is a social network with geo-positioning, designed primarily for beer lovers and contains the largest database of beers, breweries, beer shops and pubs in the world. Untappd was created in 2010 by two beer lovers: designer Tim Mather of Southern California and web developer Greg Evola of New York.
On January 17, 2014 the number of Untappd users reached 1 million, and in April 2016 their number reached 3 million 200 thousand.
Shortly before that, in January 2016, Untappd became part of the Next Glass project, which specializes in mobile applications with similar functionality, focused on alcoholic beverages in general. As of October 2018, the total number of users exceeds 6 million.
The main features and benefits of Untappd: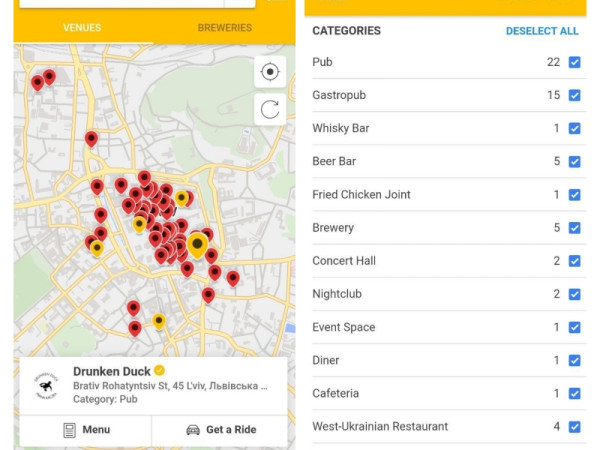 1.Map of pubs and breweries
Beer lovers who come to Lviv will definitely want to visit local pubs. The Untappd app provides a pub map and a list of all the beers sold in these pubs. Also a brief description of the pub, addresses, hours to do and phone numbers. So no need to look long - every self-respecting pub or restaurant has long taken care of being listed in the application database and is sure to be highlighted on the map. The tourist will also be able to sort the desired establishments by type - whether they need a pub, a restaurant, a nightclub or a brewery to immediately throw away the unnecessary options.
Also, after the "check in" in the institution, it will be marked with a separate color, which will either quickly find it again, or know where to go a second time is not worth it.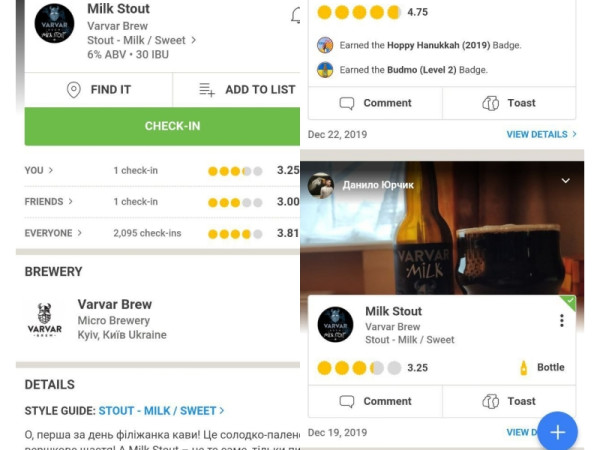 2. Ratings and reviews
One of the main specialityof the application - ratings. Every visitor can post their own beer review. Rate it, add your own photos, add a location, specify what the beer was brewed with, how and where it was purchased - whether it is an online store, pub, or specialty establishment or supermarket. Based on this rating, it will be much easier for tourists to understand which beer to sidestep and which to look for.
Equally important will be the number of "check ins" of a particular establishment or brew - the connoisseur will of course choose which of the reviews will be the best.
In addition, according to many bartenders, tourists come to Ukraine in search of a particular type or brand of beer, which they read on the Internet, received advice from friends, or just interested in the unusual taste, labels, bottles - the application helps in searches for it and picks the beer for maximum likeness.
3. Social network
Untappd's main slogan is Drink Socially. The developers themselves remind us that we are constantly sharing facts from our lives, whether it be Facebook, Instagram, or Twitter. We often learn about new drinks and locations not through advertising, but from acquaintances of relatives or friends, but not everyone wants to clutter their pages on social media with beer varieties, craft breweries or pub descriptions, so Untappd helps to share all this information with loved ones.
Finding other connoisseurs, making friends and even friends with them, and keeping track of their activity - this adds liveliness to the app and opens up new opportunities for communication. Here you can share photos and "toast" friends and comment on the "check in" of other people.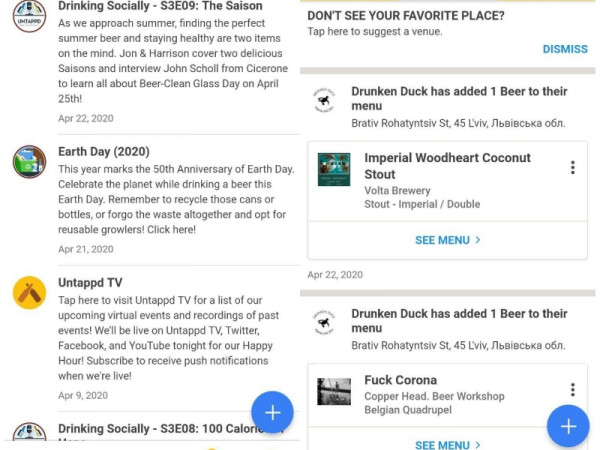 4.Event-relevance
The app notifies about all beer events in the world and in selected locations, as well as all the arrivals of beer novelties to your favorite pubs. For example, in the Drunken Duck pub, after a check, the visitor profile will appear on the big screen with a list of beers available at the establishment.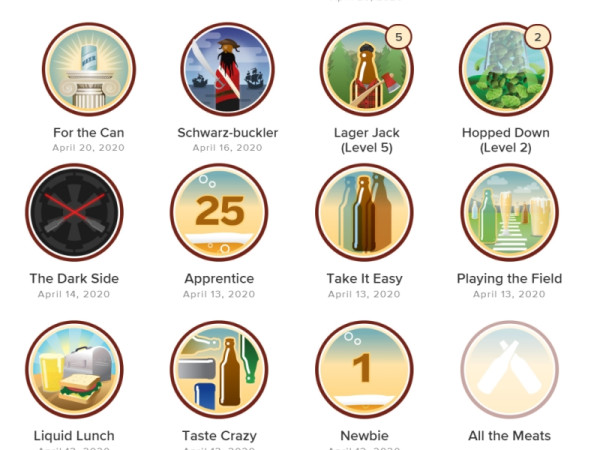 5. Badges and achievements
The system of achievements and badges-emblem that can be obtained for all possible actions (First beer, tenth beer, honey beer, first ale, tenth ale hundredth ale, ten varieties, ten breweries, ten pubs, drink beer in another country, drink beer at home , beer drunk at the hotel, beer bought online, ten drinks drunk online, beer brewed within a 35 km radius of the location, beer drunk on the birthday - thousands of achievements !!), made the application look like a cult RPG game and gave birth to a new look tourists exploring new countries in search of new beer and new e blem for your profile.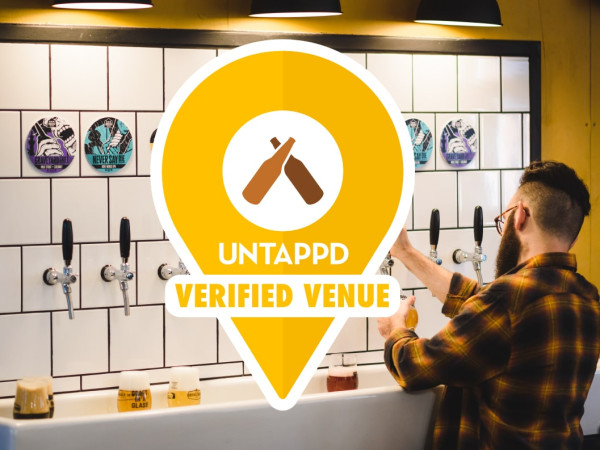 6. Beer quality
There is a rigid quality system at Untappd that ticks off all non-beer products, considering the following factors:
how the drink was created;
what made the drink wander;
how is the drink different in other countries.
Here it is almost impossible to find powdered artificial drink, low-grade cheap imitation beer, cider or a low-alcohol product.
In addition - the main indicator of the quality of beer is the users of the application - a sign of cheap artificial drink will be low ratings and photos of the drink that is poured into the sink.
7. No adds
The app was developed by beer enthusiasts with pure enthusiasm and initially did not bring any revenue to its developers. There is no artificial twist to beer monopolies here, and in the top ahs take the first place breweries, which really produce delicious and quality beer, but not paid for advertising. In addition, there is no compelling advertising for other apps and products here, which is definitely a big plus. The only internal marketing move is the ability to call an Uber taxi service right from the app, which can definitely be considered a plus, not a minus.
Untappd does not promote alcoholism. This social network was created to spread and develop beer culture and beer tourism. The goal is to bring together beer and gourmet beer fans and show that beer is not a cheap low-grade drink for parties, but a true work of art.