Lviv is well-known to many as the coffee capital of Ukraine, as it is not only about the drink itself. It's about holding coffee festivals, thematic coffee shops, special recipes for making coffee, unique culture, and traditions of consuming this beverage. Today, we present you a selection of the most interesting conceptual establishments where you can enjoy a cup of fragrant coffee and immerse yourself in the special atmosphere of Lviv.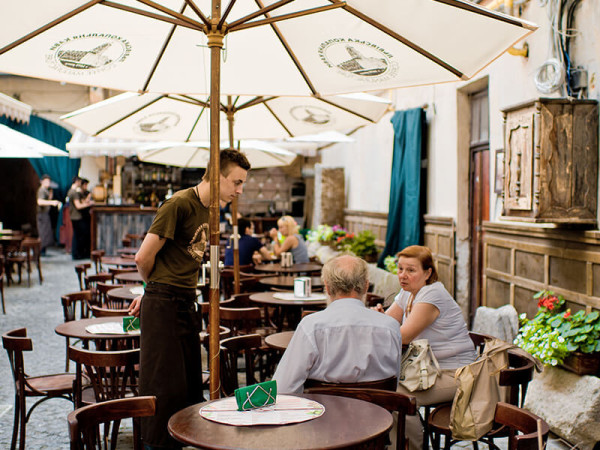 10, Rynok sq.
It is the only coffee mine in the world where coffee beans are extracted. Above the entrance to the establishment, you will see the inscription: "Here was born Lviv coffee." After visiting the coffee shop, you will be convinced that this is indeed the case. The basis of the cafe's concept is coffee in Lviv as a valuable mineral that is extracted, just like coal or peat. Here, they roast coffee beans and prepare over 30 types of coffee drinks, as well as very tasty desserts and cocktails. The establishment consists of several thematic zones. For example, a cozy area under a glass ceiling, where various events, poetic and musical evenings, are often held. Or go down to the underground, where they will prepare the signature sealed coffee for you. In the cafe shop, you can buy coffee to your taste, various cups and coffee pots, alcoholic infusions, original Lviv souvenirs, and delicacies.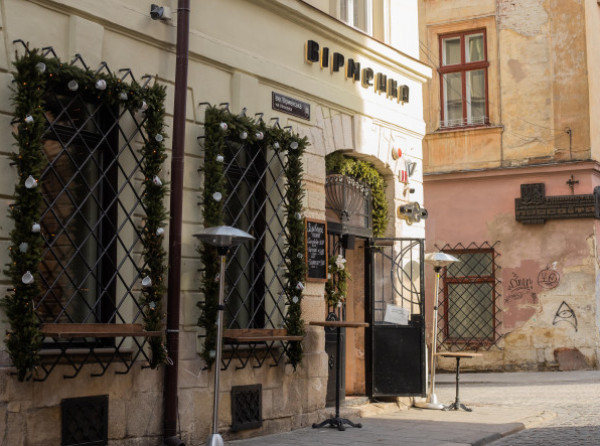 19, Virmenska st.
Iconic coffee shop in the historical part of the city, which opened its doors in 1979 and has not lost its popularity and relevance to this day. Until the 1990s, it was a meeting place for active and unconventional youth, Lviv hippies, historians, poets, artists, musicians, and other creative personalities. Once there were only seven tables in the establishment, and the queue for coffee stretched all the way out to the street. To this day, the tradition of brewing coffee in an eastern style - in a serve and on hot sand - has been preserved in "Virmenka". The cozy interior of the coffee shop is adorned with numerous old photos of the establishment and its visitors, which preserve its history and memories. As they say in Lviv, "coffee goes with coffee": Lviv syrnyky and pancakes are the perfect desserts, and there are also homemade liqueurs and spirits available.
8, Kotliarska st.
Over 100 years ago, there was already a café with this name in Lviv, but it was located at a different address. In Polish, the word "sztuka" means "art". The walls of the establishment were adorned with paintings by well-known artists of that time. The modern café-gallery "Sztuka" opened its doors in April 2009. The atmosphere of the place takes you back to the times of Austro-Hungarian Lviv, which had its own unique character and style. Lviv restorers worked on the café's design, restoring the inscriptions that were located on the facade of the building, as well as stencil paintings on the ceilings from the beginning of the 20th century. Nowadays, the café often hosts various exhibitions of paintings and photographs, lectures, book presentations, and piano music evenings. We recommend stopping by for a cup of aromatic coffee and some tasty treats such as apple pie, meringue roll, pear soufflé, cheesecake, and many other delicacies that will not leave you indifferent.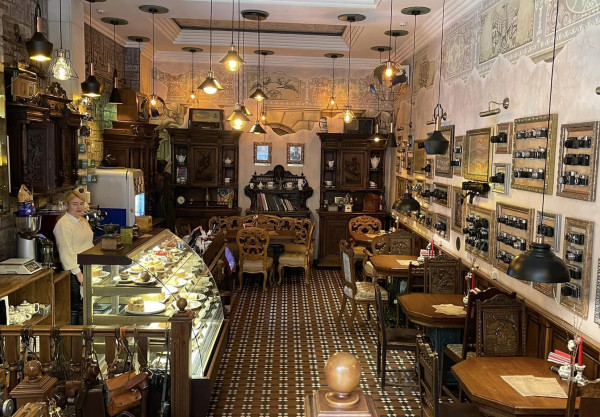 6, Kniazia Romana st.
"Fixage" is a unique café-museum of cinema and photo equipment. The owner of the establishment is a collector of vintage cameras and photo equipment, which is why you will have a wonderful opportunity to see a significant collection of retro photo equipment that has been formed for over forty years: antique reflex cameras, photo equipment and cameras. The total number of exhibits today is over 2000 units. The original designer interior is made in an antique vintage style: pastel shades, carved antique furniture made of dark wood; even dishes and small decor details completely emphasize the theme of the establishment. The menu offers popular European sweets and fresh pastries: cakes, pastries, strudels. The drink menu offers a variety of coffee options and rare tea varieties. In addition to the museum exhibits of photo equipment, there is an exhibition area available in the establishment. In the café, you can not only enjoy a cup of coffee, but also take a educational tour and learn a lot of interesting things about the world of photography.
1, Rynok sq.
The "Grand Cafe Leopolis" located in the heart of Lviv, in the building where Lviv City Hall is situated. In the interior of the cafe, you have the opportunity to admire a collection of around 700 unique photographs, which showcase interesting historical events of Lviv. As for the menu, the variety of options allows every guest to find something to their taste: original breakfast/lunch/dinner towers, the legendary Lviv syrnyk, honey cake and andrut, creatively presented cocktails, freshly baked pastries, very chocolatey placok, and even sugar-free dessert. And of course, coffee is a must-try here, with a huge selection even for the most demanding coffee lover: from classic coffee to lavender coffee, coffee with added orange syrup or jam made from pine cones. We recommend trying the "Leopolis" coffee, which is Lviv's own coffee brewed on sand with rose water and infused with rose petal jam.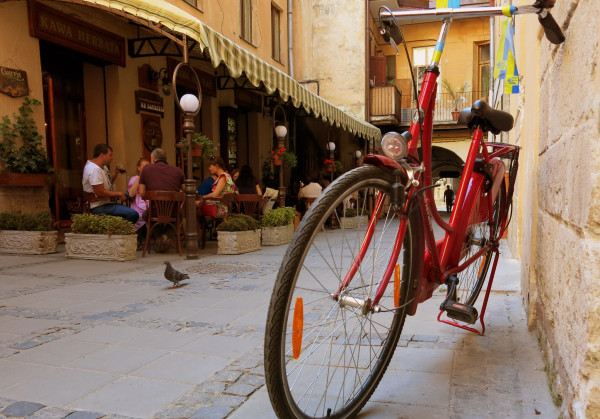 4, Ruska st.
The first coffeehouse in Eastern Europe was actually called so and was opened by Yuriy Kulchytsky in Vienna back in 1683. The iconic Lviv coffeehouse "Under the Blue Bottle" is located in a cozy courtyard of an ancient building on Ruska Street in the historic center of Lviv. The interior design deserves special attention, as it allows you to immerse yourself in the past centuries of "Austrian grandmother" and feel like a coffee lover in an old city. The extensive coffee menu includes the signature flaming coffee, which is served with rum (or cognac upon choice), cinnamon, and citrus. You can also order "Viennese-style" coffee, "Polish-style" coffee, chocolate, or coffee with pistachio liqueur. In addition, the cafe offers exclusive varieties of tea, fresh and milk cocktails. The menu includes original dishes of Ukrainian and European cuisine. You can come to the cafe for a cup of coffee and dessert, or for the signature fondue with a glass of fine wine.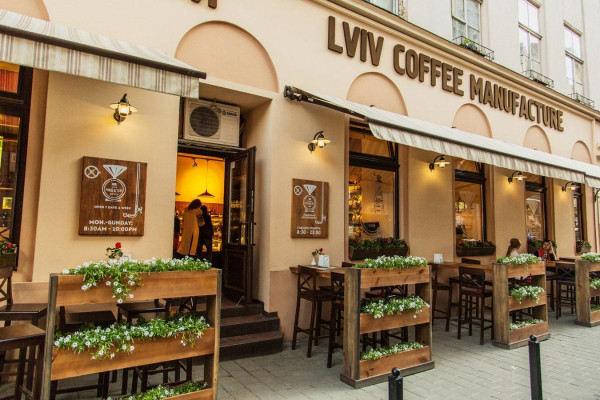 Na bambetli
29, Rynok sq.
The coffee shop is located in Andreolli Passage - precisely in this courtyard, where the first candy store appeared in Lviv, owned by Dominik Andriyivskyi, hence the passage's name. You will find a very cozy and atmospheric coffee shop called "Na Bambetli". One of the highlights of the place is the favorite sitting windowsills, where many guests can sit, enjoy delicious strudel and relax from the noise of central streets and squares. In the coffee shop interior, you will see the bambehtli itself - a bench-bed that was once used for sleeping and a chest for storing things. The atmosphere is cozy, and pleasant music plays in the background. Looking at the menu, your eyes will be dazzled by the quantity and variety: eastern-style coffee, on bambehtli (with honey and lemon), rose latte, Jamaican coffee (with rum and condensed milk), green fairy (coffee with absinthe), Africa (with added cocoa and vanilla), and many more interesting options. In "Na Bambehtli" coffee shop, you will enjoy fresh baked goods, especially the traditional Galician cheesecake, served with hot chocolate or salty caramel.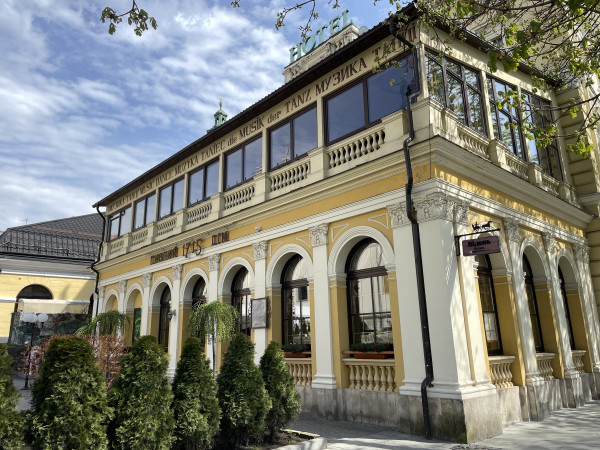 The Lviv Coffee Manufacture
2a, Soborna sq.
16, Valova st.
"The Lviv Coffee Manufacture" is a chain of coffee shops in the city of Lviv, offering a wide range of coffee beverages made from carefully selected freshly roasted and ground coffee beans. Additionally, in the coffee shop stores, you have the opportunity to purchase coffee pots, coffee grinders, and other devices for preparing coffee at home. They also have a wide selection of coffee beans and blends available. Along with coffee, the menu features cocoa with marshmallows, milkshakes, fragrant teas, and coffee cocktails. You can also order breakfast or lunch by choosing your favorite dishes from the menu. We recommend trying their homemade cheesecakes with salted caramel. As for desserts, they have croissants, brownies, cheesecake, boombits...and many other various delicacies that you would love to taste alongside a cup of aromatic coffee.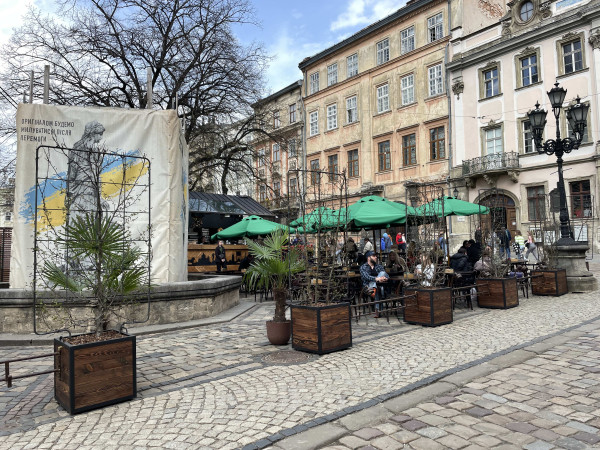 Viennese Coffeehouse
12, Svobody pr.
"Viennese Coffeehouse" is one of the oldest Lviv coffee shops, which started its work back in 1829 and is considered the oldest in Lviv. At one time, "Viennese" was visited by famous Lviv residents such as Mykhailo Hrushevskyi, General Tarnavskyi, Stanislav Lyudkevych, Volodymyr Hnatiuk, and Ivan Franko. The modern history of the "Viennese Coffeehouse" began in 1998, when the renovated main hall was opened. In the same year, a sculpture of the brave soldier Josef Schweik, whose adventures were described by Jaroslav Hasek, was installed near the coffee shop. In this historic coffeehouse, located in the heart of Lviv, coffee tastes especially good. The menu consists of international dishes. "Viennese Coffeehouse" is not only suitable for a coffee date, but you can also order complex breakfasts, business lunches, and have dinner in a sophisticated atmosphere.