When you traveling to Lviv, one thing you absolutely must do is enjoy Lviv coffee with syrniki or chocolate. But it's not just about the sweetness. Today, we offer you a selection of places where you can savor meat dishes in Lviv: establishments with a unique concept, unconventional presentation, menu highlights, and traditional dishes, and more. Here you will find plenty of useful information. So, make use of our gastronomic guide and enjoy your meal!
TOP 12 restaurants where you can savor the most delicious meat in Lviv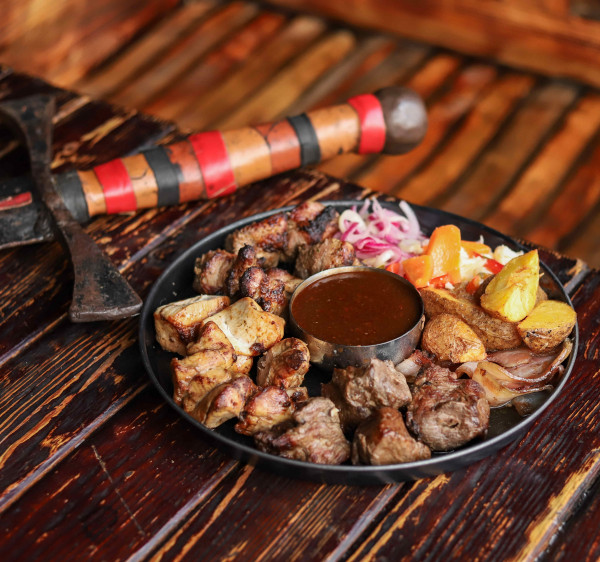 Meat and justice restaurant
Mon-Thu: 12:00 PM - 11:00 PM
Fri-Sun: 11:00 AM - 11:00 PM
If you're a fan of meat dishes, this place is definitely for you! And who understands meat better than an executioner? In Lviv, once upon a time, the person in this position not only dealt with justice and punishment but also ensured cleanliness and order in the city. This establishment is conceptual, where you will be greeted by a hospitable Lviv executioner, and you can even find yourself in the debtor's cage or Moses's chair. Choose a table inside the restaurant or on the cozy outdoor patio. Most dishes are prepared on the grill or in a hearth. The menu primarily focuses on meat dishes: steaks, shish kebabs, sausages, minced beef, ribs, goulash, glazed duck leg, and the house specialty, 'Justice.' In addition, they offer a variety of appetizers, soups, salads, fish, and baked vegetables. Meat dishes pair perfectly with fire-roasted potatoes or baked potatoes with bacon and garlic, pickled vegetables, or grilled vegetables. You can also come here for a meat tasting experience called 'Everything About Shish Kebab,' which includes a chef's special menu, and a sommelier will select a beverage to complement the flavors. Stay tuned for updates from the establishment so you don't miss out on any gastronomic events and have a delicious and interesting time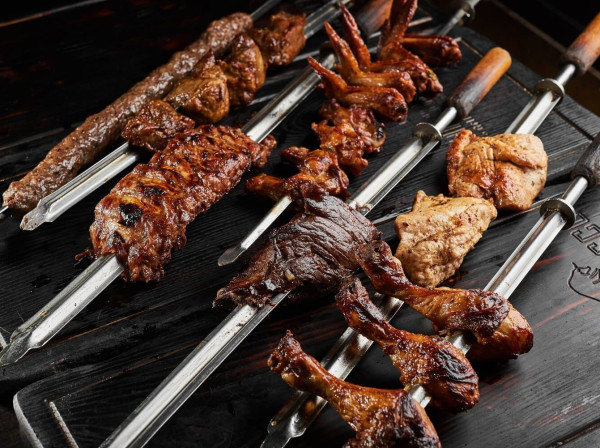 Churasco Grill & Beer
11:00 AM - 11:00 PM
Churasco Grill & Beer offers a variety of company platters, grilled meats, shish kebabs, ribs, lyulya-kebab, chicken wings, bigos with ribs, grilled vegetables, and many more meat options on the menu. Come to 'Churasco Grill & Beer' and taste for yourself. The highlight of this establishment is the unlimited meat, served directly from the grill and sliced off skewers. For more details about this offer, your waiter will be happy to explain. We also recommend trying grilled vegetables alongside your meat or ordering the signature pineapple chili with churasco sauce - sprinkled with hot pepper and sweet paprika, baked on the grill. Have you tried it yet? If not, it's a must-try.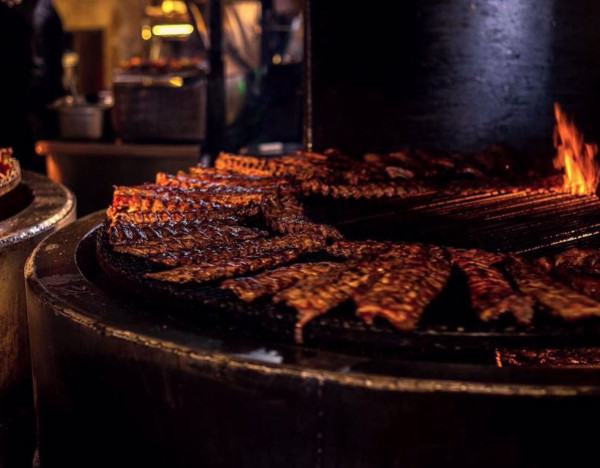 Rebernia
5 Pidvalna St, 11:00 AM - 11:00 PM
24-26 Staroznesenska St, 12:00 PM - 10:30 PM
202 Stryiska St, 12:00 PM - 11:00 PM
A legendary establishment that grills pork ribs on the open flame. They have their own motto - 'Tastier by Hands!' That's why you won't find traditional tableware at this place, and it's indeed more interesting and delicious this way. The grills used for cooking the ribs were specially designed for the restaurant chain - they are unique and allow for cooking meat over an open flame. That's why the ribs here are very tasty, with a crispy crust and a smoky aroma. In addition to classic ribs, at 'Rib Haven,' you can order other dishes as well. For those who aren't big meat lovers, there are options like dorado, grilled vegetables, or Camembert cheese that you will surely appreciate. We highly recommend trying their homemade cornbread and marinated vegetables as a perfect complement to the appetizing ribs. As for beverages, you can pair it with their signature bottled beer, a glass of wine, or choose from the non-alcoholic drinks on the menu.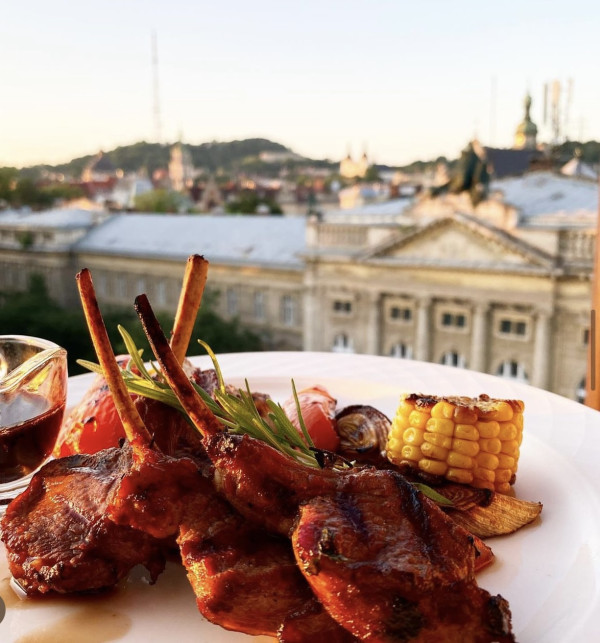 Ресторан "Валентино"
8:00 - 22:00
М'ясний Ресторан "Валентино" у Львові: Де Смак Історії Зустрічає Сучасність У серці Львова, в спокійному та розкішному готелі "Швейцарський", розташований ресторан "Валентино". Це не просто місце для страв із найсвіжіших інгредієнтів, але і подорож у світ м'ясних делікатесів, де кожен шматочок м'яса - це історія та справжнє мистецтво кулінарії. Ресторан "Валентино" славиться своєю майстерністю в обробці та готуванні м'яса.
"Валентино" відзначається не лише різноманіттям м'ясних страв, але й унікальними стравами від шефа:
Медальйони з телятини
Філе Міньйон з трюфельним пюре
Ніжні телячі щічки томлені
Стейк Рібай Преміум США породи Black Angus
Ребра свині запечені
Каре новозеландського ягняти-гриль
Кролик тушкований з лісовими грибами
Філе качки смажене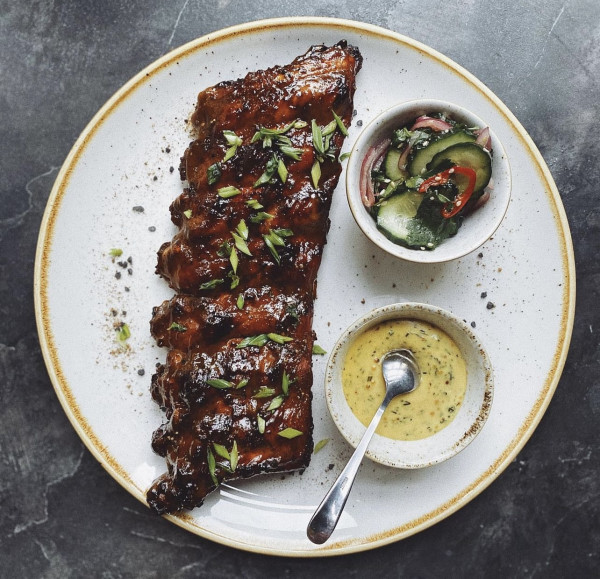 Mons Pius
12 PM - 11 PM
The establishment is located in a cozy, historic quarter of Lviv. You can choose a table inside the restaurant or in the picturesque inner courtyard. 'Mons Pius' is all about meat and a love for it. Beef, lamb, pork, poultry, and rabbit - every meat lover will find something intriguing according to their gastronomic preferences. We highly recommend paying attention to the steaks - they are prepared here with exceptional craftsmanship and select ingredients. For example, the 'Ribeye steak' is marked on the menu as dry-aged, a process of aging meat in special cabinets at a temperature of 1 to 3 degrees Celsius and humidity of 50-60%. This process helps evaporate excess moisture, initiates biochemical reactions, and enhances the taste and aroma of the meat. The aging period for beef ranges from 30 to 40 days. You can also savor Asian-style BBQ pork ribs, appetizing burgers, duck leg with potato gratin and green peas, malfatti pasta with tender ribeye, tamagawk with lamb, quinoa, and chimichurri, spicy peppers, burrata with tomatoes, and many other delectable dishes from the extensive restaurant menu.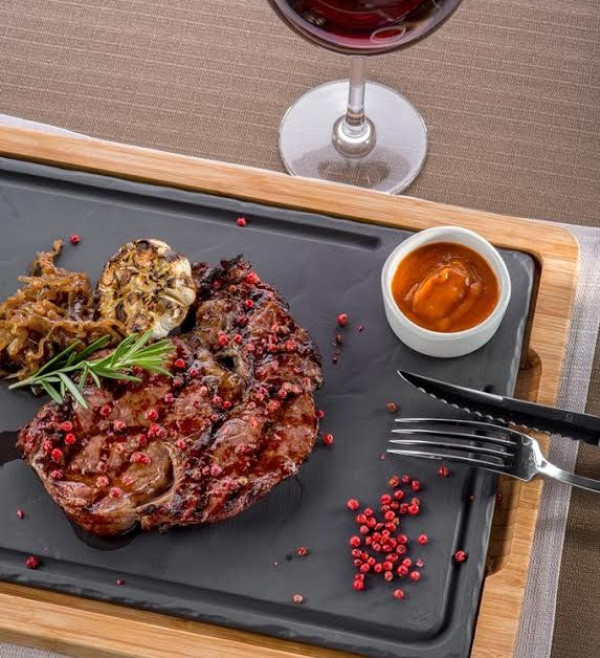 Mon Chef
12 PM - 11 PM
The restaurant's cuisine is European with a focus on meat dishes. This autumn, come and enjoy the updated menu, featuring a variety of delicious offerings and the pleasant atmosphere of the establishment. They prioritize quality and offer a juicy array of meat dishes. A standout feature of the 'Mon Chef' restaurant is their gastronomic evenings organized every month. Each time, the chef selects a country whose cuisine they will prepare. Guests have the opportunity to watch the cooking process and learn interesting facts about the dishes, their preparation, culinary secrets, and the gastronomic culture and cuisine of the chosen country. Whether it's Swedish, Italian, Spanish, Portuguese, or even Argentine cuisine, they know how to surprise, and a glass of fine wine will enhance the gastronomic experience.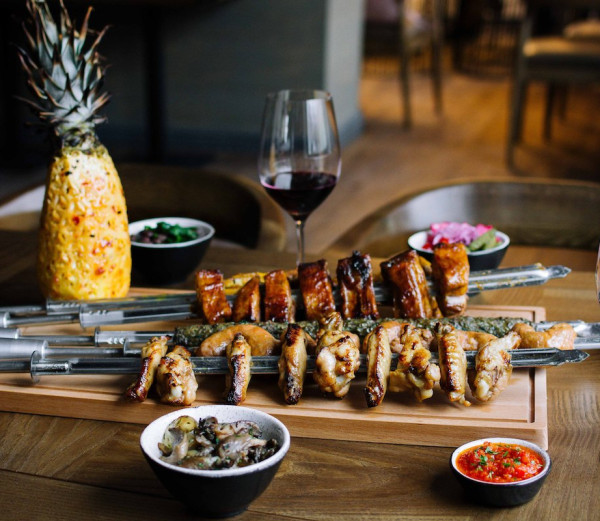 Churasco Grill & Wine
15 Valova St
11 PM - 11 PM
"Churasco Grill & Wine" is a gastronomic focus on Georgian cuisine and unlimited meat. They offer baked pork ribs with adjika, pork shish kebabs, young lamb rack on the grill, various steak variations, grilled chicken wings, and more. In "Churasco Grill & Wine" there's plenty to choose from. Similar to the previous establishment, they have a fantastic offer of unlimited meat. For children, there's a special kids' menu with options like turkey cutlets, chicken nuggets, salmon fillet, and mashed potatoes. We also recommend trying Ukrainian borscht with Georgian spices, featuring a piece of smoked rib served with Georgian cornbread, sour cream, onions, and garlic oil. They also offer a wide selection of craft cocktails and infusions - a delightful addition to their super meaty dishes.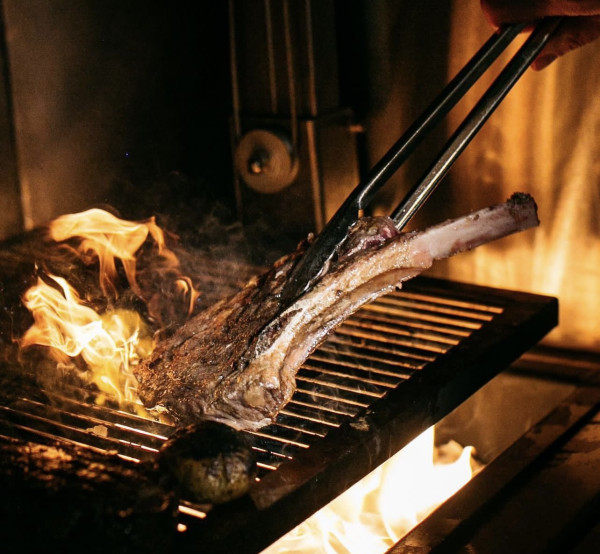 Wona
Shevska St.
10. Mon - Fri 12:00 - 23:00
Sat, Sun 10:00 - 23:00
"Wona" is a meat restaurant located on the third floor of the "MAD Bars House" establishment on a neighboring street off the Market Square. The extensive menu offers a wide variety of dishes to satisfy your culinary desires. Come in for lunch and try the pork ribs with potato croquettes served with beef broth. We also recommend trying the borscht with smoked meat, brinza dumplings, and bacon. And of course, what's a meat restaurant without steaks? At "Wona," they prepare steaks with a special recipe, served with potatoes or corn charred on the grill. You can order them medium-rare, but feel free to ask your waiter for your preferred doneness. Don't miss the dry-aged steaks, which are aged in a special chamber on the third floor of "MAD." If you're a burger lover, be sure to try the "Umami Burger": made with American meat patty, white mushrooms, Thousand Island sauce, Parmesan cheese, fresh romaine lettuce, and a brioche bun baked in-house. Visit "Wona" for a delicious experience!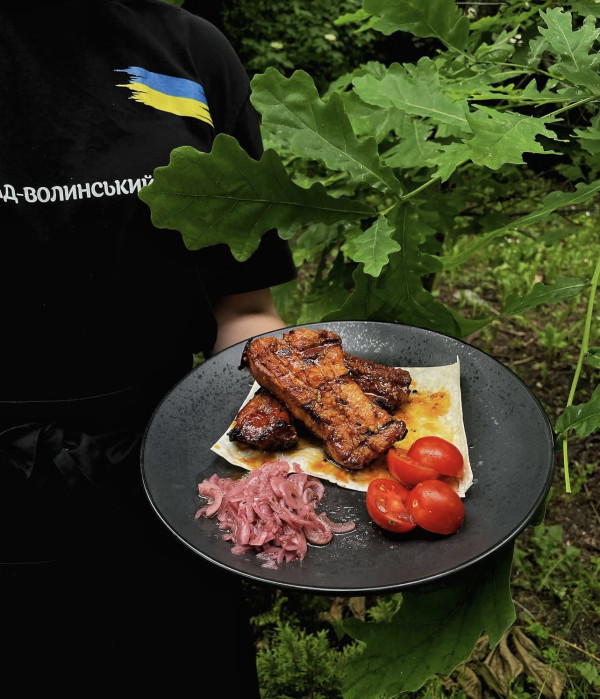 Zharovnia
11:00 - 22:00
Although the observation deck of the High Castle is currently closed, you can still take a stroll in the park and visit the 'Zharovnia' restaurant. It's peaceful and quiet here, away from the noise of the central streets, and the air is fresh. You can choose a table inside the restaurant, on the terrace, or the balcony.
At 'Zharovnia,' they prepare delicious and fresh meat on the grill: juicy shashlik, flavorful sausages, veal loin in a nut batter, tasty steaks, and ribs in a honey-mustard sauce – it's a real treat! Come here to try the bograch cooked over an open flame, served with croutons and bacon. Grilled vegetables, mangal potatoes, or a fresh salad perfectly complement the meaty delights.
For those who prefer fish dishes, the grilled options are a must-try. The menu also offers a variety of beverages, including a cold beer, refreshing cocktails, fruity wines, or non-alcoholic drinks. As for dessert, indulge in the Uzhhorod cake, Lviv cheesecake, or cherry strudel. Come and enjoy the many delicious offerings at "Zharovnia"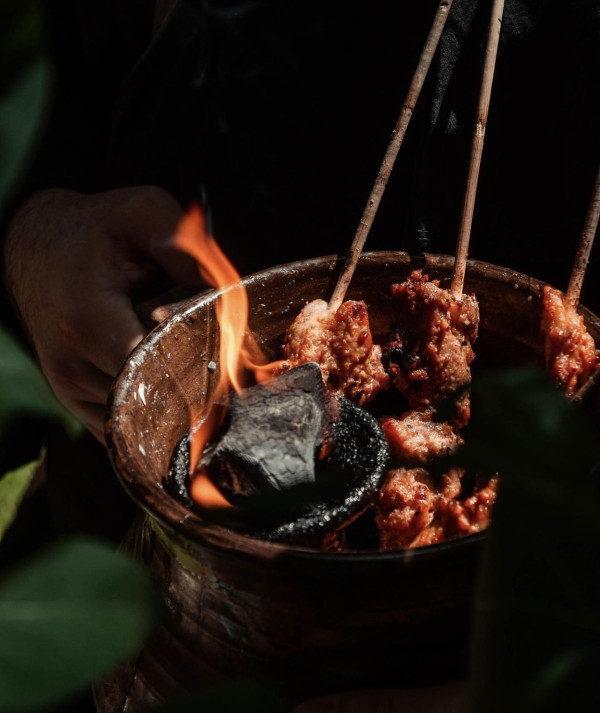 5th dungeon
10:00 - 23:00
The establishment is located in the underground of an ancient townhouse on Market Square. When you descend into it, you'll step into a medieval atmosphere because the halls are designed in that style, paying attention to even the smallest details. You can also find various curiosities here, like 'The Chosen One Sword,' 'The Free Throne,' 'The Greed Dragon,' and more.
Among the signature items on the menu, it's worth trying the 'meat on skewers,' which is served in a jug with a special smoker. There's also 'meat on the stone,' a veal loin that you can grill on a heated stone. You'll find different variations of sausages, meat pies, hearts in pomegranate sauce, and for a group, there's the 'Meat Power Board,' which includes a variety of jerky, beef cooked on coals, ribs, and a devil's apple (potatoes roasted in their jackets). The set is served with seasonal vegetables and sauces. A wide assortment of drinks and fresh beer complements the meal.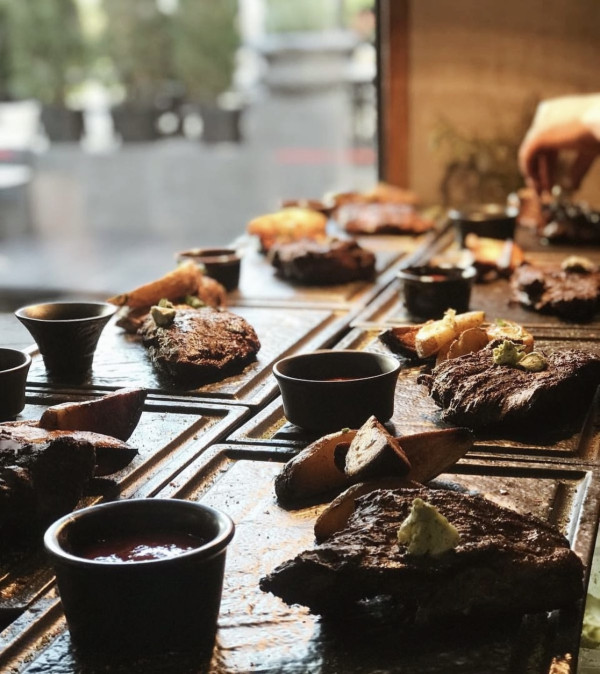 Marinad meat bar
11:00 - 22:00
"Marinad Meat Bar" is a restaurant where meat is cooked over an open flame, and there's also a store, so you can not only taste freshly grilled meat here but also buy fresh meat, as well as fish and vegetables, vacuum-packed, to take with you. The menu of "Marinad Meat Bar" offers various appetizers, salads, soups, side dishes, grilled dishes - both fish and meat, desserts, and drinks. For steak enthusiasts, we recommend ordering the 'Australian Ribeye,' a steak made from marbled beef, aged for 120 days, with 30 days of wet aging, served with a glass of red Australian wine. By the way, when it comes to the wine, the restaurant has an extensive wine list, so a glass of an exquisite drink will be a wonderful addition to your favorite dishes.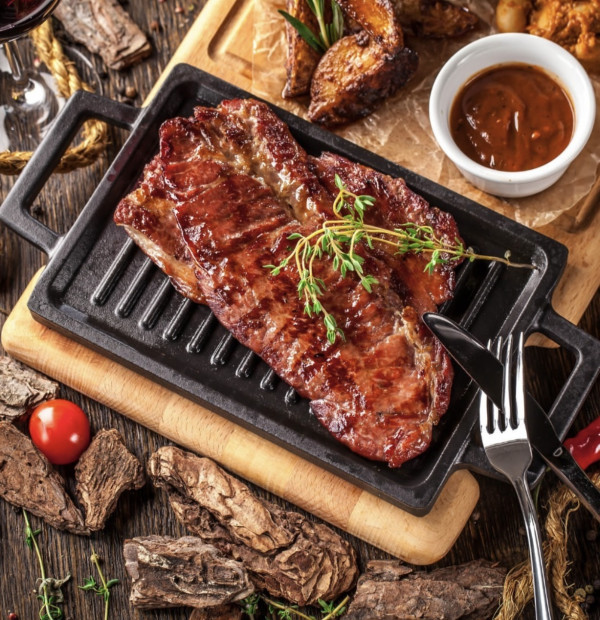 Balkan Courtyard
12:00 - 23:00
The motto of the "Balkan Courtyard" restaurant is the authenticity of true Balkan cuisine recipes and the use of natural ingredients. Therefore, by visiting here, you have an excellent opportunity to explore the flavors of Balkan countries' cuisine. The restaurant's atmosphere is worth highlighting as well - with its authentic details, a calm and cozy location away from the noisy city center. It's often chosen for special events and enjoyable relaxation. As for the menu, the dishes are prepared according to ancient national recipes of the "Kitchen of the Seven Seas" while incorporating modern technology. Meals cooked over an open flame have a unique taste, and here, everyone will find something to their liking. When it comes to meat, traditional dishes like čevapi, pljeskavica, ćevapčići, various sausages, kebabs, steaks, ribs, smoked pork neck, and many more delicious options are available. For a group, consider ordering the "Balkan Mixed Grill" or the "Chef's Mixed Grill" to try a variety of flavors.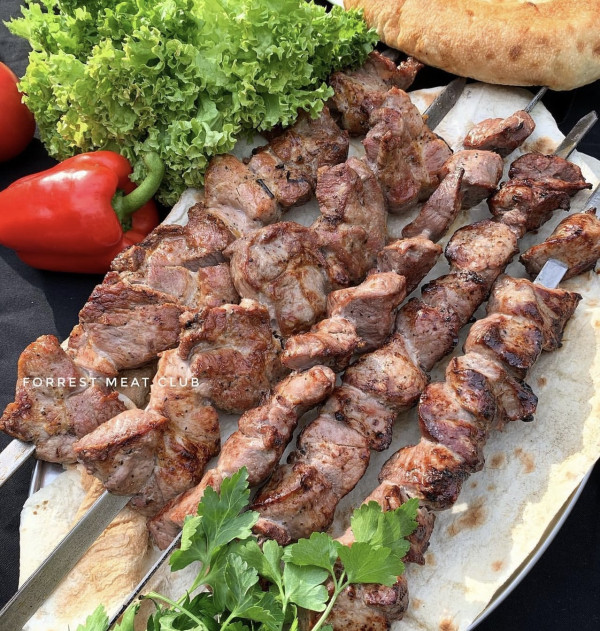 ForRest meat club
12:00 - 22:30
"ForRest meat club" is a real meat restaurant located near the center of Lviv. It offers delicious cuisine, a cozy summer terrace, and the added bonus of being pet-friendly, so you can bring your furry companion along. In terms of gastronomic highlights, juicy meats and vegetables straight from the grill to your table provide a perfect combination of flavors. For those who appreciate meat dishes, "ForRest meat club" offers options such as veal loin, pork medallions with a mix of mushrooms, rich bográc, kebabs, and more. If you're a fan of fish dishes, the grilled fish here tastes even better, and you're sure to enjoy it. When you visit, be sure to try the Armenian bread with a crispy crust called "matnakash." The restaurant also offers delivery, so you can order your favorite dishes for the office or home gatherings.