The Jesuits arrived in Lviv at the end of the 16th century. They could not get enough space to build a temple because the city was densely built up. However, the influence and wealth of the monks increased due to the patronage of the nobility (including Elizabeth Senyavska). Soon, however, the Jesuits began construction of the temple on the site of the former houses, located near the western wall.
The Church of the Holy Apostles Peter and Paul was built in 1630. Construction was completed and the underground parts were adapted for burials.
The first excavations were carried out by the archaeologist Mykola Bandrivskyi in 1997. One part of the lower tier of the dungeon was explored during the construction work and many items that belonged to the Jesuits were found there. Archaeologists have found the walls of the house of the 14th century and pottery of princely times. That is why visiting the dungeons is like to immerse in the history of the city.
The dungeons were opened to visitors after arranging a space in 2014. The exposition in the crypts and passages is constantly changing and supplemented. Princely, gothic and baroque plastic panoramas by Igor and Lyubov Kachoriv were placed in the dungeon in 2016. Halls with models of Lviv are the only ones where there were no crypts. This is the territory that belonged to the board and was used for its needs.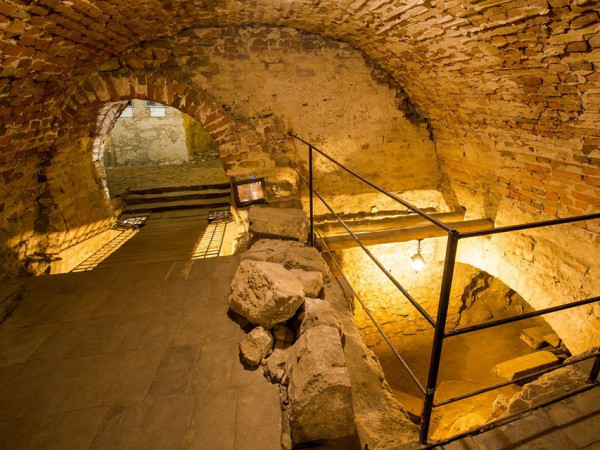 Restoring the interior of the church, the right part of it was opened for visitors in 2016, as well as the area under the former chapel of St. Benedict, where the founders of the temple were buried. Museum staff is constantly exploring the dungeons, changing exhibits, and working on technical equipment. After lengthy research, a new hall under the porch was opened in 2017. The presentation of new models (miniatures of a Gothic house and a Garrison Church) took place during 2019-2020.
The dungeon will surprise with discoveries again, because the unexplored space under the "Jesuit Church" is much more than it is opened at the moment.
Address:16 Svobody Ave.
Tel.: 067 373 3683