Where to buy a book in Lviv: bookstores in the city centre.
Lviv is a city of literature. Many famous writers once walked along Lviv streets - Ivan Franko, Stanislav Lem, Bohdan-Ihor Antonych. And even now many admirers of literature live here - both authors and readers. So, with the beginning of autumn, not only the leaves underfoot begin to rustle, but also the pages of books in parks, cafes, and cosy houses.
To make it easier for you to find a companion for long evenings - that is, a book, of course - we have compiled for you a selection of special Lviv bookstores.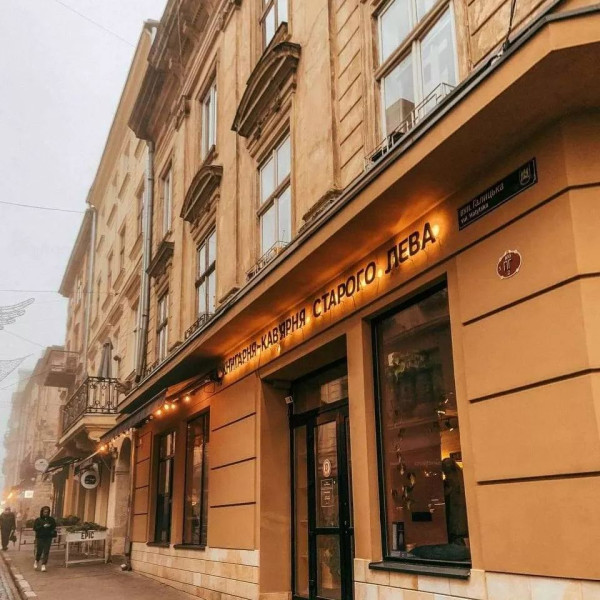 17 Halytska St l 9 am - 9 pm
3 Krakivska St l 9 am - 9 pm
22 Lychakivska St l 10 am - 8 pm
A bookstore that combines two favourite things of book fans - books and coffee. There is also tea and cocoa if coffee is not your favourite drink. So you can order a cup of hot drink and plunge into reading at the table in the bookstore. Since this is a branded chain of stores of Old Lion Publishing, most of the assortment consists of books from the publishing house. But here you can be the first to find book novelties and get a convenient discount system - both for books and drinks. There are also many unique book accessories - from bookmarks to eco-bags that will tell everyone that you are a true book lover.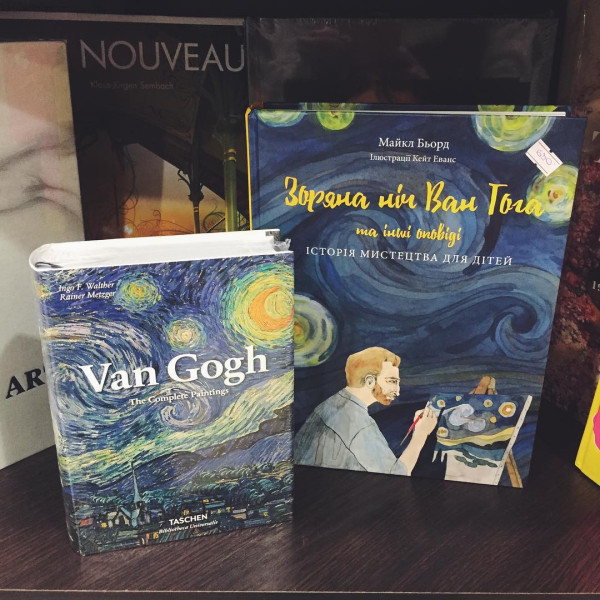 4 Fedorova St.
Mon-Fri 11 am - 6.30 pm
Sat-Sun 11 am - 5 pm
A small and cosy bookstore is a paradise for a bibliophile. Here, literally in a few square meters, you can find a lot of book treasures. Books are stacked on narrow shelves, and sometimes even in wooden boxes right on the floor - this creates a special atmosphere in the store. Be sure to visit if you are interested in the specialized literature on art, philosophy or history - you will make a lot of pleasant finds. There is also a large selection of art albums and English books. The assortment of fiction - both modern and classic - is also quite large.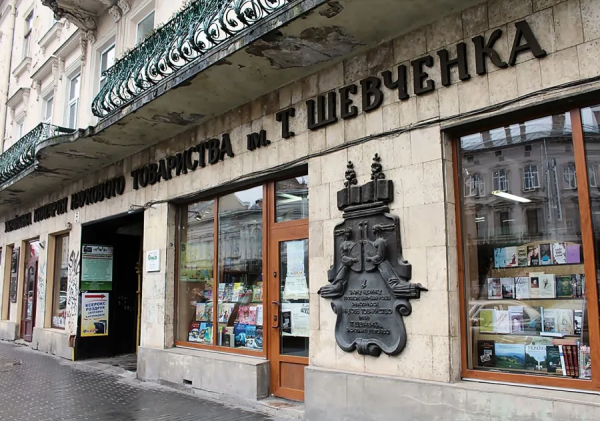 NTSH Bookstore
просп. Шевченка, 8
8 Shevchenka Ave.
Mon-Fri 9.30 am - 6 pm, lunch break 2 pm - 3 pm
Sat 10 am - 3 pm
Sun - day off
It is the bookstore with the most extended history in Lviv. Taras Shevchenko Scientific Society operated In the building where the bookstore is located from 1882 till 1898. At the entrance to the store, you can see a memorial plaque with relevant text. The Society was engaged in the development of Ukrainian literature and scientific thought, and also had its own printing house. The organization became the basis for the creation of the Ukrainian Academy of Sciences in the future. Mykhailo Hrushevskyi worked here and headed the society in 1897. Not surprisingly, this building has long been associated with science and education. Today here you can find many scientific and educational publications as well as Ukrainian journalism and, of course, fiction.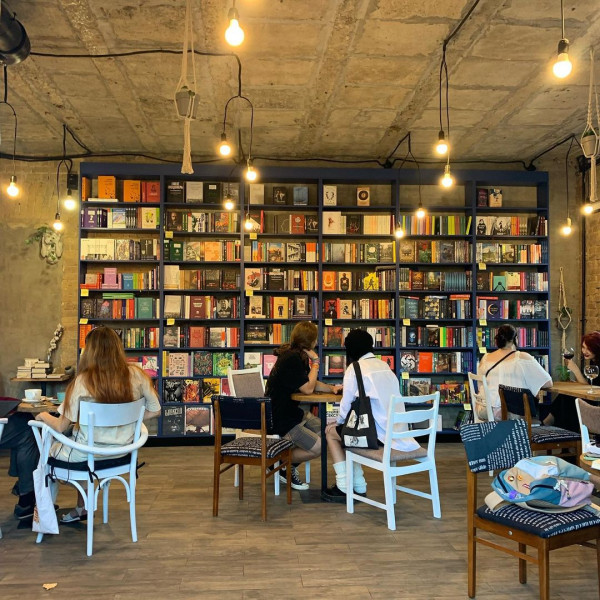 14 Shevchenko Ave.
11 am - 8 pm
If you want not only to buy a book but also to get an incredible experience - visit the "Book Lion". This bookstore is in a wonderful cosy courtyard with an outdoor art exhibition. It is not just a store but a real community that unites book lovers. Employees keep the assortment of the bookstore unique and can always advise an exciting book just for you. If you need to buy a gift, it is the perfect place - you will be offered branded book packaging or a fabulously decorated gift certificate. You can read the newly bought book right at the table in the courtyard, ordering a cup of coffee in the nearby cafe.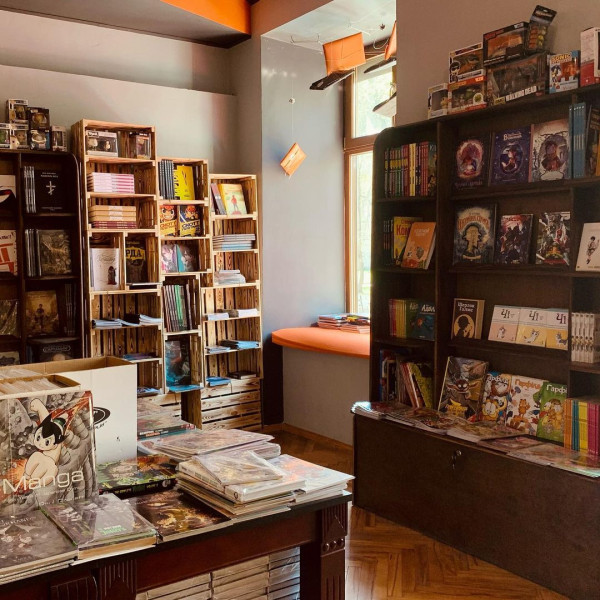 1 Stefanyka St.
10 am - 8 pm
In fact, comics are a full-fledged separate genre, so it's not really a bookstore, but we can't miss this unique shop in our selection. The active development of comics culture in Ukraine certainly deserves attention. Did you know that we even have our own Ukrainian analogue to the word comics - malopysy? So, to find the best Ukrainian and foreign malopys visit the UA Comix store. Here you can buy various comics and you will definitely be helped with the choice. The shop also has its own coffee shop and a corner with branded merchandise - T-shirts, stickers and bookmarks.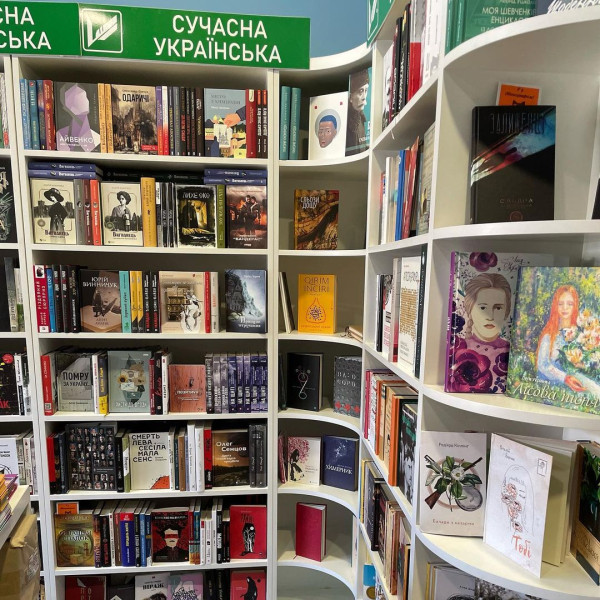 12 Halytska Sq.
10 am - 8 pm
It is the brand store of the Kharkiv publishing house Vivat. The publishing house is one of the largest in Ukraine and makes a significant contribution to national book production. Every year Vivat publishes more than 2 500 000 books. Most of them are books for children and teenagers, as well as popular science and fiction. The published authors are Nobel laureates, internationally acclaimed scientists, journalists, writers, and, of course, stars of Ukrainian literature. However, you can also find books from other publishers on the bookstore's shelves. Caring consultants will help you find exactly what you need.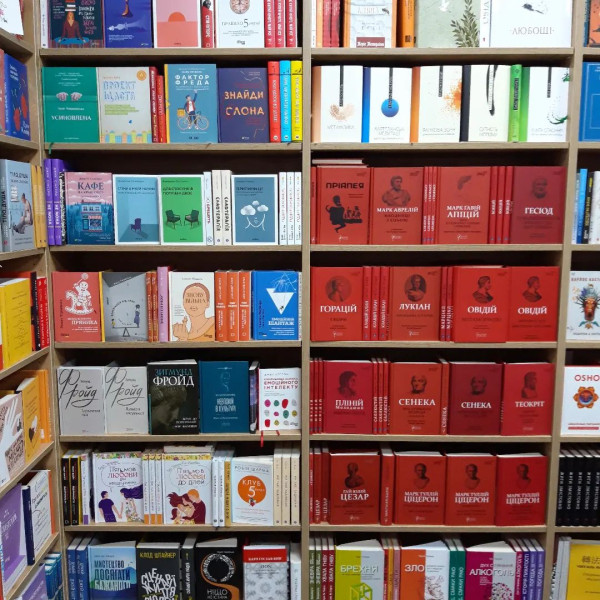 7 Svobody Ave.
5 Kostiushka St.
1 Mickiewicza Sq.
9 am - 9 pm
Perhaps the most popular chain of bookstores not only in Lviv but also in Ukraine. Almost half of the bookstores in the city centre are "Bookstore E", so at least it would not be difficult to find a minimum of one. In addition to a convenient location, the assortment of bookstores is also pleasing - there are always new books, best sellers, a good selection of scientific literature, and many publications for children. In addition, the largest bookstore of the chain at 7 Svobody Avenue often hosts presentations and discussions of books.