For beer lovers, a trip to Lviv is almost like a pilgrimage. There are many breweries in the city where you can taste one of your favorite beers – from cozy restaurants to bars specializing in delicious craft beer. Depending on your taste, the places we recommend you visit may vary, and to be frank, this list is a starting point for you to plan your evening. However, we know for sure that once when you visit Lviv, you will come back here again, because this is the city that will make you love it! :)
For a long time, talkative residents of Lviv preferred good beer and live communication, maybe, this is why the beer has been brewed here since the end of the 14th century. Learn more about the history of brewing in Lviv.
The beer is acquiring the taste in this city. This is mainly due to the craft beer revolution that is going on in Ukraine today when dozens of small brewing companies are appearing all over the country.
Local beer brewed by small companies, as well as traditional Galician cuisine is those good memories that will not leave you for a long time after the trip to Lviv. So, plan your evening and enjoy the atmosphere in the place you choose.
So where to drink beer in Lviv?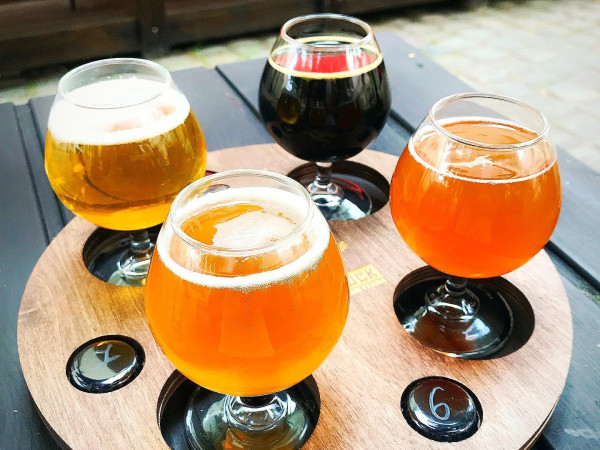 Lvivarnya
Museum and cultural complex of beer history. Every visitor of the museum can feel like a real brewer, touch the history of beer, and look into the brewing process. Excursions in Lvivarnya are becoming more and more popular. 15 minutes from the city center, and you can enjoy more than 12 beer tasting.
18 Kleparivska St.
10 a.m.-7 p.m.
+38 032 29 48 065
Khmilnyi Dim Roberta Domsa
The establishment is located in the ancient basement production facilities of Lviv Brewery: a huge underground world and the atmosphere of an ancient medieval beer house. It is rumored that the young and brave brewer Robert Doms drank a ten-liter sip of freshly brewed beer every day to see how well he arranged the brewing process and to be sure that the beer was high quality and delicious. Themed place is good to drink and eat!

18 Kleparivska St.
Mon-Thu з 12 p.m.-9 p.m.
Fri 12 p.m.10 p.m.
Sat 12 p.m.-12 a.m.
+38 067 37 06 773
Drunk Duck
The new meeting place for old friends and craft beer in the city center. Delicious beer with unique flavors, and here you can taste branded tinctures. The restaurant menu serves European and Ukrainian cuisine with an emphasis on beer snacks, such as delicious burgers. In the warm season, there is a summer playground.
Koliivshchyny Sq – 45 Brativ Rohatyntsyv St.
12 p.m.-12 a.m.
+38 093 58 50 720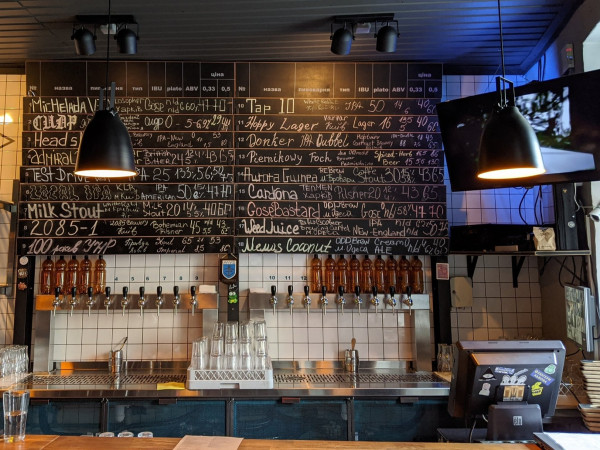 Choven
The range of drinks for visitors includes 16 types of Ukrainian craft beer and cider. The beer map is regularly updated. And there are many snacks for beer: from popcorn and peanuts to cheese and meat plates. Grilled dishes, salads, soups, and delicious pizza in the Italian style. There are a lot of nice details in the interior that will catch your eyes, such as the formula of beer or the colorful inscription In Beer We Trust. Choven looks like a place for a good city "party". The friendliness of four-legged friends is especially pleasing.
33 Virmenska St.
12 p.m.-12 a.m.
+38 098 11 66 955
Zalizna Shapka
The pub is located near the legendary Vernissage Market and the Maria Zankovetska Theater. The establishment offers craft beer, tinctures, as well as a variety of snacks and drinks. The menu includes dishes for every taste, from cheese platters and burgers to meat and fish delicacies. The restaurant is spacious enough to spend a good time in the big company – plenty of space, and the interior is so interesting that you can not take your eyes off.
23 Teatralna St.
Mon-Thu 3 p.m.-12 a.m.
Fri-Sun 12 p.m.-12 a.m.
+38 067 30 37 788
Craft&Kumpel
Gastropub, where you can taste craft and classic home-brewed beer, as well as original beer cocktails. The restaurant is called a beer studio – the atmosphere of a special interior, where guests are greeted by a beer sommelier, and who will advise you what to choose to successfully combine dishes and drinks. The serving is created in such a way that it is convenient to eat with your hands, following the trend of finger food, which is even more convenient when you eat in a big company. The establishment is pet-friendly and child-friendly.
18 Rynok Sq.
200а Kulparkivska St.
11 a.m.-12 a.m.
+38 068 828 22 22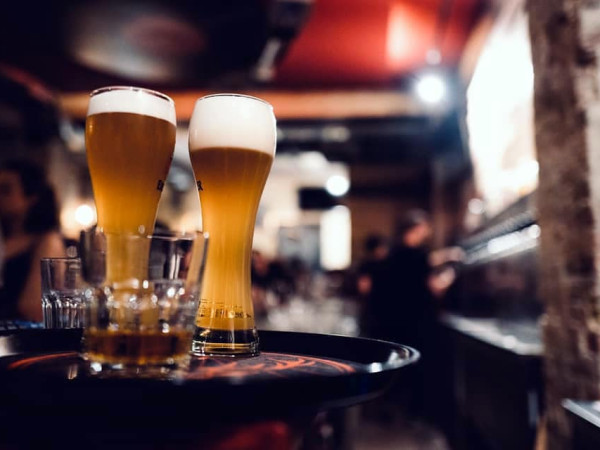 Zolotyi Kolos
The concept of the restaurant is described as "a brutal bar in the East Berlin style." The feature of the restaurant – here you drink beer only standing, so the lack of chairs and other seats is thought out in the advance feature, but it is usually quite crowded, so this type of leisure is more than popular. Visitors are offered 16 taps with craft beer and cider. The menu includes a variety of beer snacks and pizza.
6 Kryva Lypa Passage
2 p.m.-12 a.m.
+380 63 54 56 118
Bierlin Lemberg
Pub with a great atmosphere and a pin-up interior. Three halls for visitors, which are similar in spirit to pubs in Germany or Ireland, well, and of course a wide selection of beers. There is also a good choice of strong alcoholic beverages, including liqueurs, the most famous of which is medivka (honey). The menu includes European cuisine, a wide range of beer snacks. Here you can watch broadcasts of football matches. The atmosphere is enhanced by music mostly rock music in the background.
18 Chaikovskoho St.
12 p.m.-11 p.m.
+38 032 26 11 571
Lemberg Craft Rest
Craft beer restaurant-brewery. The menu includes burgers, salads, fish and meat dishes, classic beer snacks, and desserts. The restaurant also serves packed lunches from Monday to Friday from 12 p.m. to 3 p.m. The interior has a lot of interesting details, it is spacious and has a summer terrace. And here you can watch movies, the broadcasting of football matches and Formula-1. What a great opportunity to enjoy what you love on the big screen.
19 Shevchenka St.
12 p.m.-11 p.m.
+38 66 81 98 805
Bratyska
Multitap bar on the passage Kryva Lypa. The concept of the restaurant includes a good beer and real Ukrainian rock music. So now you know what kind of musical accompaniment there is in the establishment :) The interior is very interesting to consider, for example, vinyl records, and the installation of guitars. 30 taps of beer here for you – everyone will find something tasty, the menu includes snacks, salads, burgers, and meat dishes.
11 Kryva Lypa Passage
1 p.m.- 11 p.m.
+38 068 598 7332
Pravda Beer Theatre
The restaurant is located on Rynok Square, in the center of the city. Pravda experiments a lot with the flavors and ingredients of drinks. They say it here that it is not just a restaurant or a brewery – it's a theater! Taste the dishes from the chef, which are pre-designed for any type of beer. Dishes here, by the way, are prepared in an open kitchen, as well as beer – brewed in front of you! The interior is decorated in a loft-style. The atmosphere of your evening will be complemented by the musical accompaniment of Pravda-Orchestra's brass band.
32 Rynok Sq.
12 p.m.-10 p.m.
+380 50 37 44 986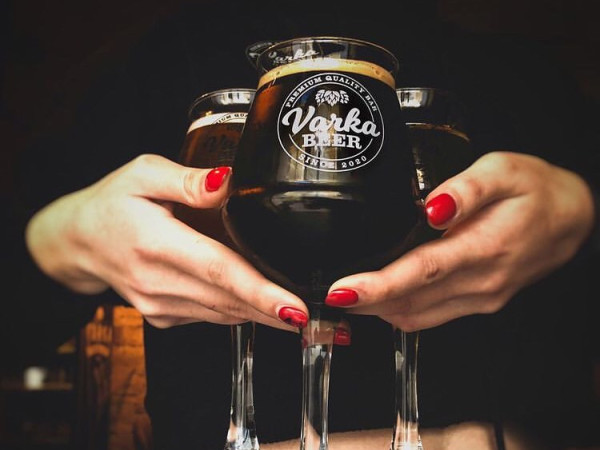 Pravda Craft Mission
A mini pub in the area where beer is served from the Pravda brewery. The atmosphere of good neighborliness and discounts with Local card. A small establishment with several tables, more than 10 types of beer straight from production, beer can be purchased to takeout. They say in the restaurant that you can come in sneakers because it's a really homely place. The establishment is pet-friendly.
19 Yaneva St.
11 a.m.-11 p.m.
+38 050 47 71 593
2а Dzherelna St.
10 a.m.-9 p.m.
+38 098 72 74 290
Mons Pius
"Craft beer. Good steaks. Impressive atmosphere" – the concept speaks for itself! And I will tell you about the atmosphere. Just imagine, the restaurant is located in the Armenian Quarter on the site where there used to be the first bank in Lviv, so you will be lucky to see the authentic details preserved in the interior during the restoration. You will also have the opportunity to taste craft beer and a lot of meat dishes. There is also a burger menu for guests. In the warm season, there is a summer playground, it is worth noting that the summer playground is located in a lovely beautiful Lviv courtyard in the city center.
14 Lesi Ukrainky St.
12 p.m.-10 p.m.
+38 032 23 56 060
Churrasco Grill & Beer
The menu includes grilled meat and fish dishes, as well as traditional Ukrainian dishes, branded beer, and good tinctures. The grill is located in the hall of the restaurant, so visitors can watch the cooking process. The peculiarity of the concept of the restaurant is unlimited meat or fish dishes. For a fixed fee guests have the opportunity to taste any dishes from the menu with a wide selection of sauces. Be sure to try the draft beer in rolled-up jars with dried fish.
13 Halytska St.
12 p.m.-12 a.m.
+38 067 86 88 684
Kumpel on the Mytna Square
Restaurant and brewery on Mytna Square. A large selection of good beer, brewed right in the restaurant, and special dishes of traditional Galician cuisine – a great combination for beer lovers and gourmets. In addition to delicious beer, guests are offered to try authentic Galician recipes. So if you want to learn the local cuisine – it is the right place to do it! The restaurant serves breakfast from 7 a.m. to 12 p.m.
6 Vynnychenka St.
10 a.m.-10 p.m.
+38 068 99 89 994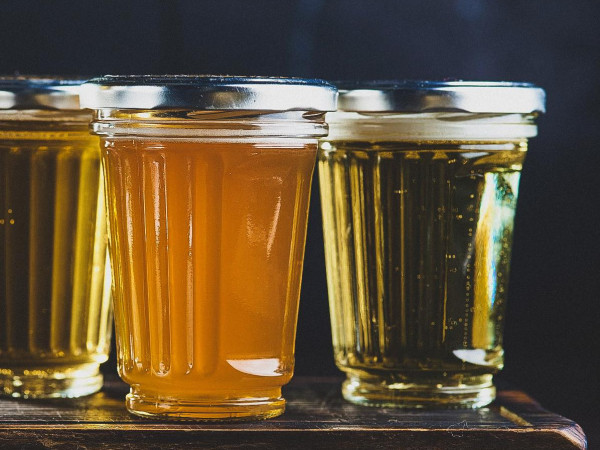 Kumpel Behind Opera
Beer restaurant that preserves the gastronomic traditions of Galicia region. The interior design of the establishment is a combination of details suitable for the rest of large companies and the bar area, for example, for those in a hurry. The interior is decorated in a loft-style with retro elements of the first half of the XX century. The menu includes the chef's interpretations of Ukrainian, Galician, Hungarian, Polish, Italian, and Jewish cuisines. Well, and of course, beer! It is brewed in the restaurant and is very good. Have you ever tasted a meter of sausage? It will taste so well with a beer tasting set.
2b Chornovola Prosp.
12 p.m.-10 p.m.
+38 068 99 89 995
Hungry Nicholas

Restaurant of Galician cuisine, located on the outskirts of the city. The restaurant's menu serves traditional Galician cuisine: soups, meat and fish dishes, pies, banosh, bigus, and home-made sausages. The restaurant is famous for its large selection of dishes for the company. And next to the restaurant is a brewery by "Kumpel". There is a pond on the territory of the restaurant, it is especially interesting that its part is located just indoors. And there you can catch trout. Dishes are prepared on an open fire, or the grill, and in a traditional oven. And here you can visit the museum of Mykola, a portrait of a visitor named Mykola can become a new exhibit here :) The restaurant is child-friendly, and in the souvenir shop, you can buy something special to remember.
352 Stryiska St.
12 p.m.-10 p.m.
+38 098 22 92 222
White Lion
Pub in the city center on Lesya Ukrainka Street. This is a place where you can have a delicious lunch, choosing traditional dishes of Ukrainian cuisine, and the portions here – are like for two, as for two, so you will feel satisfied. Watch sports events, whether football matches, boxing matches, or speed races – on the big screen. And, about the beer – there is plenty of it here, for every taste and every mood: barrel, bottle, and craft.
15 Lesi Ukrainky St.
9 a.m.-2a.m.
+38 067 67 55 123
Royal Brewery
The beer restaurant is located in the city center, and the terrace – in the courtyard, which can be reached from Rynok Square. Beer here is home-made in combination with European cuisine on the menu. The menu focuses on grilled meat dishes and beer snacks. You can watch live football matches on the big screen. Or, as visitors often do, take a photo near the sculptures of Galician ladies with a beer.
9 Staroyevreiska St.
10 a.m.-11 p.m.
+380 98 30 35 472
Epic Cheeseburger Cafe
This place is located in the city center near Rynok Square, on Halytska Street. Burgers, burgers, and once again burgers, and also breakfasts and brunches, well, and not without beer! Beer here is craft bottled or craft draft! Also, on the menu for you – American desserts. The interior of the establishment is an American classic style mixed with loft and pop art.
15 Halytska St.
10 a.m.-10 p.m.
+38 097 33 79 356
Lazy Dog
"Good beer brings people together" is what they say here. A good selection of beer: Lazy, Good, and Dark Dog. The menu offers a wide selection of beer snacks, as well as meat dishes, burgers, toasts, and salads. The establishment is happy to welcome not only you but also your four-legged friends. Here you can watch broadcasts of sports events.
9 Krakivska St.
1 p.m.-11 p.m.
+38 096 52 86 094

Старий Лев
Класичний паб, інтер'єр якого оформлений у ретро-стилі. В меню пабу представлені страви європейської кухні: різноманітні закуски, салати, стейки та м'ясні дошки для компанії. Також відвідувачам тут пропонують 8 сортів пива, зокрема пиво Хмільний Лев, що варять у Львові. Тут ви можете переглядати трансляції футбольних подій. Справжня знахідка для тих, хто цінує пабну культуру.
пл. Старий Ринок, 7
10:00-23:00
+38 095 90 27 432