For me, Lviv is one of the important places, a city of creativity and inspiration. Every building here has a history that is important to know, remember and study.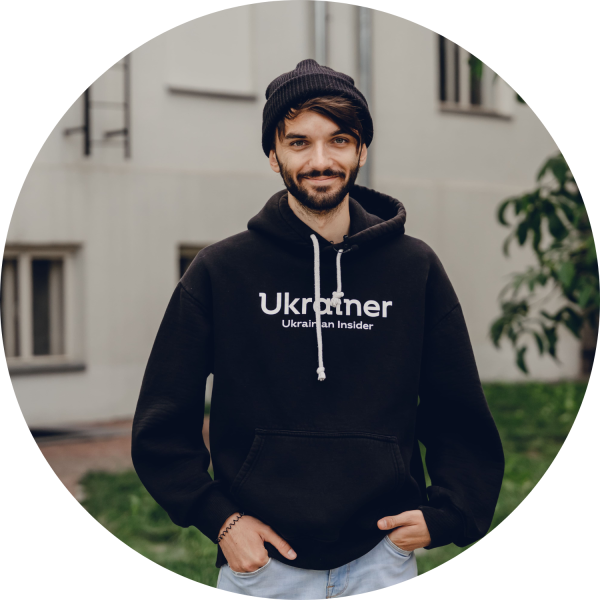 Vitalii Hordiienko is an actor and Ukrainian-language video blogger who united movie lovers by creating the YouTube channel "Squad of Moviegoers". In Lviv, Vitalii studied and conquered theatre stages.
In the last few months, he actively researched and studied the phenomenon of the Ukrainian film - "Shadows of Forgotten Ancestors", making his documentary film about it.

In the "People in the City" project, Vitalii talks about his student years, shows the backstage of the Lesіa Theater, and shares exclusive facts about "Shadows of Forgotten Ancestors" and what awaits Ukrainian cinema after the victory.

Watch the video and read about everything in the article.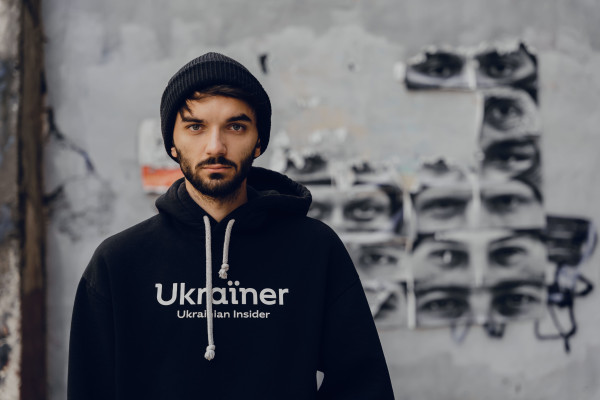 About Lviv
I travel to different cities because work, friends, and relationships are in other parts of the country, but I am often in Lviv. My schedule looks like this: 3-5 days in Kyiv, six days in Lviv, a few more days in Rivne, and then in Ivano-Frankivsk.This rhythm of life does not allow you to think about the bad because you are constantly at work and trying to benefit others.
Although I was born in the Ternopil region and studied at the Rivne school, Lviv became such a warm and peculiar city for me during my studies at the university.
So, I lived in the Ternopil region - for five years, in Rivne - for 11, and in Lviv for six years.
It was here that I found friends, acquaintances, and work. But in the end, I got to know myself. For me, Lviv is one of the important places, a city of creativity and inspiration. Every building here has a history that is important to know, remember and study.
Our route:
Garden of Memory of ATO Heroes
Heavenly Hundred Heroes Memorial
Koliivshchyny Square
Faculty of Culture and Arts
Lesia Ukrainka Theatre
Garden of Memory of ATO Heroes
I learned about it recently and immediately fell in love with this place. The road from the Garden leads directly to Heavenly Hundred Heroes Memorial and connects it with Uzhhorodska street.
When I walked here for the first time, I thought - "Wow! '' and I felt as if I had visited Europe. I liked the idea that this Garden is dedicated to fallen Heroes, and each tree has a sign with their names.
It is truly a memory of those who make it possible for us to walk and see beauty. And there is also a beautiful view of the sunset.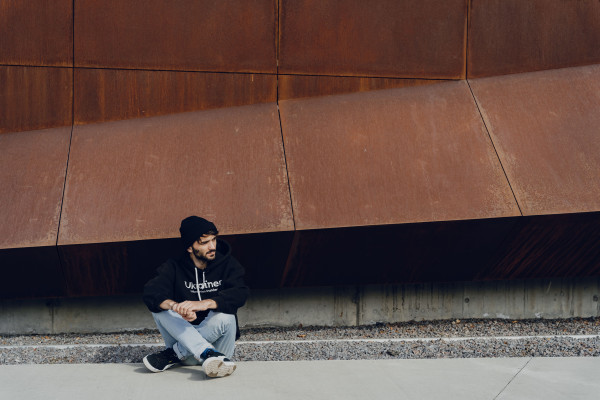 Heavenly Hundred Heroes Memorial
One of my favourite places. A place of gratitude, a place of honour to people who started this process of rebuilding Ukrainian society and were not afraid to give their lives for it.
The memorial emphasizes their feat, and you want to come here and pay your respects to the Heroes.
I always invite my friends there to show them Lviv and its beauty with all the top buildings worth visiting.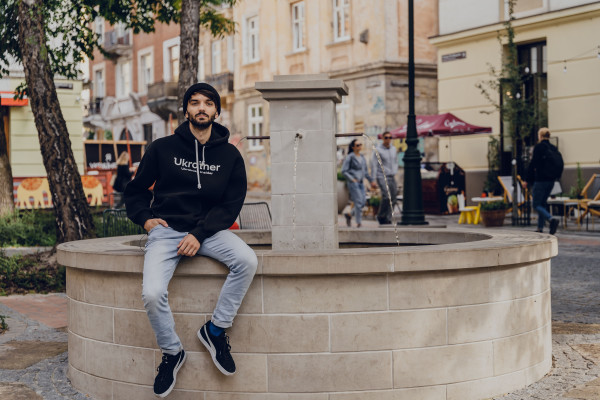 Koliivshchyny Square
Friends, classmates, and I often rested on this square; literally around the corner from the neighbouring building is the faculty where I studied. I remember there was a cafe - "Medellin" with a dungeon, delicious pizza and cocoa, and board games, where we often spent time.
I like the set chairs here right now. At first, I thought that I could take them and rearrange them wherever it was convenient, but no (laughs).
However, it is good that there are single chairs for those who want to sit alone and that instead of the former spring, there is now a beautiful fountain.
By the way, it was on this square that I read books about "Shadows of Forgotten Ancestors" and prepared for the filming of a documentary.
Nearby is a Street with many names, among them the Serhiia Paradzhanova and Yuriia Illienka streets, those who worked on the film "Shadows of Forgotten Ancestors".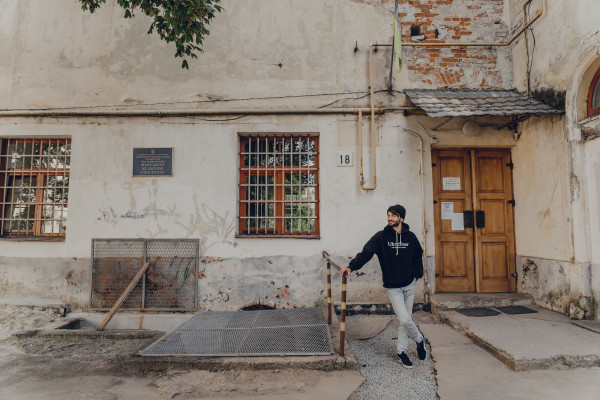 Faculty of Culture and Arts
Few people guess that it is on Valova street. I also looked for him for a long time (laughs) and thought, like everyone else, when entering the University, that I would study in the main building. Oh no.
I walked this road for five years, despite the fence, which is constantly redrawn with various graffiti.
Never seen people do that, but I think it looks good. Through the windows of the faculty, I saw all the stages of the construction of the nearby church.
The faculty building is a continuation of the Bernardine church complex. And here is a strange square, where quite strange people gather.
And a tree with ties, on which hangs the sign "There was a coliseum here. It was destroyed by barbarians" and the tablet too (laughs).
Interestingly, the senior students said that there used to be three elevations around the tree, which resembled a coliseum.
Sometimes lectures were held here, and young people constantly gathered. There are no elevations; only the faculty, a tree with ties, and graffiti remain.
Lesia Ukrainka Theatre
Since childhood, I have been interested in what it is like to be an actor. My mother always told me: "When you become an actor, you must be prepared that today you have money, and tomorrow there is nothing to eat."
Despite everything, I understood that I was not interested in anything other than acting.
I still remember my first performance back in my university days. It was the performance of "Odyssey", I went on stage to read my passage, and my leg started shaking, I couldn't stand on it, and everyone saw it (laughs).
During two years of acting work at the Lesia Theater, I played in 5 different plays. In particular, in the play "People", I played the role of package seller and successful businessman Vasyl.
Lesia Theater has a large and small stage and a beautiful inner courtyard with trees, where is a stylish bus, benches and separate parking for bicycles. Even before the war, performances were held here.
Over time, I decided to leave the theatre and focus only on my YouTube channel, "Squad of Moviegoers".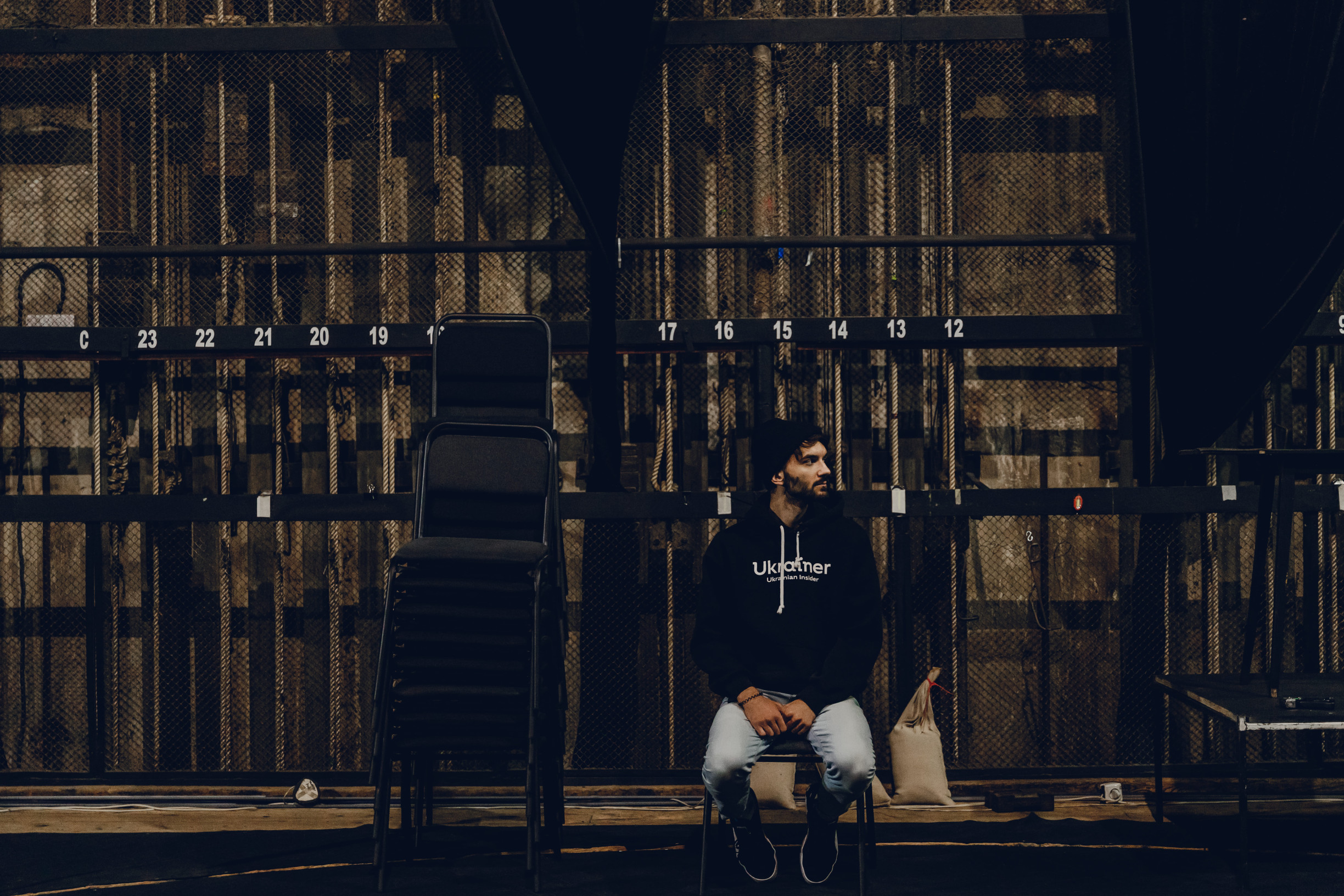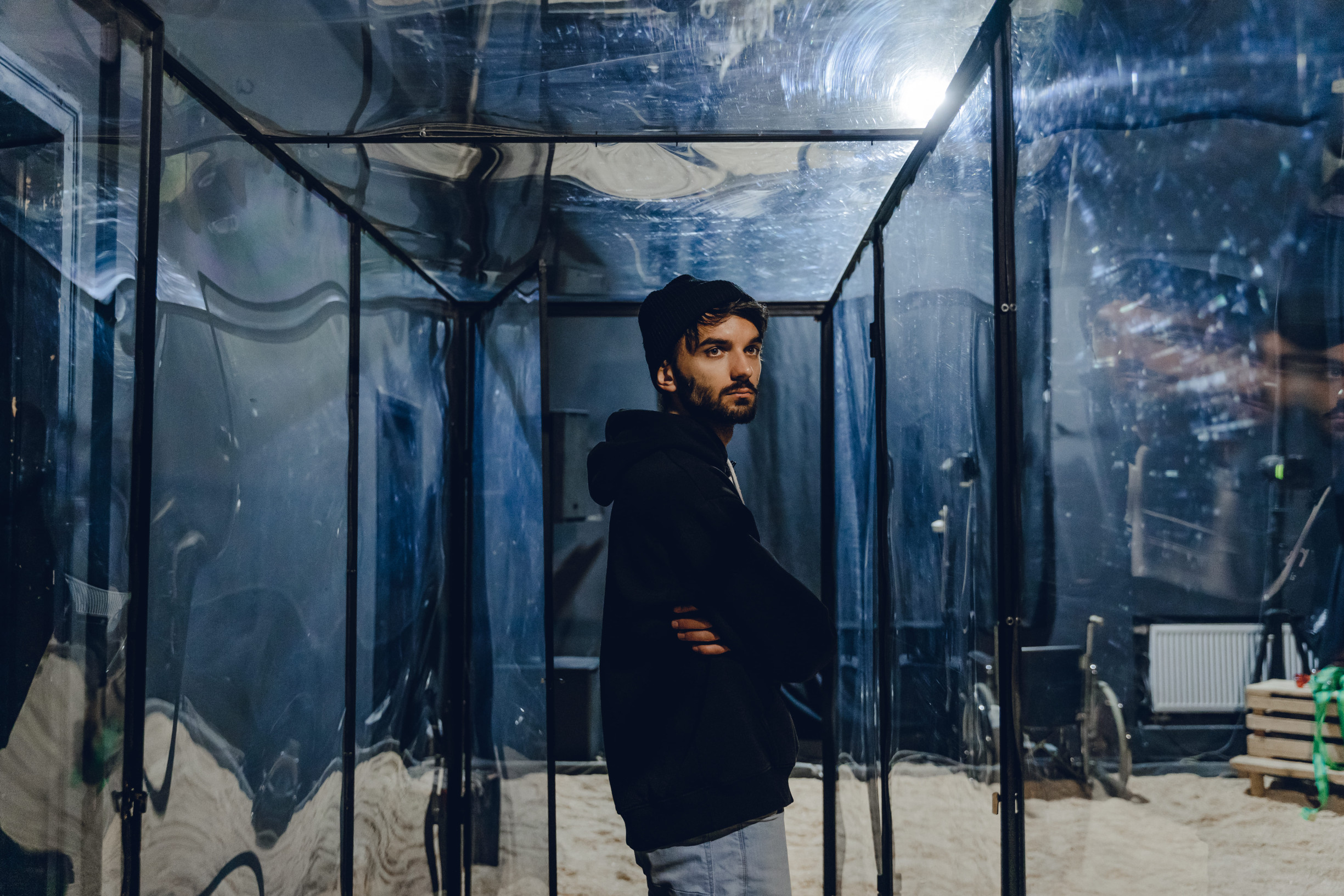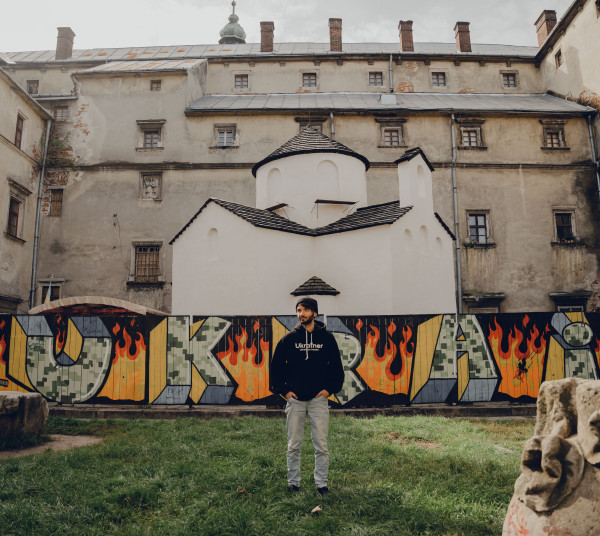 About "Squad of Moviegoers" and "Shadows of Forgotten Ancestors"
My history with the YouTube channel began in my student days. I started looking for work and found out that І can create a channel on YouTube, upload long videos and get paid for it, so I decided to try it.
At first, it seemed like a very unrealistic idea, but I created my first channel about football, and in a few months, I earned $25.
Later, I decided to develop a topic about cinema. My channel from the first days of its existence was Ukrainian-language, although there were very few such channels.
Now "Squad of Moviegoers" has more than 465 thousand users, and the number of subscribers is constantly growing. No matter how sad it sounds, the demand for Ukrainian-language content and everything Ukrainian has increased because of the war.
I recently shot a documentary film about "Shadows of Forgotten Ancestors". I have been working on it for a long time, reading literature, talking with people, and visiting the Carpathians. I thought for a long time about why the Soviet authorities allowed this film to be released at that time.
"Shadows of Forgotten Ancestors" is the best Ukrainian film in history. It is studied at a university in Chicago, but few Ukrainians have seen it.
One of the versions is that the Armenian director Serhii Paradzhanov worked on the film, who before had shot four not particularly successful films, so the Soviet authorities did not count on the success of "Shadow...".

This film helped cinematographer Yurii Illienko to discover the Ukrainian in him and return to the path of Ukrainianness.
The well-known composer Myroslav Skoryk wrote the music for "Shadows".
The film was subsequently banned for a long time.
We recommend watching the documentary film about "Shadows of Forgotten Ancestors".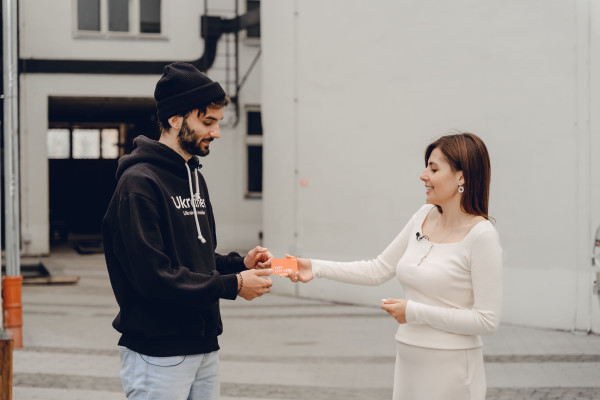 Explore the cities in which you live. Believe me; they are not as boring as you think. Try to travel in your city, and you will be able to discover many interesting things for yourself.
Lviv is great, and there are many unusual locations and details that you may not know about, even if you live here.

And with the Lviv City Card, it is easier and more profitable to do this.