Everyone who has been to Lviv will return here in the future to discover new amazing places.
"Where to eat in Lviv?" is a frequently asked question. There are many options, but the quest is a bit more complicated if you are vegan/vegetarian. Here they are, places where you can eat delicious food in Lviv. All the places we mention have a vegetarian menu and some of them are 100% vegetarian or vegan.
Veganism/vegetarianism is not just about protecting animals and the environment, being vegan/vegetarian is much more, it is also about lifestyle. Vegans don't just eat meat, they also avoid all products of animal origin, such as milk or eggs.
People choose not to eat meat products because they are aware of their impact, whether it's regarding health or the planet, climate, animals, or world hunger issues - there are dozens of reasons.
So it is not surprising that the vegetarian culinary scene in Lviv is full of incredible dishes that sometimes seem to have just come from a futuristic dream (dishes made from Beyond Meat products, for example).
Almost everything you can imagine, including vegan burgers, sushi, hot dogs, and much more you can taste in Lviv. Maybe in Lviv, your taste buds will take you on a new journey of unknown flavors…
Who knows, you might like it so much that you wonder if you're vegan?! We, of course, do not urge you to anything, but we insist to give it a try only because it is delicious!
So there are more than enough options for vegan places in Lviv to make you happy. But all this, if you know where to look for it!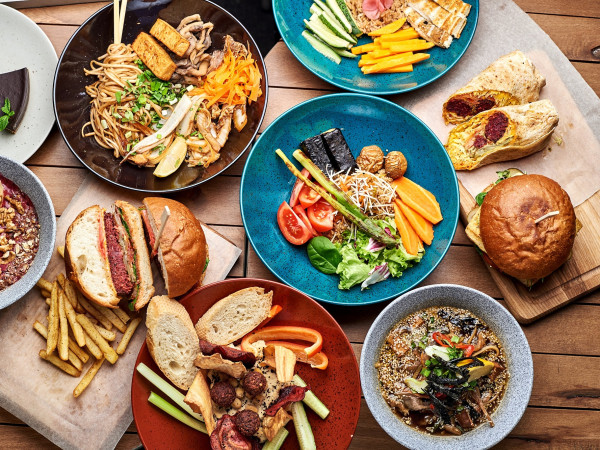 OM NOM NOM
100% vegan restaurant, delicious, various, and delightful dishes without any animal deriving products. The menu looks stunning. This is exactly the place where you will be lucky enough to taste a hamburger with a cutlet from Beyond Meat.
Among the interesting offers - gastronomic travel: every new month - a new country, new dishes and new tastes (and, of course, new experiences)! You still have time to taste culinary novelties from France, such as a classic French tuna salad, French onion soup, julienne, or a crème brûlée (and not so long ago the restaurant served Georgian dishes. I wonder where they will travel at Om Nom Nom next month. Isn't it a great opportunity to find out? This is an unusual reason for (gastronomic) travel.
From the main menu: salads, burgers and rolls, pizza, hot dogs, and a large list of desserts and drinks. The restaurant serves breakfast from 10 a.m. to 3 p.m. Why not start the day with fragrant coffee and pancakes, croissants, or cheesecakes?!
10 Rymlianyna St.
Mon-Fri 10 a.m-9 p.m.
Sat-Sun 10 a.m-10 p.m.
200а Kulparkivska St. (Futura Hub)
Mon-Fri 9 a.m-9 p.m.
Sat-Sun 9 a.m-10 p.m.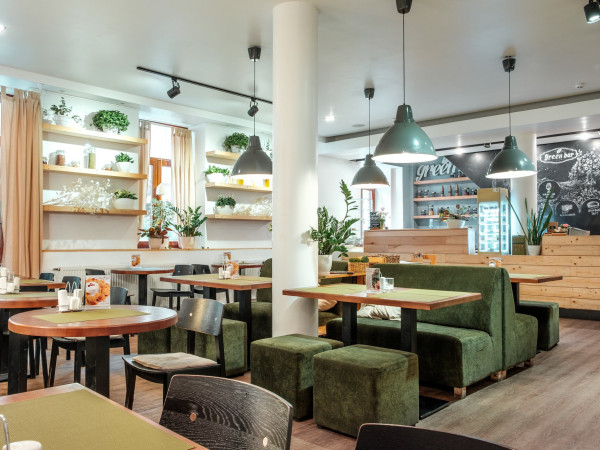 Green
Vegetarian/vegan art café, in the city center, near the Rynok square. This is the place where you can eat delicious and healthy meals, while also taking care of our smaller friends and the ecology of the planet.

The menu offers vegetarian rolls, burgers, soups, side dishes and salads, tofu dishes, smoothies, as well as a great choice of desserts and drinks. Here you can taste pizza, lasagna, or potato gnocchi. Breakfasts are served from 11 a.m. to 1 p.m. (breakfast menu offers: tofu crumble, sweet and savory Belgian waffles, and pancakes).

The dishes on the menu are listed with signs for vegans, vegetarians, and for those who follow a raw food diet, so it will be easy to decide on the choice of dish.

There is a small shop in the lobby where you can buy vegetarian and vegan products: tofu, soy products, dried fruits, spices, seeds, a variety of sweets and drinks. It is very convenient if, after a delicious meal, you decide to improve your cooking as a chef does.

The interior is dominated by green color. And the most important - there is no WI-FI, because, as they insist in this place, to communicate with each other is very valuable (especially tête-à-tête).
5 Brativ Rohatyntsiv St.
11 a.m.-9 p.m.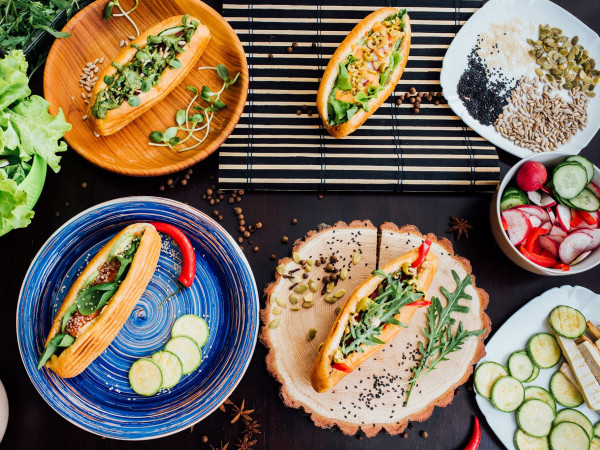 Dogs Like Ducks
Are you looking for a tasty and nutritious meal to satisfy your hunger between exploring the city and all its attractions? Turn onto Kovzhuna street at Dogs Like Ducks. This is a fast-food café that is well known for vegan hot dogs. (We were assured that hot dogs here are 107% vegan :)

The menu is simple: there are five vegan hot dogs named after popular dog breeds: Pit Bull, Collie, Husky, Chow Chow, and Jack Russell. Drinks for you: coffee with vegetable milk, tea, cocoa, chicory beverage, and kombucha.

You can also buy a variety of vegan/vegetarian products here, such as tofu or vegetable sausages and other delicacies. The place is very friendly.v
6 Kovzhuna St.
12 p.m.-8 p.m.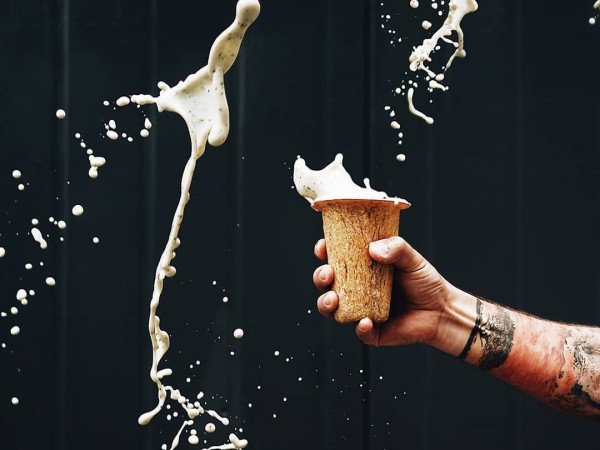 Soupculture
And not to go far, remember, you just ate vegan hot dogs?! Stand where are you standing (on Kovzhuna street) - another very tasty point is a soup To Go!

Subculture serves vegetarian soups in special edible cups made of dough… We are not joking at all, they are also very delicious! We should add a few words about environmental friendliness, let's face it - a glass of bread, isn't this a great alternative to disposable tableware ?!

So 4-5 options of soup every day to choose from the list: pumpkin, cheese, lentil, seasonal soup, and the bestseller - mushroom (this is also our favorite one, try it).
6 Kovzhuna St.
11 a.m.-9 p.m.
44 Heroiv UPA St.
Mon-Sat 10 a.m.-9 p.m.
Sun - Day Off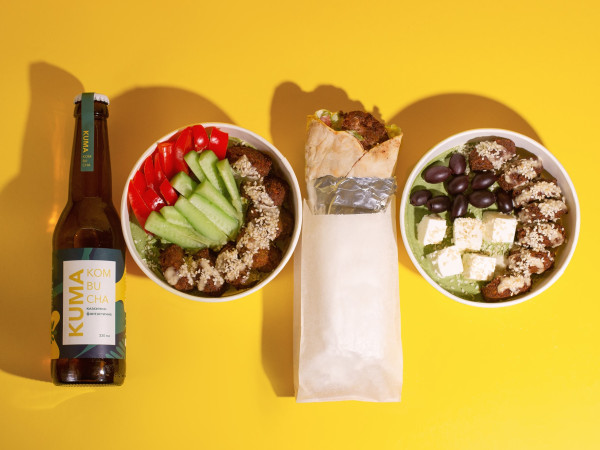 Its Falafel, Baby
You don't like hummus? We assure you, you just haven't been to this place and tasted it in "It's Falafel, Baby": classic or spinach. In the end, you will ask: «Give me two! And add more feta.

The menu offers falafel with green hummus and fresh vegetables, or with classic hummus and grilled vegetables and mushrooms in a role or as a bowl in a box.

The format of the restaurant offers dishes To Go. To convince you to taste it, we will repeat a magic spell for you: hummus, falafel - Take It To Go! (We hope you like our humor as well as the falafel from "It's Falafel, Baby"
10 Staroievreiska St.
12 p.m.-10 p.m.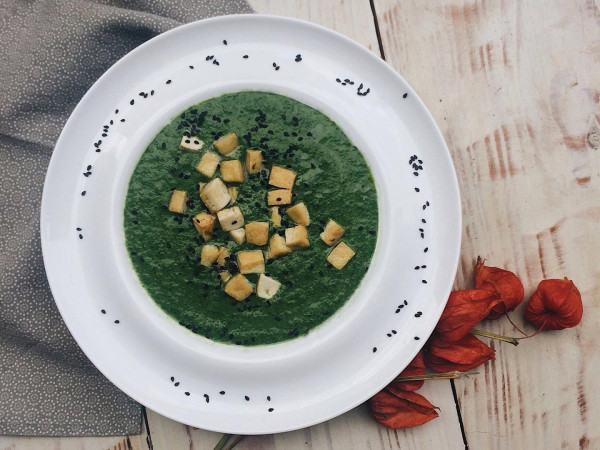 VegaRoom
Vegan dumplings, khinkali, potato pancakes, dumplings, shawarma, pizza, burgers, and pasta - plenty of options for a delicious snack without exaggeration for gourmets with any gastronomic whims.

Didn't convince you? And what about the cheeseburger with Beyond Meat cutlet, you can also order a double version (there are two cutlets). The menu also offers salads, soups, and other hot dishes: curry with chickpeas, vegetable stew, desserts, and smoothies. What about herring or non-crab salad? Believe me, there is still a lot of interesting dishes for you.

Drinks: chicory beverage, kombucha, milkshake, cocoa, masala tea, turmeric latte, classic and herbal teas.

The restaurant is pet-friendly, not only you but also your four-legged friend will be offered a snack, the restaurant has bowls for food and water. And for those who come for their favorite drinks with their cups will be offered a nice discount.
29 Fedorova St.
11 a.m.-9 p.m.
Yummy! Is not it? Finally, we decided to intrigue you with a quote so that you have something to think about, or at least inspire you to try vegan/vegetarian delicacies: The Future is Vegan!

Very soon we will offer you the second part of a gastronomic trip to Lviv that tells about establishments that have vegan/vegetarian dishes and menus.
To Be Continued…