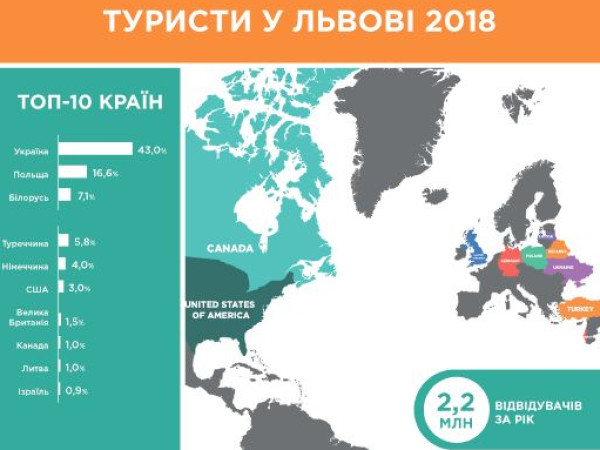 Marketing researches of tourists are being conducted for the 9th year in a row. 2200 city visitors took part in the survey this year. Visitors geography is wide enough and represents all continents of the world.
Ukraine (43.0%), Poland (16.6%) and Belarus (7.1%) remain the key tourist markets, while there is some decline in the number of tourists from Turkey (5.8%) and growth from Germany (4.0 %), USA (3.0%) and Canada (1.0%). For the first time, in 2018 we observed Israeli market to take the position in the TOP-10, which is 0.9% of the total number of tourists. The total number of tourists – visitors of Lviv during the year, reported by the Tourism Office of the Lviv City Council is 2.2 million.
The loyalty of tourists to the city and the level of emotional load with which they return home have been measured for the first time in Lviv.
This indicator is an important tool for measuring the attractiveness of tourists to the city, after all, as it is known, the best advertisement is "sarafan radio". NPS (Net Promoter Score) in 2018 made up + 73.6% (in a possible range from -100% to + 100%), indicating further active and incentive recommendations to their relatives and acquaintances about visiting our city and a wish to come back.
The index of tourist attractiveness of the city is 4.8 and the index of satisfaction with tourist service is 4.4 (out of 5 possible). These indicators are traditionally high and show positive dynamics.
Income from the local budget from the tourism industry increased by 18% and amount to 151 million UAH. Tourist tax also increased by 30% (6 536 UAH) in 2018.
Average tourist spending for 1 day (74 euros) remain unchanged. Due to military actions in the country and the introduction of martial law on the New Year's holidays, still the total number of tourists is 2.2 million.
Among the surveyed tourists are those who travel to relax (72.8%) and those who are not the first time in Lviv (51.0%). Also it is worth paying attention to the conference delegates, the number of which increased by 3.5% and is 10.6%.
Traditionally, Ukrainians prefer to travel by train (63.1%) and foreigners – by plane (48.9%). Every year tourists are more likely to choose living in hostels, as it is shown by indicator that grew by 9.1% and is 28.4% in 2018. However, hotels, selected by 31.8% of tourists (in 2017 - 37.1%) still remain to be on Top in this list. Reservation of accommodation in general are made through booking.com (39.6%) or directly on the site of the accommodation establishment (26.1%).
Foreigners prefer independent trips (29.5%), most often they also travel with friends (43.5%). Ukrainians prefer family trips (35.4%).
Tourists enjoy to drink coffee and eating something tasty in a cozy atmosphere (72.5%) or walking through the historical center of the city (66.9%) and to visit cultural institutions and events (57.7%).
"Internet resource is mportant assistant (81.5%) while planning a trip, as for foreigners – their friends who have already visited (23.9%) or lived in Lviv (20.5%).
If considering mobile applications, Google Maps remain a leader for orientation in the city and is mainly used by tourists (over 90%). That indicates the importance of local business representation and accurate display of information on the Google Network.
Traditionally, the main alternative cities considered by tourists when planning a trip are Kiev, Odessa, Chernivtsi and Uzhhorod. Krakow, Prague and Warsaw are in the list of foreign "competitors".
Summing up the results of 2018, we would like to quote what tourists say about Lviv and how impressed they are: "I really enjoyed it!!! The city is full of life and has a rich history ", "Positive and colorful city – like a dialogue between the old and the modern".
"Beautiful historic center with impressive churches and cafes – it is worth to come back for longer", – kind invitation from the Tourism Office.