Oksana Koval works at the Tourist Information Center. Frequently asked questions and tips for a response such as where to go and what to see in Lviv, where to drink coffee, or admire the city landscape – this is the information she faces almost every day. Let's be honest, there are a lot of good places in Lviv, and it's not easy to pick favorites from a long list. Especially for the project Locals and their routes, Oksana shares with us her best-loved locations, not very popular among tourists, in particular, in the area where she often spends time.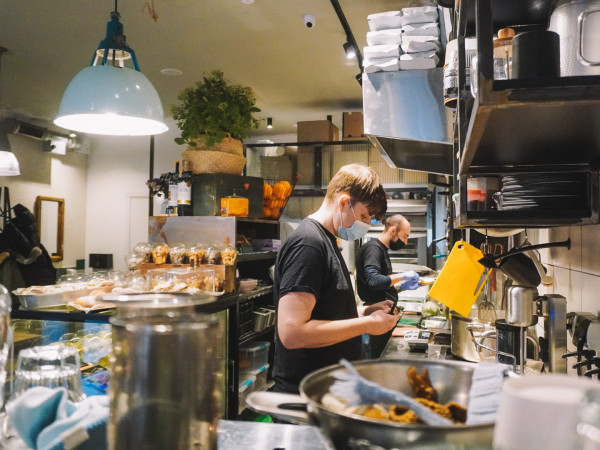 Station І
"Cozy, tasty and close to home"
TsiKava – location of delicious breakfasts. The small and cozy place with a pleasant interior where to meet friends have family time, or just to enjoy solitude and morning drink.
The menu offers a lot of healthy dishes and delicious drinks. There are several offers for breakfast and lunch: here you can taste a variety of salads, bowls, and sandwiches with several types of salty fillings or order food for delivery. There is a choice of vegetable milk and dishes, including sweets, for vegans. The main star of the breakfast menu – curd pancakes. And by the way, not only you but also your four-legged friend will be happy here. For me, it's a weekend coffee shop when you have plenty of time to enjoy your morning and coffee.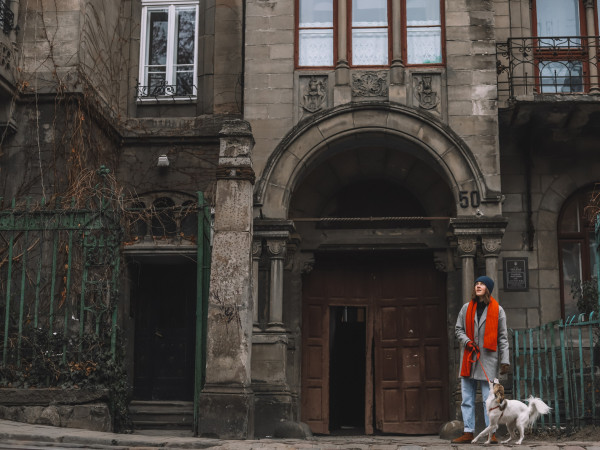 Station ІІ
Walk down the Chuprynky – Konovaltsa streets
"The slowness and tranquility of this area, partly interrupted by the rolling noise of the tram… Here I would stay for hours"
A walk through one of my favorite parts of the city – Konovaltsa and Chuprynky streets. This area was part of the Lviv suburbs for a long time. Later, an active transformation began here – construction under the guidance of prominent architects Julian Zakharevych and Ivan Levynsky. They have given this area a unique look, just imagine majestic villas with exceptional exterior decoration amidst green areas and plantings.
Urban development also took place here, so now we can observe a variety of architectural styles such as hutsul secession, functionalism, neoclassicism of Austrian, Polish, and Soviet buildings. I think this enhancing diversity makes this place so magnetic for me.
Imagine the silence along the Konovaltsa street partly interrupted by the rolling noise of the tram and the soft afternoon light spilled everywhere – these are the most serene and pleasant walks around the city. In this place, time passes imperceptibly, or maybe there is even another perception of time here because there are a lot of details in the decoration of buildings that you want to look for and study carefully, like a message from great architects of the past. And so on until the end of the tram track.
It will also be a great idea to take a walk through the Sand Lakes park, then Henerala Chuprynky street, and the National Forestry University Botanical Garden to see rare species of trees and plants. And on Chuprynky street you will find perhaps the most magnificent palace, designed by architect and builder Józef Sosnowski. This is undoubtedly an original building, it will be difficult for you not to notice it :)
Finally, I like the mysterious building with a small tower, known as the Villa on the Cross (21 Chuprynky street), designed by Levynsky and Zakharevych and shrouded in the legends of its odious inhabitant. Have a nice walk!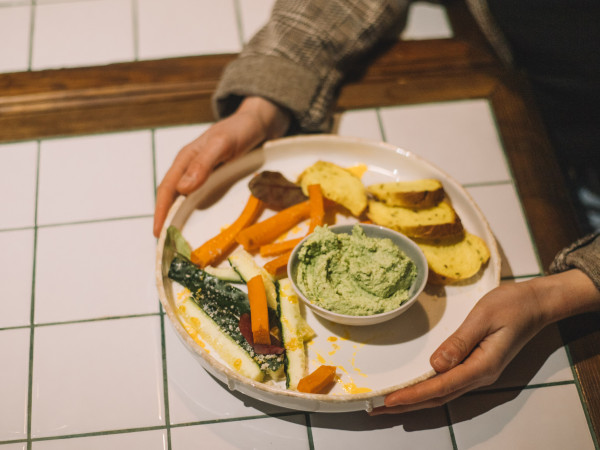 Station ІІІ
Papi
"I had a date here, I think it's quite a romantic place"
An atmosphere of comfort and a lot of charming details that will catch your glance. Elements of interior decor are made mostly of wood, fabric, and metal therefore this place is full of elegance. And how nice it is to listen to the playlist, it is great here: nice music in the background is always a good idea. The food is delicious and filling here. In warm weather, you can open the windows and admire the look of the city and the passers-by on the street. The highlights of the establishment are breakfasts and lunches (breakfasts, by the way, are served throughout the day from 9 a.m.).
I advise you to try beet pancakes and pea hummus with vegetables. This is the right place where you can taste local wines, they are very popular here, as well as cider and drinking honey. Also, if you like it stronger you can choose rum, bourbon, port, and sherry. To warm you up in the cool season, the restaurant offers hot cider and grog. But what you will certainly remember is the evening time by the fireplace. The thought will be swirling around in your head: am I at home?! As for me, this is a place for romantic dates or warm meetings with old friends – that's how it felt here.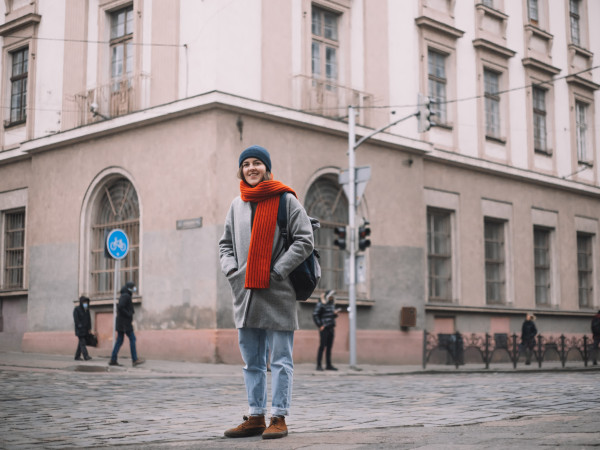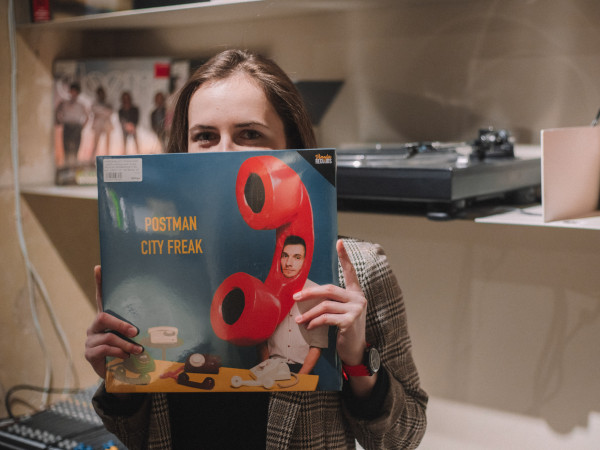 Station IV
"A mosaic of aesthetics and contemporary art. It's more than a gallery"
You will find the Municipal Art Center near the Vasyl Stefanyk National Scientific Library in the neo-Gothic townhouse of Leon Sapiga.
It is a gallery of contemporary art, a lecture-hall for non-formal education, as well as a media library, bookstore, and workshop. Here you can listen to vinyl records from the Vinyl Club collection (well, or buy them), read books and comics.
The third wave "Alternative Coffee" cafe will serve you a drink just right here, in the art center – that is a good idea! What an art without the fragrant charge of vivacity?! This is an accessible space of diverse culture. It is also a platform for open dialogue, sometimes bold and not always comfortable, in other words – one that is up to date and relevant or even ahead of time.
What I like the most is that this place is designed considering the needs of limited mobility visitors, based on a universal design, so the space is accessible and inclusive. For example, the corners of the rooms are painted in brighter colors to make it safe for people with visual impairments. In the courtyard of the townhouse, you will find a public space with benches and a terrace. It is also a place for rest or reflection, and certainly – for aesthetics ;)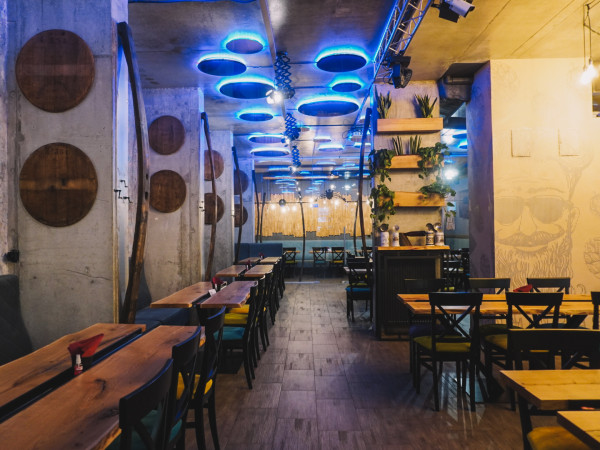 Зупинка V
Lemberg Craft Rest
"Craft beer brewed in my neighborhood"
15 minutes walk from the city center, and you are here, on Shevchenka street, in a themed restaurant and brewery, which serves craft beer and craft whiskey, as well as delicious cocktails. The yummy menu includes a lot of cuisines: burgers, salads, fish and meat dishes, classic beer snacks, well, and how without a dessert?! The restaurant also serves set lunches (from Monday to Friday 12 p.m.-3 p.m.). The space of the restaurant is quite large and there is a summer terrace for you to enjoy warm weather. It is interesting to pay attention to details in the interior. Quite often there are music evenings, film screenings, football matches, and Formula-1 broadcasting on the big screen.
Well, what, let's go ?! Because, as usual, This is the usual location "in the neighborhood" to spend one of Friday evenings with friends! And I also love when the employees of the restaurant bring compliments – no, no, not a verbal one, but quite gastronomic, from the chef :)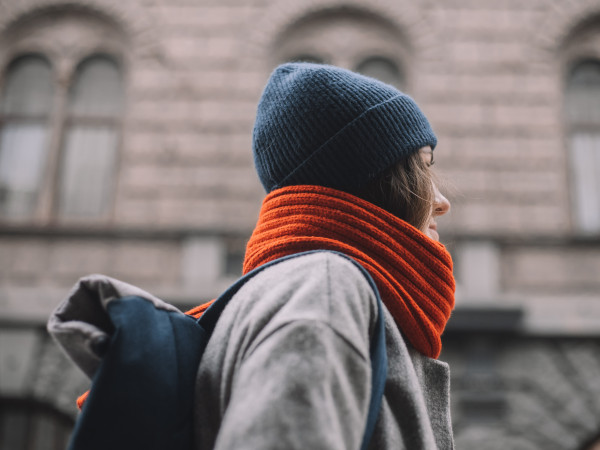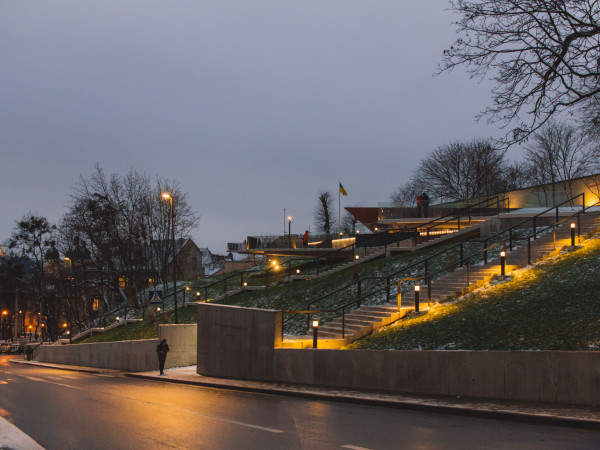 Station VI
Memorial to the Heavenly Hundred Heroes
"Place of memory and place of power"
Public space in the city center is quiet and beautiful with a good location because it offers a view of the central part of Lviv, which was inaccessible before. It is a place of memory and strength that in silence, under the sound of the wind and rays of the sun preserves moments of our recent history.
But I would dare to call this space a "place of happy people" who have values and ideals and who remember their history well so that they can build a safe future. It is a great space to be alone with your thoughts and contemplate the city. The sunsets here will make you fall in love with this place, especially in good weather. Beautiful photos with a view of the Town Hall or other architectural objects and ... pleasant memories from Lviv – this is what you get here.
Where: the intersection of Maksyma Kryvonosa and Zamkova Streets
TsiKava

Different salads, bowls, and sandwiches with several types of salty fillings, and you can order food for delivery. There is a choice of vegetable milk and dishes, including sweets, for vegans. The main star of the breakfast menu – curd pancakes.

Where: 15 Khorvatska Street

When: 9 a.m.-9 p.m.

Tel.: +38 067 57 56 168

More

Papi

The highlights of the establishment are breakfasts and lunches. I advise you to try beet pancakes and pea hummus with vegetables. This is the right place where you can taste local wines, they are very popular here, as well as cider and drinking honey. Also, if you like it stronger you can choose rum, bourbon, port, and sherry.

Where: 19/1 Valova Street

When: 9 a.m.-10 p.m.

Tel.:+38 093 16 12 763

More
Municipal Art Center

It is a gallery of contemporary art, a lecture-hall for non-formal education, as well as a media library, bookstore, and workshop. Here you can listen to vinyl records from the Vinyl Club collection (well, or buy them), read books and comics. The third wave "Alternative Coffee" cafe will serve you a dink – fragrant charge of vivacity is always a good idea.

Where: 11 Stefanyka Street

When: 10 a.m.-9 p.m.

Tel.: +38 063 11 04 899

More

Lemberg Craft Rest

Themed restaurant and brewery, which serves craft beer and craft whiskey, as well as delicious cocktails. The yummy menu includes a lot of cuisines: burgers, salads, fish and meat dishes, classic beer snacks, well, and how without a dessert?!

Where: 19 Shevchenka Street

When: 12 p.m.-11 p.m.

Tel.: +38 66 81 98 805

More
Text by Oksana Koval
Photo by Galyna Kuchmanych
Editor – Oleksiy Fedak