As I boarded my flight from Stansted to Lviv, I honestly didn't know what to expect from this relatively unknown Ukrainian city.
Little did I know what great things Lviv had in store for me.
Arriving at my hotel, the beautiful five-star Citadel Inn, I was greeted by Peter – the owner of Lviv Buddy, a tour company that specialises in walking tours.
The sun was high in the sky as we made our way from the hotel to Rynok Square, Peter talking me through the city's history as we walked. In its time, Lviv has been a part of the Austro-Hungarian Empire, Nazi Germany and the Soviet Union. This chequered past has not only influenced the city's urban landscape but also its culture and people.
Modern day Lviv is about as free from conflict as Iceland. The city has endured its fair share of political and economic turbulence over the years, but has always picked itself up, dusted itself off and is now looking ahead to a brighter future.
After a fascinating, fact-filled tour, Peter left me at Bachevski Restaurant, which was to be my first taste of the city's famous Galician cuisine. Fortunately, there was no need for any of the apprehension I was feeling. The potato dumplings and accompanying broths and sauces left me stuffed to the brim yet still wanting more. Already, Lviv was serving up surprises.
Later that evening, I made my way back down the hill towards Rynok Square. I was expecting the weather in Lviv to be overcast, grey and cloudy, but it was in fact the opposite. I was reminded of Barcelona as I strolled through the streets towards the famous Organ Hall.
Lviv Organ Hall was yet another turn-up for the books. I was starting to learn that whatever I was expecting to happen in Lviv, the city would provide the opposite. As I'd earlier been informed, the city's Organ Hall was once a rarely visited building, with dwindling concert goers, and a lack of interest from youth.
A city-wide competition to find a new director for the hall changed all that. Enter a 20-something-year-old musician to completely revamp the concert experience. Locally created, modern art, low prices and a strong WiFi connection have all contributed towards boosted audience numbers.
Classical music isn't really my thing, but I sat in awe as I watched a maestro at work. The sound of Bach echoed around the chapel with the many in attendance transfixed on the performer sitting on the altar-come-stage. Once again, Lviv had surprised me in the best way.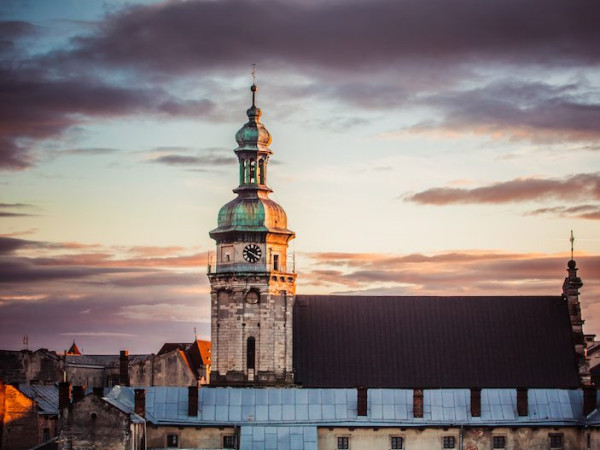 Next morning I met with Marta from Just Lviv It, who showed me around Fest's various restaurants, cafés and bars in the city. It was through Marta that I learned of the city's independent spirit, their passion for creating local products, and where I could go for a drink later that night.
Lviv locals are immensely proud of their locally brewed coffee. There are independent coffee shops on every street, which was a welcome change from the usual Starbucks and Costas that line the streets of most other European cities.
A visit to the handmade chocolate shop in Rynok Square is a perfect family activity. I watched as the chocolatiers blended and concocted each handmade treat, all of which were available in the gift shop. It was like an accessible, and much less creepy, version of Willie Wonka's Chocolate Factory.
Next we headed to Kryjivka. The last hiding place of the Ukrainian Insurgent Army is supposed to be kept secret. With no sign above the door, and no address to be found online, Marta told me the location was listed as "somewhere on Rynok Square".* Marta gave the guard the password** in Ukrainian before he looked me up and down and asked her another question.*** As he stared at me sceptically, Marta answered, and we were allowed in.
Inside was a shrine to the country's war-torn past, with memorabilia, machine-gun-fitted motorcycles, grenades and tanks scattered around. I was surprised to learn that this was a café and restaurant, and one of the most popular in Lviv. Apparently the secret hasn't been well kept.
* It's number 14
**The password roughly translates to "Honour to Ukraine"
***The guard asked if there were any Russians in her party. Marta said no, and you should too.
After a filling lunch in At The Golden Rose, a Jewish and Galician themed restaurant, I met with Mykhailo from the High Castle Group who showed me around the Folk Architecture Museum.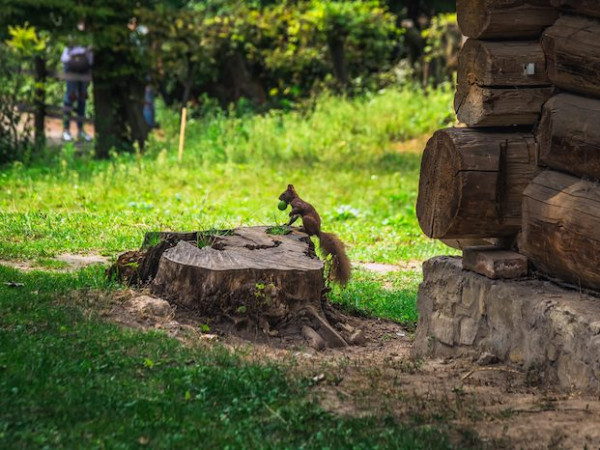 It was billed as an outdoor museum with old fashioned farms, homes, churches and schools, built as a tourist attraction just a short tram ride from the city centre.
My hopes weren't high when I read about it before my visit. I was expecting a tacky, staged, touristy experience – but it was more realistic and interesting than I expected.
Mykhailo explained how all of the buildings were constructed with wood from the trees of the nearby Carpathian mountains, and how the churches in the museum were popular with locals, especially on this Easter weekend. As we wandered around, people in traditional Ukrainian clothing crowded outside a tiny chapel to pay their respects and kiss a shrine dedicated to Jesus.
The open air museum involves a lot of walking, but the further you delve in, the more it feels like you are experiencing the mountain lifestyle of the people of Lviv.
We made our way back to the city centre and said our goodbyes. Mykhailo was a wealth of knowledge and information, and had plenty of advice for the rest of my stay – including where to buy sunglasses and how to use their ATMs, (a lot of them give you the cash before your card, which means some tourists forget to take their card back and leave it in the ATM).
For my final Lviv 'must-do', I braved the 350 wooden steps to the top of Ratusha Tower in Lviv's city hall. It's steep and narrow, long and arduous, but the panoramic view from the top made it all worthwhile. I wouldn't do it again, though. Once was enough.
As dinner time approached, I made my way to Hotel Leopolis which is home to On Shevska Restaurant. I sat outside and watched as crowds of people exited a nearby cathedral, clad in traditional garments, carrying wicker baskets full of eggs to celebrate Easter.
On Shevska offers a wide range of options, whether you're feeling brave and want to try the local food or you'd prefer to play it safe with classic European dishes. A special mention goes to their homemade pastries and cakes. They all looked delicious and I wanted to try them all, but in the end I settled for the apple strudel, which is tasty enough to fly back for.
Taking Marta's advice, I visited Pravda Beer Theatre that night to taste a few of the local beers and to revel in what she promised was a great atmosphere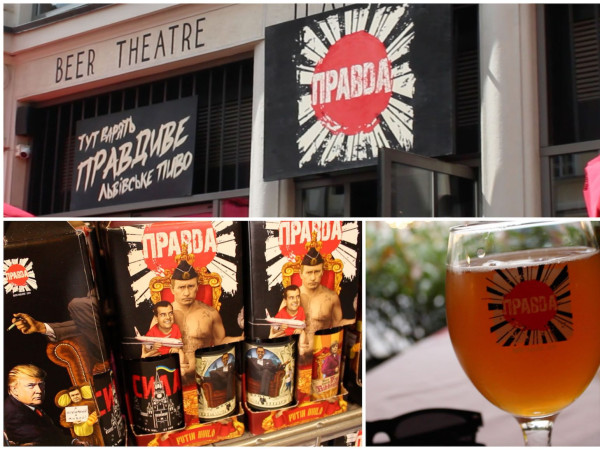 As I walked in, a live brass band bellowed out versions of modern and classic pop hits. Locals and tourists mingled and there wasn't a seat left in the house. I ordered a "Putin Huilo", which I'll leave you to google-translate, and stood in the corner taking everything in. It wasn't long before a local couple included me in their conversation.
This is my favourite thing about Lviv – I was travelling alone but I was made to feel at home wherever I went and by everyone I met. By the end of the night I was standing outside, arm-in-arm, singing along to Oasis with a crowd of people and a busker.
Take my advice - visit Lviv before it becomes one of Europe's most popular tourist hotspots, and trust me, it will. The city has everything you could want in a European city break. Incredible food, great nightlife, stunning architecture, a fascinating history, and friendly, welcoming locals. Lviv surprised me in the best way. Get to this hidden gem before the tourists do, you won't regret it.