After all, this sincere feeling allows you to overcome any obstacles and troubles, makes you stronger, and inspires you to win.
Since the beginning of the war in Ukraine, almost 4,000 couples have officially registered their marriage and started a family. The Ministry of Justice of Ukraine reports about it. It shows that the enemy will not break us, because the feelings are stronger, and life goes on.
Read more about how to get married in military conditions.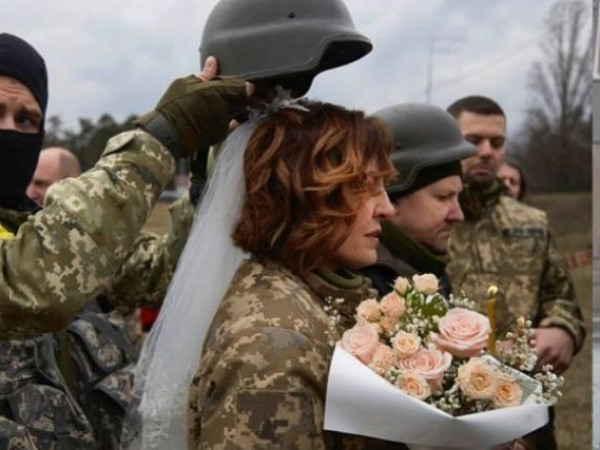 Military helmets instead of gold crowns
Recently, Valerii was the director of an IT company, and Lesia was the head of the Kyiv branch of Plast, the National Scout Organization of Ukraine. They have been together for 22 years and have raised an adult daughter during this time.
According to Lesia, they never attached much importance to marriage, but now they have decided to receive the sacrament of marriage. It is this decision that now greatly supports them morally. Additionally, important things are overvalued in such difficult times.
"We decided to get married because it is a difficult time and it is unknown what may happen to us tomorrow"
The wedding took place at one of the checkpoints in Kyiv. Golden wreaths were replaced by military helmets and festive clothes by uniforms because now brides are serving together in the ranks of territorial defense.
They got married in a bomb shelter
His name is Vladyslav, and he works in the police in Avanhard of the Odesa region. Now he is defending Ukraine.
Vladуslav and his fiancée Nataliia came to the Avangard Administrative Services Center to register their marriage. Without a lush wedding dress and with a small bouquet in her hands and instead of a suit - police uniform.
The dearest ones were present with bread and icons in their hands. TsNAP administrator Olena started the marriage registration procedure. Suddenly the siren sounded "Attention everyone! Air alarm!"
The marriage registration continued in the bomb shelter, where the bride and groom were handed a marriage certificate and declared husband and wife.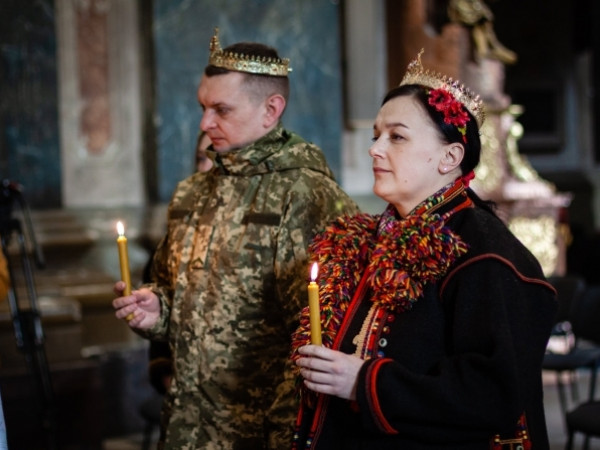 After the wedding, he returned to the Army
Defender Roman joined the Armed Forces of Ukraine to protect his native land from the occupier and provide peace for his beloved Irуna and his young daughter Solomiia.
During this difficult time of war, the young couple decided to receive the sacrament of marriage and the next evening went to the Saints Peter and Paul Garrison Church in Lviv. It was here that they made vows of love, fidelity and that they would not leave each other until death.
Also, this evening, they decided to christen their little daughter Solomiia. And the next day, Roman returned to the Army and continued to defend Ukraine.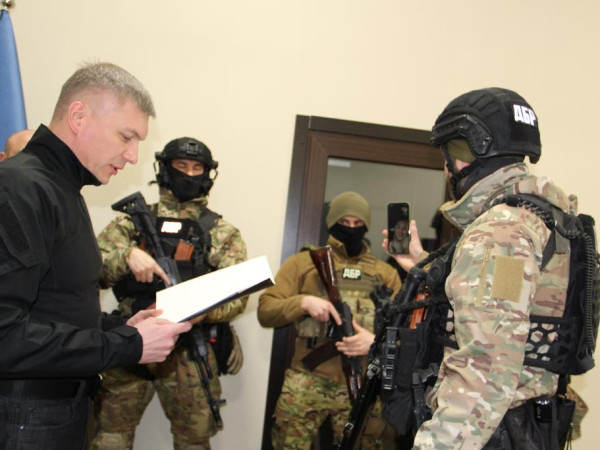 Marriage at a distance
Yurii is one of the employees of the State Bureau of Investigation. They are separated by kilometers from his beloved Kateryna. After all, the war scattered lovers in different parts of the country. They have been together for a long time and have two children.
Official marriage was postponed all the time, but in wartime, they decided to do it, even at a distance. Kateryna said "yes" to Yurii via video link, and DBR director Oleksii Sukhachov testified about marriage.
"Your feelings are hardened like steel, more reliable than armor and sincere, like faith in the victory of Ukraine", said Oleksii Sukhachov.
Yurii promised Kateryna to return alive and victorious
Additionally, during martial law, the DRATsS may register marriages even in the personal absence of the bride or groom if they are servicemen. Read more here.
Thousands more romantic stories take place during the war.
Some couples go to DRATsS, where instead of gold wedding rings, he paints them with a pen or marker, and after the war, he wears real ones. Someone confesses, even on the phone, and promises that he will return alive and stand with his beloved for a wedding towel.
Some couples together prepare "Bandera smoothies", weave camouflage nets, join the ranks of territorial defense, or fight on the information front.
But everyone is united by sincere love, love for Ukraine, and unbreakable faith in victory!