Hi there! The team of the Tourist Information Center asked three Independent Travelers about special locations in our city on Ukrainian Independence Day!
Today we invited Alexander Shutyuck – an urbanist and blogger. He will share his experience with you.
- What associations do you have with our city?
- First of all, it is associated with an active and caring community. In Lviv, people are very interested in the development of the city, they monitor everything that is happening and actively comment on everything on social networks. I think this is the most important thing for us. We often have some disputes, but at the same time, if we compare with cities where residents are so indifferent to problems, so the results are also obvious: we have more thorough and positive changes.
- Where do you take your friends who are travelers?
- Usually, they are also urban planners and bloggers. When my friends, travelers come to me, I will show them: "Look, here we have a new tram line, here we have a new square, and here we still have some new to show". Usually, I don't show them very touristy places, because they will find them anyway. Now for me, Top-1 is exactly Dvirtseva square, Top-2 is a tram to Sykhiv, Top-3 is Rymlyanyna street – I designed it, so I'm happy to recommend it.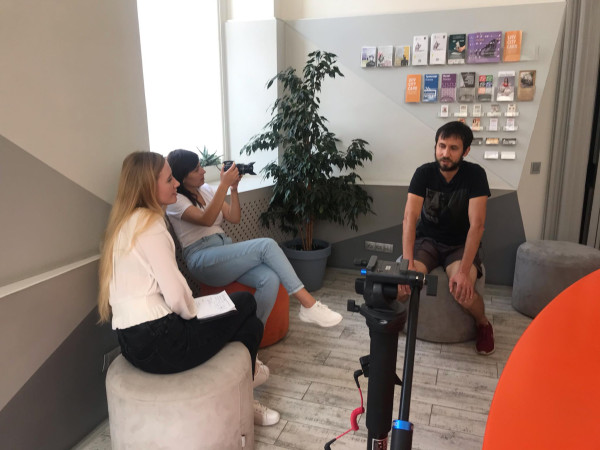 Q&A
- Where not to go in Lviv?
- Wherever you want, go there, everyone is free here.
- A place in Lviv that inspires you?
- What inspires me is not the place, but observing people, how they behave.
- When does it not rain in Lviv?
- Today
- Where did time stop in Lviv?
- In the district administrations.
- Paper or online map?
- Offline.
- Tram or on foot?
- On a bicycle.
- Galician cuisine or kebab?
- Kebab.
- Then where?
- Where? Where it is closer.
- Museum of History or Beer?
- Neither one nor the other.
- Dumplings with sour cream or without?
- With sour cream, of course.
ASSOCIATIONS
- If the theater, then ...?
- Hanger…
- If the Gallery, then ...?
- The Art Gallery
- Café?
- Thonet's chair.
- If the pub, then ...?
- Then it is loud.
- Panorama?
- From the High Castle.
- Park?
- ...of Ivan Franko.
- To go to Lviv or from Lviv on Independence Day??
- If you are not from Lviv, then to Lviv, and if you are from Lviv, then either enjoy life in Lviv or go somewhere. In any case, I wish you a good Independence Day and positive emotions. Congratulations on Independence Day!