Hi there! The team of the Tourist Information Center asked three Independent Travelers about special locations in our city on Ukrainian Independence Day!
Today we invited Arsen Chystyakov – co-founder of the VYO adventure agency and Lviv Travel Club.
- What associations do you have with our city?
- For me, the city is primarily associated with Europe. Probably, this is a rather stereotypical comparison, but it is as it is. It is associated with traditions, with history, with cafés. When I come, especially from the Scandinavian countries, I like to go to cafés and restaurants here. Our cafés are interesting, cool, and diverse. In my opinion, the city is also associated with greenery. We have so many parks. And this is also one of the reasons why I love our city very much. You can wander around those parks all day and move from one park to another. This is also a very cool feature of our Lviv.
- Where do you take your friends who are travelers?
- It has happened many times that friends from different countries came to me and very often I took them to Kaiserwald. From Kaiserwald (Znesinnia Park) we slowly move to Shevchenkivskyi Hai – Skansen. Skansen (open-air museum) is a very interesting place in the city and the country, which shows the development of the culture, of history as it was… I once took friends from Spain to our Shevchenkivskyi Hai, they learned how to make rag dolls, what is pysanka – they were very excited! Here we can show others the authenticity of our country.
- Are these your Top 3 places?
- Znesinnia park, Shevchenkivskyi Hai, and third place? (laughs) Well, and the third place is… I really like Pidzamche district. It reminds me very much of such areas as, for example, the Praga district in Warsaw. Without glamor, without luxury, it is so real and vital – that's what I really like in the Pidzamche area. You can wander through it and see how people live but in such a cool historical environment. I really like it in Pidzamche.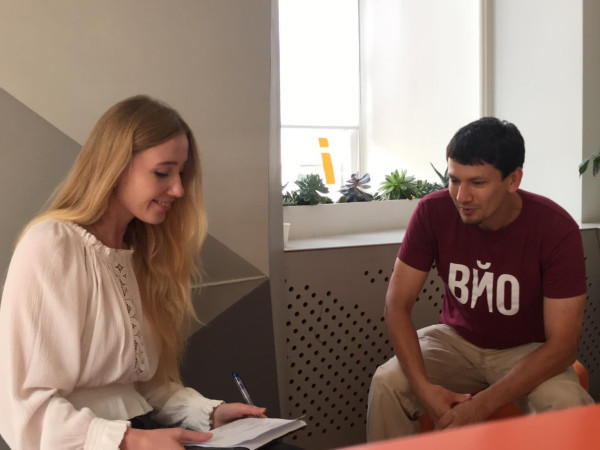 - Where not to go in Lviv?
- In very popular restaurants.
- A dish that you will never advise a tourist?
- There is no such dish because I really believe that absolutely everything is worth a try. Even if it looks very strange. (This is a blitz question I should answer quickly)
- Even if it's aspic?
- Even if it's aspic! I was just about to say about aspic! Foreigners are all just shocked by the aspic!
- A place in Lviv that inspires you?
- I am inspired by old cafés, such as Svit Kavy.
- When does it not rain in Lviv?
- I wanted to say in winter, but it also happens in winter ... so ...
- Where did time stop in Lviv?
- On Konovaltsa street.
- Paper or online map?
- Paper, I love paper maps: from different countries, always, everywhere!
- Tram or on foot?
- On foot!
- Galician cuisine or kebab?
- Galician cuisine.
- Then where?
- There is a Galba gastropub on Teodora square – I love it there! Or… (I forgot what it's called. Oh, I forgot the name….) Near St. Andrew's Church, down there, in the Museum of Ideas…?
- Trapezna.
- Trapezna!
- Museum of History or Beer?
- Of History.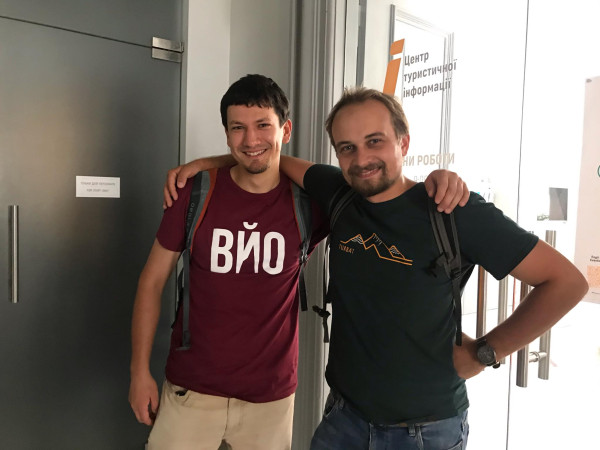 - If the theater, then ...?
- Lesya Ukrainka Theater.
- If the Gallery, then ...?
- Dzyga.
- Café?
- Svit Kavy.
- If the pub, then ...?
- Galba.
- Panorama?
- Memorial to the Heavenly Hundred Heroes.
- To go to Lviv or from Lviv on Independence Day?
- Lviv residents – from Lviv, and everyone else – to Lviv. Lviv is always interesting, it is historical, it is delicious, it is really an adventure here. Because in Lviv you can find everything, for every taste, that's why visit Lviv. Congratulations to all on Independence Day!