For the first time during the full-scale war, the Lviv Tourism Office, in cooperation with the Sociological Laboratory of the Ukrainian Catholic University, conducted a survey among inbound visitors to the city.
The goal is to form an up-to-date Lviv guest portrait to explore their travel profile, impressions and level of satisfaction with their stay in the city.
The survey took place between 27 April and 10 May 2023. The students interviewed 460 respondents aged 16 and over using face-to-face methods.
The sample was filled by randomly selecting typical representatives with positive discrimination elements towards IDPs and foreign guests.
The main locations for the survey are Rynok Square, Vernissage Square (near the M. Zankovetska Theatre), Opera House, the Heavenly Hundred Heroes Memorial, and Lviv hotels.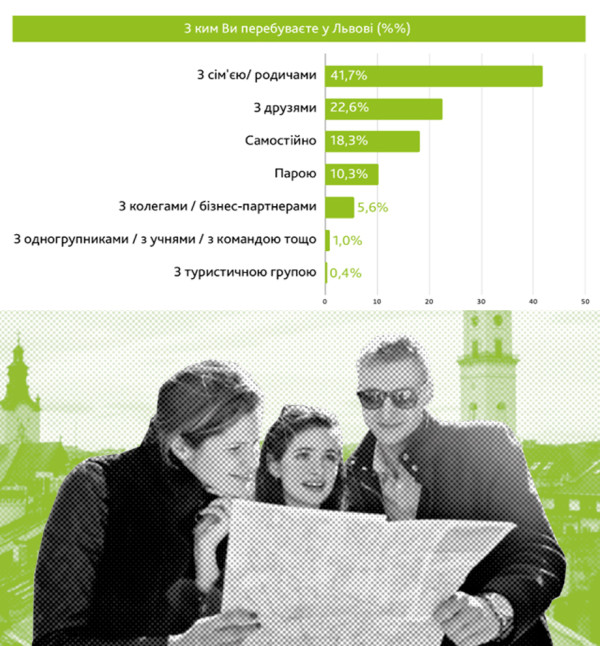 The respondents are 88.6% Ukrainian guests, mainly from Kyiv, Kharkiv, Zaporizhzhia, Ternopil, Kherson, and 11.4% foreigners, mainly from the USA, Poland, and the UK.
77% of guests had visited Lviv before, while only 23% were in the city for the first time.
The most frequently mentioned reasons for travelling to Lviv are recreation (34.6%), change of residence (IDPs) - 19.7%, visiting friends and family - 18.1%, work - 14.4%, volunteering - 3.9%, transit - 3.1%, participation in competitions, contests, festivals - 2.4%, visa application - 1.5%, short training courses - 1.5%.
They stay in Lviv mainly with family and relatives (41.7%) and friends (22.7%); slightly fewer came here on their own (18.3%), as a couple (10.3%) and with colleagues/business partners (5.6%).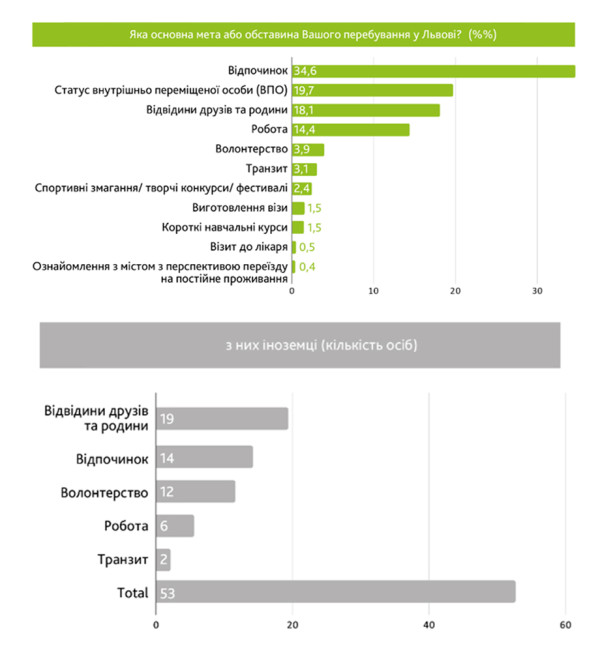 What are the purposes of foreigners' visits?
Most often, to visit friends and family (36.7%), rest (26.8%), volunteering (22%), and less often for work (10.5%) and transit (4%).
People who came here know about Lviv mainly from their childhood (53%), from relatives or friends who live or used to live in Lviv (34.7%), from social media and the Internet (11.5%), media publications (8.7%), and television (7.9%).
Answering whether they included other cities besides Lviv in their trip, most guests said that they travelled exclusively to Lviv (73.7%). Others (26.3%) included Kyiv, Uzhhorod, Ivano-Frankivsk, Lutsk, Drohobych and Krakow.*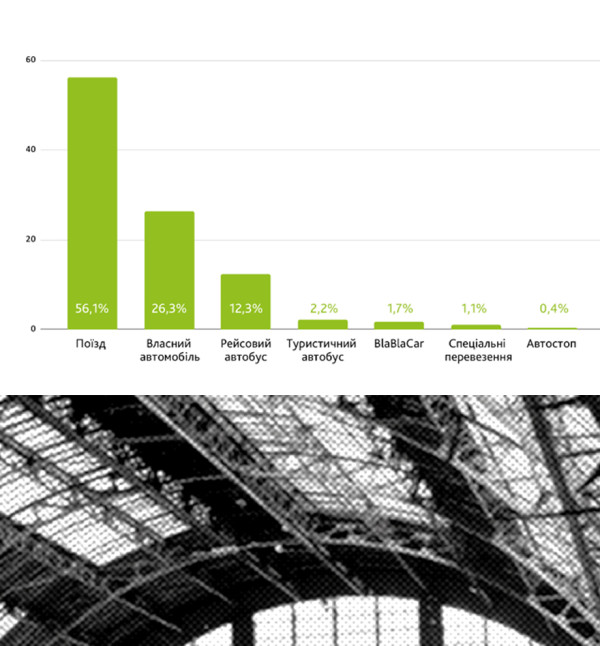 How do Lviv guests arrive, and where do they live?
Most often, by train (56%), followed by a private car (26.3%) and a regular bus (12.3%).
The most popular transport for foreigners is buses and trains, and less often a private car.
Where do guests live in Lviv? 28.4% - in a rented apartment, 26.2% - in a hotel, and 21.7% - with relatives or friends.
The average length of stay for guests in Lviv, excluding IDPs, is 2-3 days, including 4-7 days for foreigners.
According to Ukrainian guests, their average spending in Lviv per person and day is UAH 1450 (EUR 36). For foreigners, it is 2065 UAH (52 EUR).**
Spending time in Lviv
In Lviv, guests like to walk around the city on their own (81.9%) and visit restaurants and cafes (73%) and cultural institutions (51.4%). Other options include attending events and fairs (27.6%), working (24.3%), going on guided tours (16.6%), and volunteering (16.4%).
As for foreigners, their pastime is as follows: walking around the city on their own (69.6%), visiting restaurants and cafes (67.6%), cultural institutions (60.6%), events and fairs (34.6%), and volunteering (32.3%).
Almost 90% of the city's guests would like to revisit Lviv, and about 10% say they would rather not.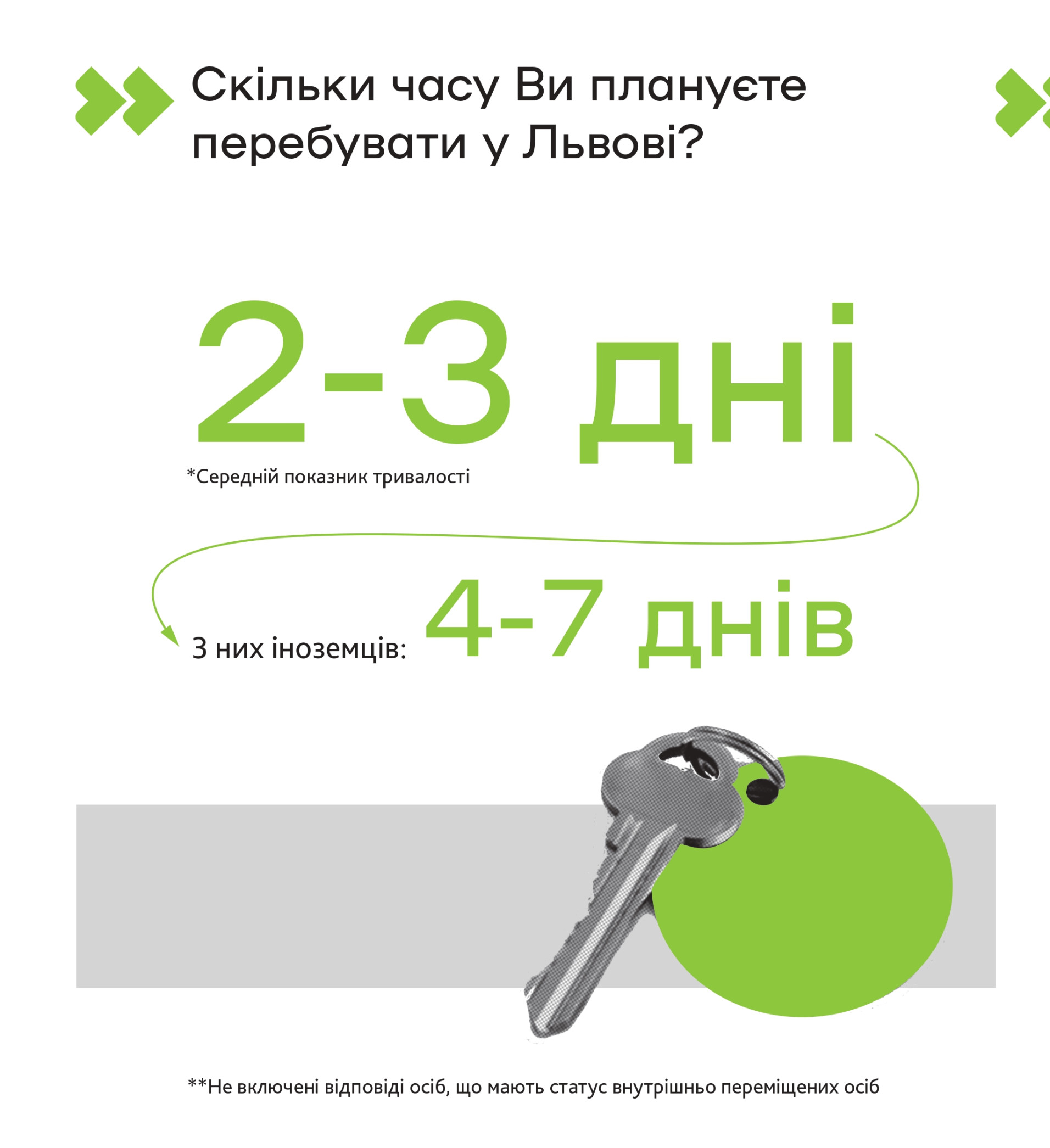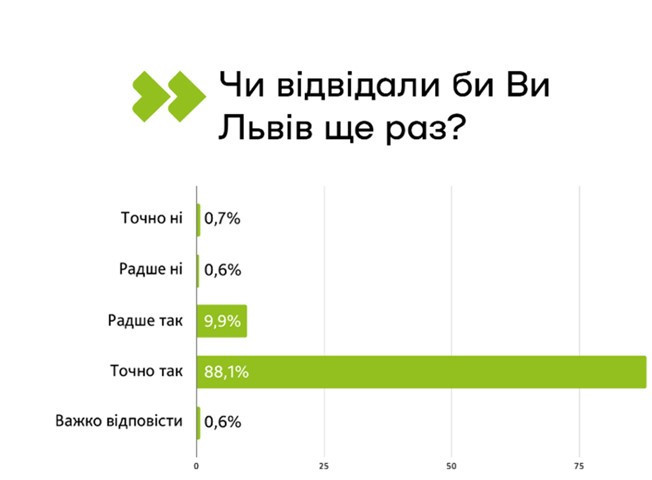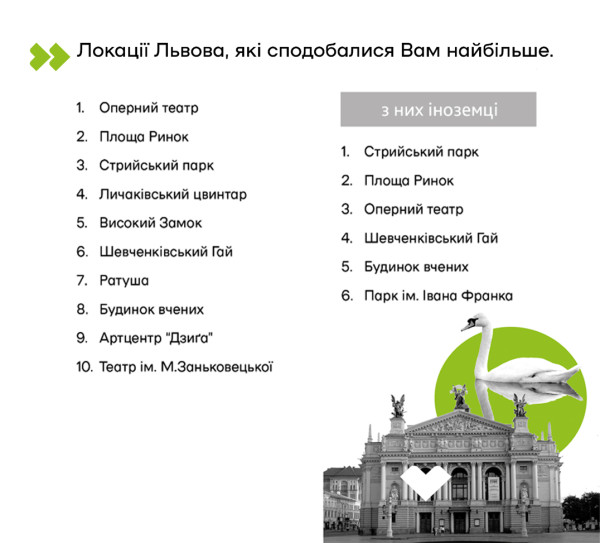 City evaluation and impressions
Top 10 locations that guests liked the most: Opera House, Rynok Square, Stryiskyi Park, Lychakiv Cemetery, High Castle, Museum of Folk Architecture and Rural Life (Shevchenkivskyi Hai), Town Hall, House of Scientists, and M. Zankovetska Theatre.
The locations most favoured by foreigners are Stryiskyi Park, Rynok Square, the Opera House, the Museum of Folk Architecture and Rural Life (Shevchenkivskyi Hai), the House of Scientists, and Ivan Franko Park.
What emotions does Lviv evoke in its guests?
To understand what emotions Lviv evokes in its guests and how they feel here, we asked them what colour they associate with the city. And this is what we came up with.
The key colours that all guests associate with the city are yellow and green.
Evelia Bilska, a psychologist, explains how people perceive these colours and, thus - the city.
"Yellow is the colour of the sun, joy, warmth and vigour. This colour is associated with emotions, optimism, movement and pleasant sensations. Yellow increases concentration helps in accepting new ideas, and releases negativity.
Green is a colour symbolising vital energy, salvation, harmony, love, and growth. In addition to its most "natural" meaning, green has depth, experience and knowledge."
More results of the research: https://bit.ly/3Nkhgxv
*Responses of IDPs are not included.
**Includes meals, public transport, souvenirs and other expenses. Not included are accommodation costs in Lviv and transportation to/from Lviv.