The history of the park began in the middle of the 19th century. The famous Pelchynskyi Pond that was a favourite place for water recreation among the burghers was located in its lower part.
Austrian and Polish military regularly used to organise sea battle shows there while in the winter it used to be a skating rink.
Since 1951, the Soviet authorities have tried to transform the park into a resting place for working people, but it ought to be organised within the ideological framework. The Yunist Stadium was built there as well as the so-called Green Theatre.
Nowadays, the territory is known as the Central Park and is a popular place among the progressive people for film screenings, city holidays, presentations and festivals.
Author Ihor Lylo
Translated by A. Kushch
Парк мав два парадних входи, які прикрашалися колонами коринфського ордеру. Перший вхід був розташований у нижній частині парку (з боку вулиці Вітовського) від нього центральна алея піднімалася вгору. Вгорі був інший парадний вхід (на розі вулиць Стрийської та Героїв Майдану), та згодом її ліквідували. З одного входу парку до іншого можна прогулятись алеєю. По всій алеї є лавочки для відпочинку та освітлення.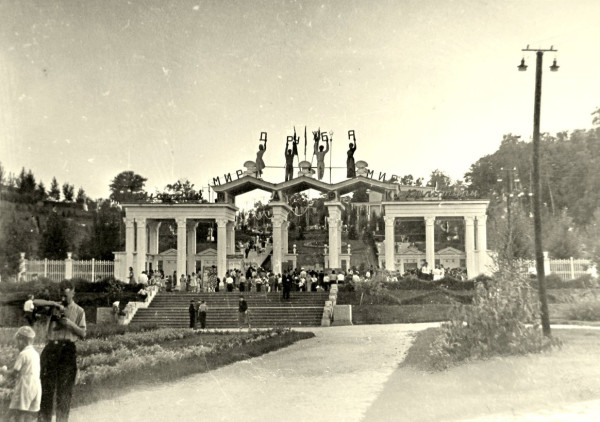 Також, у парку розташований колишній театр. Будинок розмістився праворуч від входу у Парку культури та відпочинку ім. Б. Хмельницького. На цей час це діючий ресторан у парку.
Влітку, при вході з вулиці Вітовського проводиться показ кіно під відкритим небом. Щоліта, львів'ян та гостей міста запрошують на перегляд кінофільмів, люди беруть з собою каримати чи інші речі, щоб було комфортно сидіти на траві.
Якщо ж хочеться піти на атракціони, то ви їх також тут знайдете. Зліва від ресторану є доріжка до парку з атракціонами. Там ви знайдете як дитячі атракціони, так і ті, які будуть цікавими й дорослим.