Metropolitan Gardens is a unique example of landscape architecture of Lviv.
Everyone knows St. George's Cathedral. This is the residence of Greek Catholic metropolitans and a real architectural pearl of Lviv – an 18th-century monument protected by UNESCO. However, very few Lviv residents and visitors have heard about the park complex of this church – Metropolitan Gardens.
A short history
Saint George's Cathedral, Metropolitan's Chambers, Metropolitan's Gardens, and adjacent territories are part of the Saint George's complex, which is under the care of the Ukrainian Greek Catholic Church. Besides, this architectural and park ensemble belongs to the world heritage and is protected by UNESCO.
The gardens, arranged on the slopes of Saint George's mountain, complement the architectural complex of the temple but are also a unique space. In ancient times it was a wooded area, but in the early 18th century a garden was arranged there.
After the modern church was built, the garden adjacent to it was landscaped in a new way – then a picturesque park with terraces appeared. In the middle of the 19th century, it was redesigned into a park in the English style. At the initiative of Metropolitan Andrey Sheptytsky, fruit trees were planted here, which turned the space into a garden.
Free admission for one or two children under 13 years old with a Lviv City Card holder.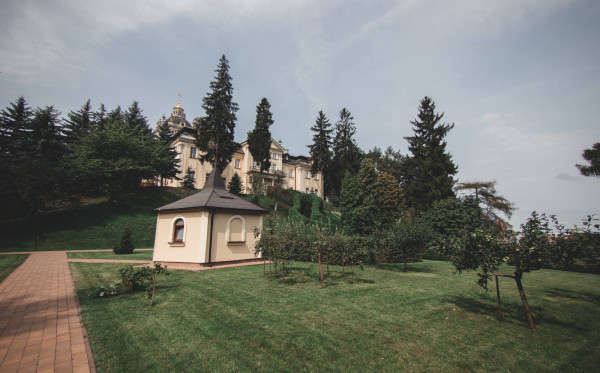 Revival
In Soviet times, this space was abandoned. After Ukraine proclaimed its independence and the UGCC came out of the underground, the idea of restoring the complex came up. It was arranged by the charitable organization "Spiritual Renaissance Foundation". In 2015, the Metropolitan Gardens opened its doors to visitors. Excursions and events are held here.
Metropolitan Gardens are a good idea for leisure and relaxation. Particularly worth attention is the grotto-shaped gazebo, the author of which was K. Fesinger. The Saint George's café is at guests' disposal.
Photo - https://vidviday.ua/mytropolychi-sady