It was built near Osova in 1756, the period when Gamulets was an independent small settlement located at the cross of roads leading from neighboring villages to Lviv. The church is unique because it belongs to the rare two-part churches (created in two parts). Because there were few parishioners, the church is small. Today is only a few such buildings located in Belza, Besida, and Volya-Gamuletska.
To tell better about the old wooden church, we, the team of Lviv Tourism Office, visited Volya-Homuletska and talked to the architect-restorer Mrs. Halyna Kruk and the current priest-abbot.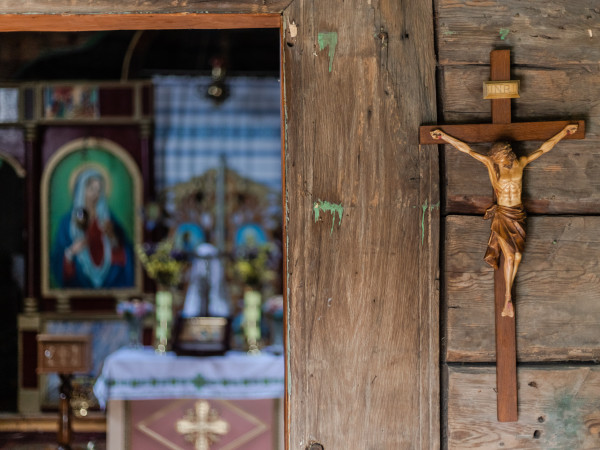 The church consists of a nave and a faceted altar on the east, made of logs. All roofs, domes, and walls were covered with gonta *. Choirs are located at the western wall of the nave. The monument was completed. For example, over time, a small rectangular frame nave was added, which is the third part of the temple. The church was also repeatedly repaired, and the roof was covered with sheet metal.
*Gonta - an integral part of Hutsul folk construction techniques, used as a roofing, natural material. Made by hand from wood.
It is known that there was a wooden bell tower in the yard. Today the wooden fence and the bell tower are lost. In the second half of the twentieth century, many elements were lost, including honta marking. In the interior of the church on the walls, you can see a partially lost iconography. The altar depicts two figures of apostles, evangelists, God the Father (on the dome from the east). The ornamental design of the walls has significant losses.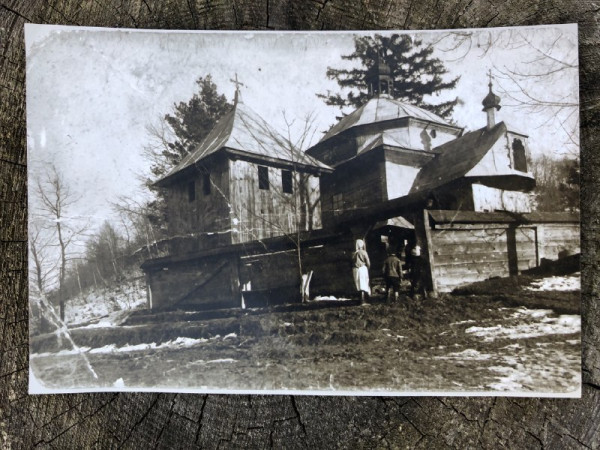 Today, the unique church is expecting restoration and it is in danger of significant destruction. However, we recommend visiting it on Sunday or any other day and discovering another special place near Lviv.
To get to the location by public transport, we recommend using route №22 (from Zernova Street to Pid Osovoy Street)
To enter the church on weekdays / Saturdays - call Mr. Lubomir at +380679667956
• Special thanks to Mrs. Halyna Kruk for the information provided
• The publication was made within the project of research and development of tourist potential of the Lviv area by the Lviv Tourism Office