In order to make the necessary information about our city available and well-structured, the Tourist Information Center team has created a series of thematic booklets, which contain a list of relevant and useful recommendations for guests and residents of Lviv.
Being on top is important both literally and figuratively, isn't it?
There is always something to see and visit in Lviv. Particular attention should be paid to the observation decks, which are very popular among tourists and are favourite places for walks and rest of Lviv residents.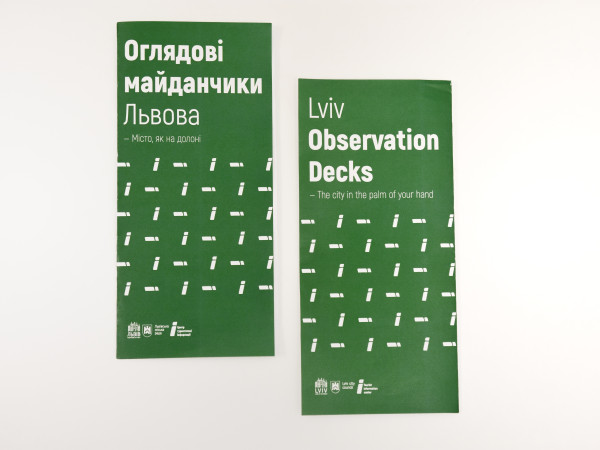 You can enjoy the luxurious sceneries in Lviv not only from places of great historical significance but also from the terraces of popular shopping centres, premium hotels and elegant restaurants! Everything you need to spend your time in Lviv with even greater pleasure! Usually, tourists explore the landscapes of Lviv from the top of the High Castle or enjoy the panorama of the centre from the City Hall Tower, but we recommend you an extended list of observation decks in Lviv, where the city is in the palm of your hand.
What could be better than meeting a new day with a cup of fragrant coffee on the terrace of the Saint Feder Hotel Restaurant or, vice versa, a romantic sunset with a glass of prosecco in the 36 Po Restaurant? For those who love to feel unity with nature, we advise not to miss the opportunity to climb Lysa Hora (Bald Mountain) or Baba Rod Mountain. We are convinced that romantic people will be happy to remember the scenery over the park landscapes from the Ferris Wheel in the Park of Culture or at the Dnister Hotel Restaurant. You can find much more information in our booklet.
Check out useful recommendations under the #TIPSfromTIC hashtag.
Online booklet Observation decks in Lviv you can download here.