Spring in the city!
And no matter how difficult it may be, the change in our mood does not depend on it: we want to discover new locations, to experience new feelings or to restore those that became cold in winter. Now is the perfect time to admire the colors of nature and come up with plans for the summer, because dreaming, as they say, is not forbidden!
A few words about dreams: have you ever thought that you would like to meet someone talented and outstanding from the past?
The LvivTravel team unanimously agreed that they would like to know Ivan Trush personally. We are sure that after reading this article you will have similar wishes!
What kind of person can be called interesting in the XXI century? Probably, the one who is constantly engaged in self-development, looking for aesthetics in everything, knows how to catch the moment, travels a lot, combines several activities at the same time, is in the company of influential and ideological people, and still finds time for family. It is almost impossible to combine all this, but not when this is about Ivan Trush. Now you will see for yourself!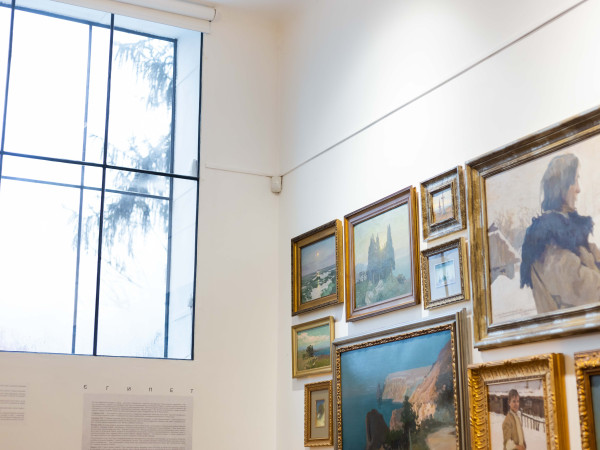 Ivan Trush is not only an outstanding Ukrainian artist, art critic, but also a popularizer of Ukrainian culture, one of the first photographers, an active public figure of the early XX century. The artist distinguished himself by creating unsurpassed landscape paintings and was a master of psychological portraiture. The influence of his artistic heritage on Ukrainian and world art culture is invaluable.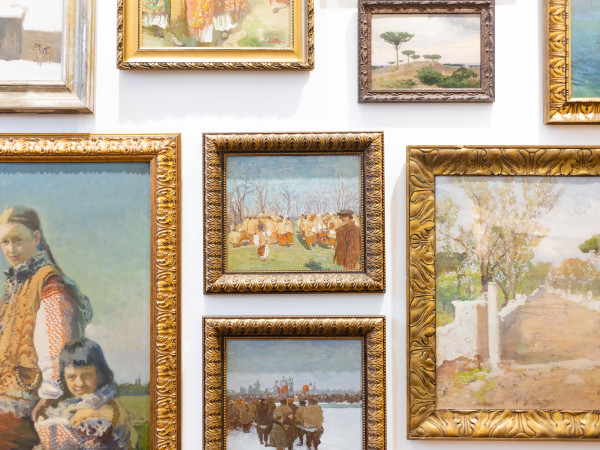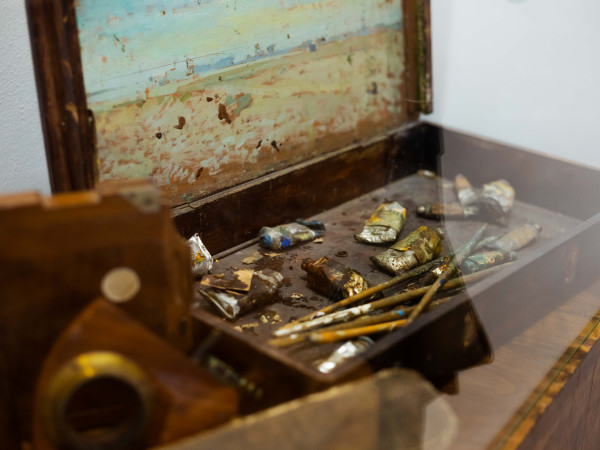 Сhildhood and adolescence
Ivan Trush was born on January 18, 1869 in the Vysotsko village (now Brody district, Lviv region). He was the eldest of six children in a peasant family of Ivan and Anna Trush. When the father noticed his son's desire for knowledge, after graduating from elementary school he took the teenager to Brody Royal Gymnasium of archprince Rudolf. As in every classical gymnasium, much attention was paid to the study of foreign languages, classical literature, and drawing.
In his memoirs "The Artist's Creative Path" he wrote about his years of study in Brody, his love for world literature and its influence on both his personality and creative pursuits.
When financial support from his parents could not be expected, the young artist was forced to earn a living: giving private lessons and making small portraits to order. Since then, he decided to dedicate himself to painting with absolute confidence in his choice.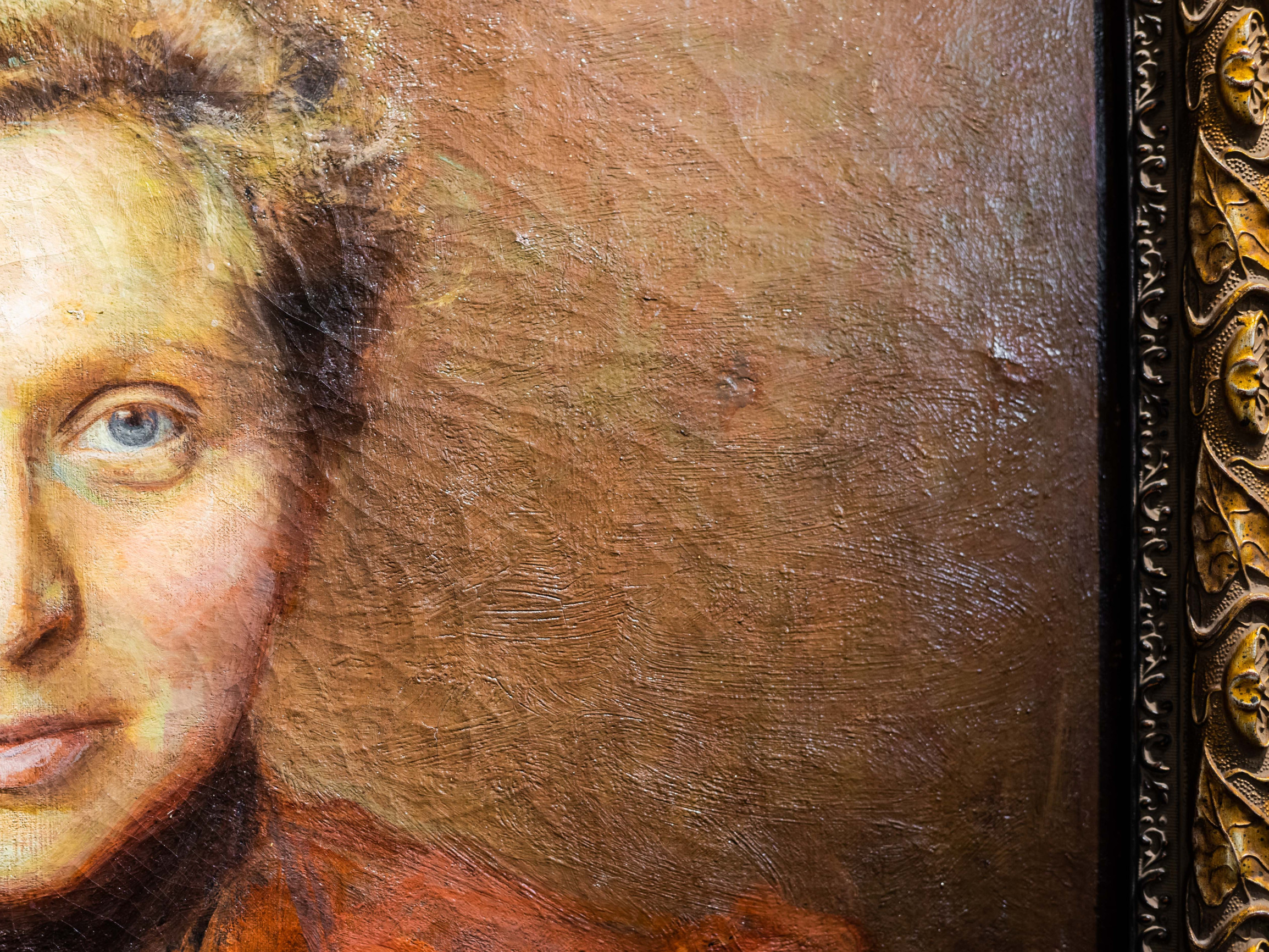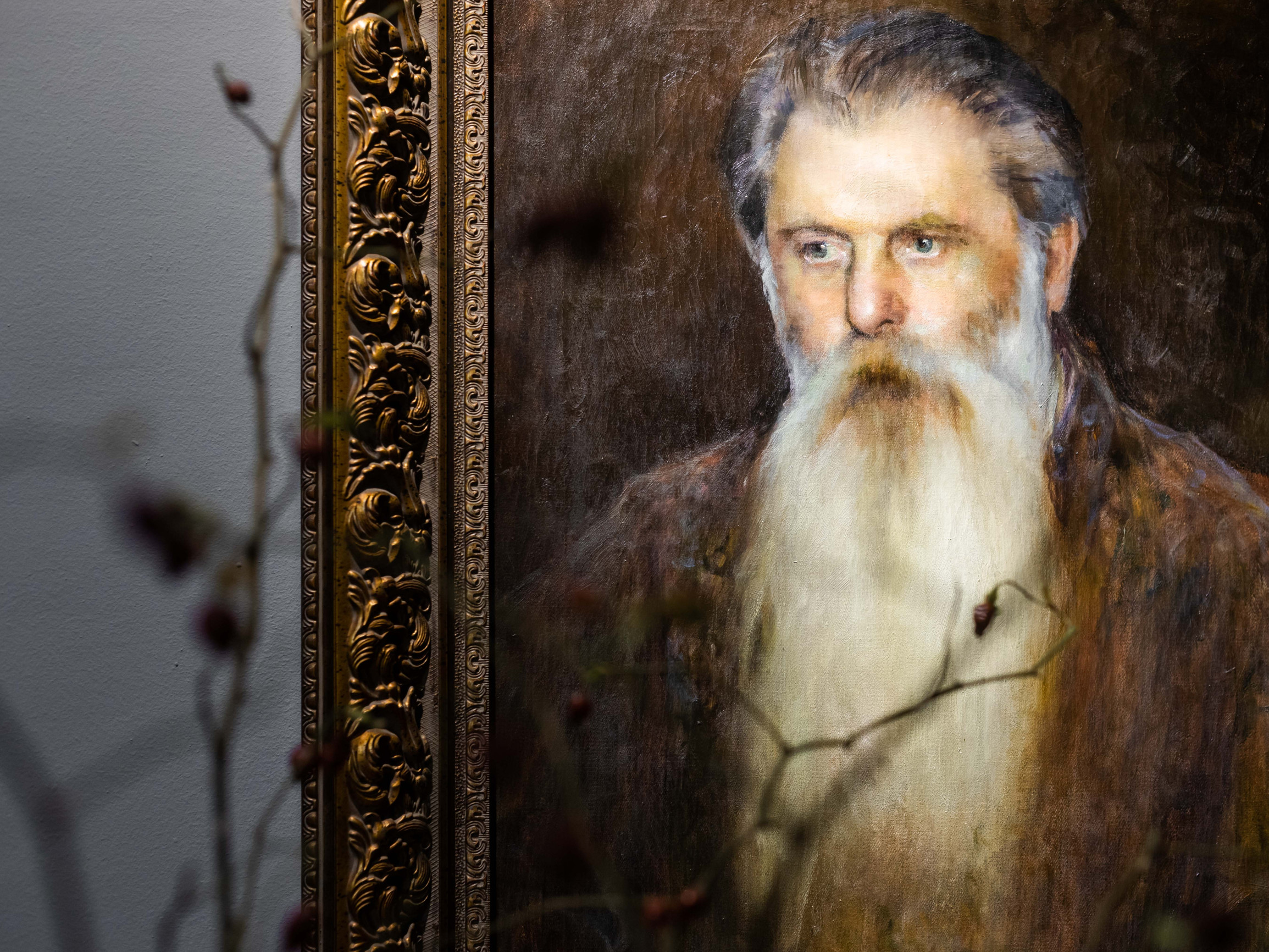 Education
After graduating from high school in 1888, the young artist decided to continue his studies in Krakow, which at that time was considered one of the centers of artistic culture in Eastern Europe. Here in 1891-1897 Ivan Trush studied at the School of Fine Arts.
For some time Ivan Trush studied in Vienna and Munich, but soon returned to Krakow and in 1897, with honors for his best artwork, graduated from the Krakow Academy of Arts.
The artist could easily impress any environment: he had a thorough education, knew the classical languages, was fluent in German, could read quality European literature and philosophical treatises in the original.
His friend Vasyl Stefanyk gave Ivan Trush the following assessment: "He is an acute polemicist, a deep and general knowledges, one of the most talented people I know, with a great professional and general education".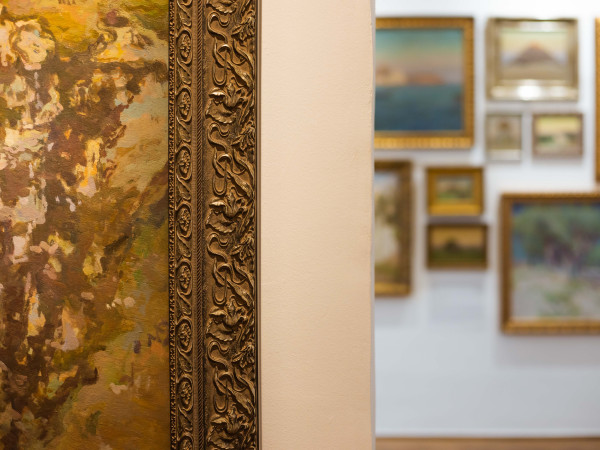 The first personal exhibition of Ivan Trush took place in 1899 in Lviv. The successful exhibition created the artist's reputation as the best Galician painter. The public's enthusiasm for the exhibition contributed to the fact that the authorities of the Shevchenko Scientific Society without hesitation accepted Ivan Franko's proposal to instruct Ivan Trush to paint portraits of prominent Ukrainian figures in Kyiv: Volodymyr Antonovych, Mykola Lysenko, Ivan Nechui-Levytskyi, Pavlo Zhytetskyi and others.
As a master of psychological portraits, which Ivan Trush painted 350 during his lifetime, the artist was able to read the emotions of the person who posed for him with extraordinary skill.
In March 1900 he met Lesia Ukrainka and her cousin Ariadna (Rada) Drahomanova. He began work on a portrait of the poet. The "artist-model" relationship grew into a friendship. However, at the invitation of Lesia Ukrainka and her mother Olena Pchilka summer 1900, Ivan Trush spent two weeks in the Drahomanov-Kosach family manor "Zelenyi Hai".
In January 1904 Ivan Trush and Ariadna Drahomanova got married. Shevchenko Scientific Society provided the newlyweds with several rooms in their office building in the center of Lviv for housing and a workshop. Later, four children appeared in the marriage, and in order to financially support the family, the artist had to work almost every day.
The passion for creative knowledge of the world were cross-cutting themes that went beyond the entire life of the artist.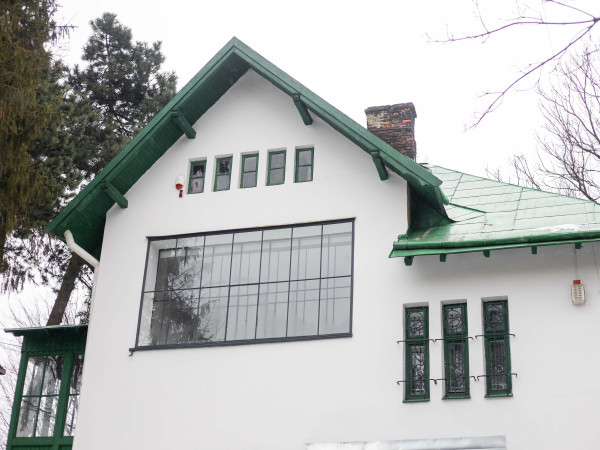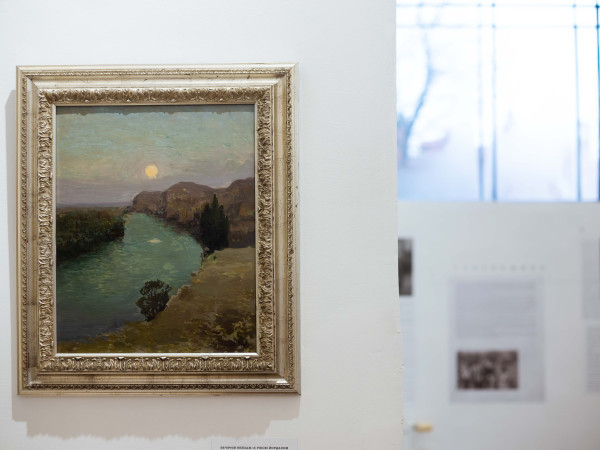 Travels of Ivan Trush
The artist's desire to discover new colors, to study the play of light and to be able to transfer it to canvases was carried out by Dnieper Ukraine (Kyiv, Kaniv, Gadyach (1900-1918)), Hutsul region (1890-1900s), Croatia (Lovran and Opatija (1901), Crimea (Alupka, Alushta, Balaklava, Evpatoria, Yalta, Gurzuf, Simeiz (1901, 1903, 1904)), Italy (Rome, 1902; Venice, 1908), and Egypt and Palestine (1912) .
Travel infinitely inspired Ivan Trush, he was curious and especially interested in new cultures and their mentality, impressed by the wonders of nature. Impressions from the trips appeared in a series of new paintings. The artist then worked extremely productively, it seemed that it was all in order to have time to portray what he saw with photographic clarity, and indeed, anyone who personally has the opportunity to enjoy contemplation of these paintings can "live" the bright moments inspired by Ivan Trush over a hundred years ago!
Ivan Trush repeatedly tried his strength in mastery of the word, through publication in the "Artistic vistnyk", the first in Ukraine journal of cultural and artistic direction, he founded together with S. Liudkevych and published in Lviv in 1905, the artist was trying to encourage citizens to be interested in culture and art.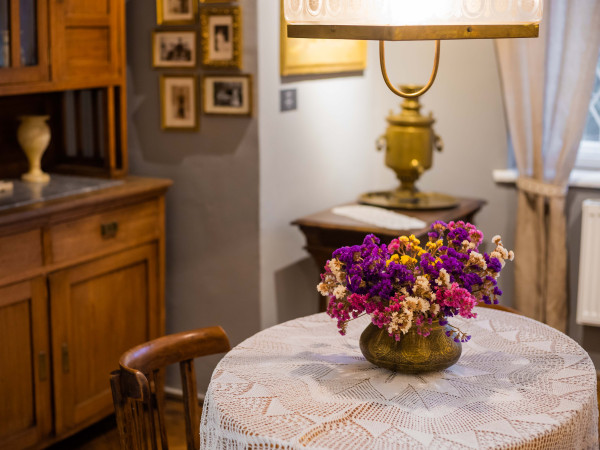 Villa
So, on July 5, 1910, Ariadna and Ivan Trush purchased land for construction the manor, which attracted with its pristine nature and variety of greenery. At the request of customers, the famous architect A. Lushpynskyi created a project of a house in the style of the late Art Nouveau, which continues to impress everyone with its facades even now.
Flowers, especially nasturtiums, fascinated Ivan Trush the most. After the appearance of his own house, he carefully arranged his own large garden, which, incidentally, you can enjoy now by visiting the museum. It is said that the painter affectionately called flowers "models" and never painted still lifes, trying to reproduce flowers only alive.
I. Franko, M. Hrushevskyi, V. Stefanyk, I. Svientsitskyi and many others were frequent guests in the house of the Trush family.
At the age of 71, I. Trush in his autobiographical article indicates the number of works he created. In the manuscript of this article, which is kept in the National Museum in Lviv, the artist writes: "I painted several solid paintings. They are sold in Lviv. I have been producing sketches of my brush for 42 years, after graduating from the Academy, about 6,000. It is natural that there are no 300 forgeries signed in my name. In addition, I have about 400 sketches from nature, drawn in the last 20 years".
Several times the artist tested his skills in the art of sculpture: the first work was dedicated to the perpetuation of the figure of Taras Shevchenko in Kyiv, and later Ivan Trush took part in a competition to design a tombstone for a friend – Ivan Franko, creating a model stele topped by a muse.
The artist will address more than once in his artworks to the figure of Ivan Franko, for example, in 1940 he painted the last – the tenth portrait of Kameniar and when he left memories of his friend in the autobiographical essay "The Artist's Creative Path".
Later, with nostalgia for the time spent in the Crimea, the artist will take up the painting "Crimean landscape with rocks", which, unfortunately, remained unfinished…
Museum
Today, the Ivan Trush Art Memorial Museum is located in the villa where the artist lived and worked, it is a center for preserving and promoting the artist's work.
Its exposition represents the main pages of the life and work of the painter, introducing him as a prominent Ukrainian impressionist, landscape master, portraitist, author of genre compositions.
Here are portraits of prominent Ukrainian figures, paintings with views of Lviv and Kyiv, landscapes of the Crimea and the Carpathians, Italian and Egyptian landscapes, as well as family photos and memorials.
The museum is full of artistic life, literary and artistic evenings, plein airs, competitions for children and youth, conceptual exhibitions. Every year it is visited by thousands of Lviv residents and guests.
Last year, the Ivan Trush Art Memorial Museum hosted a presentation of the film "Ivan and Ariadna" as part of the new season of the "Game of Fate" project. The project was implemented by VIATEl Studio with the support of the Ukrainian Cultural Foundation.
Talented in all his endeavors, with a thirst for new knowledge and discoveries, a gentle romantic and at the same time such a strong-willed person, a caring family man, a reliable friend and patriot – that's how we saw Ivan Trush! It's interesting what impressions his life and creative path will make on you...
Free entrance with Lviv City Card.
Ivan Trush Art Memorial Museum
28 Ivan Trush St.
10 a.m. - 6 p.m., Fri and Sat – closed
The ticket office is open until 5.30 p.m.
Follow us on Facebook, Instagram, Telegram.
Do you want to know more about Lviv artists? Then we are pleased to introduce you to Oleksa Novakivskyi and his artworks!