Rynok Square have been a social and economic center of Lviv for centuries.
It has gained its present architectural appearance after 1527, when a great fire destroyed the entire downtown. Over the next decades around the City Hall were built forty-four private houses in the prevailing Renaissance, Baroque and Classicist styles.
On the ground floor of the buildings usually were located workshops and small stores. And the first owners of these houses were Italians, Greeks, Ukrainians, Poles and Germans. Today the Square is a popular place for public assemblies and important celebrations.
Author Ihor Lylo
Translated by A. Kushch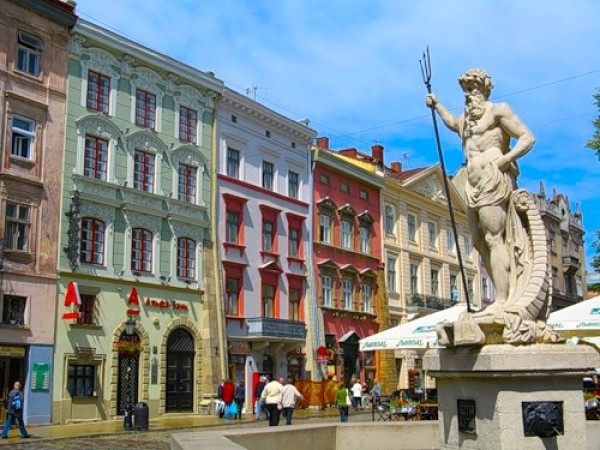 Fountains
According to historian Yuri Biriuliov, among the "best work of Hartman Witwer (1774-1825) are ... the four stone statues made out of limestone and located at the wells on Market Square – they embodied the allegory of earth (the sculptures of Diana and Adonis) and water (the sculptures of Neptune and Amphitrite). The Market Square figures were created some time between 1810 and 1814, and are mentioned in original sources first in 1815, when the city council passed a resolution forbidding damage to the sculptures during the celebration of the traditional Ukrainian "Jordan" holiday ([the celebration of the Baptism of Jesus, and] the sanctification of water)." On the western side of the square are fountains with the figures of Neptune (the southwestern corner) and Amphitrite (the northwestern corner). On the eastern side are fountains with the figures of Adonis (northeast) and Diana (southeast side).