Convenient. Close. Reliable.
How to make your trip more convenient and where to find storage rooms in the center of Lviv? Places for reliable luggage storage are conveniently located near major stops and routes, and the price will pleasantly surprise you.
Reliable storage rooms in Lviv, city center, and near the train station.
Storage Room #1 is located near the Opera House, at 35 Svobody pr. (entrance in the courtyard near McDonald's). Contact numbers:
+38 (098) 657 55 51
+38 (063) 288 11 15
Storage Room #2 is situated just a few meters from Market Square on Shevska Street, 12 (Vernissage Lviv Mall). Contact numbers:
+38 (098) 555 94 80
+38 (063) 652 10 65.
Storage Room #3 is located near the monument of King Danylo Halytskyi, at 21 Halytska Square (first floor). Contact number:
Storage Room#4 Tetris Box is situated at 8 Tobilevycha Street, a 15-minute walk from Dvirtseva Square (Main Railway Station). Contact number:
The storage lockers operate every day, including weekends, from 07:00 to 21:00. The working hours are convenient for city visitors who arrive in Lviv in the morning and depart late in the evening. Therefore, you don't need to worry about a place to store your luggage, backpack, or any other items, and you won't have to pay extra at hotels or apartments for late check-out or early check-in.
Why is leaving your luggage in the storage locker convenient?
Central Location: The storage facilities are located in the city center, making them easily accessible, even if you have heavy luggage, as there are no high stairs, curbs, or numerous road crossings on the way.
Morning Arrivals: If you arrive in Lviv in the morning and your hotel or apartment check-in is later in the day, it's convenient to leave your luggage and explore the city.
Early Departures: In case of early check-out and having free time before leaving the city, you can use it for comfortable walks around Lviv's center. You can visit establishments, museums, attractions, or go shopping with your hands free from suitcases or backpacks.
Constant Access: A convenient feature of the service is the ability to have continuous access to your stored items. Customers of the storage locker can easily retrieve or leave items in their luggage or backpacks during the storage period.
How to get there?
To conveniently reach our storage lockers using public transportation, we recommend the following route:
The best way to travel from the train station to the central part of the city is by taking tram route #1, which stops just a few meters from the main entrance. You need to ride to the "Rynok sq. 11" stop. Then, take tram #6 to the "Staryi Rynok" stop, or tram #9 or bus #29 to the "Pidvalna str." stop.
How to leave your luggage? Why are the storage lockers reliable?
After registering your luggage in the storage locker, you will receive a special token number provided by our staff.
Luggage storage is reliable because our employees are responsible for ensuring the safety of your belongings. Additionally, the premises are equipped with video surveillance and recording, guaranteeing that no one has tampered with your items.
The storage lockers have ample space, so you don't need to worry about your suitcase or backpack not fitting comfortably.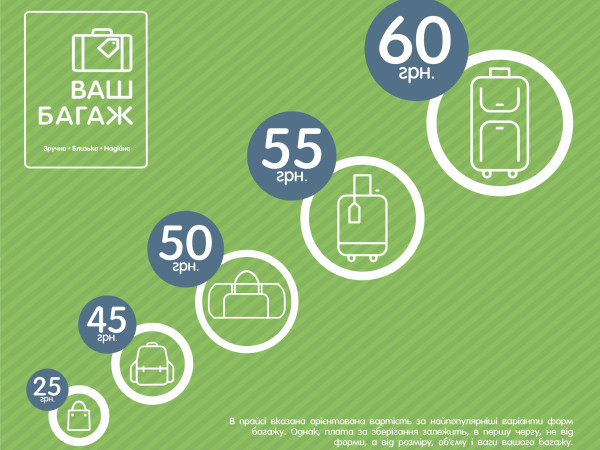 Price:
The cost for one piece of luggage ranges from 30 UAH to 80 UAH
Payment is made when you deposit your luggage at the storage locker
The storage fee depends on the size and weight of the luggage
Payment is not on an hourly basis but for a time period of up to 24 hours
After the expiration of the 24-hour period, an additional fee is required for each subsequent day of storage. A receipt for the payment of services will be provided by the staff upon request
If you wish to extend the storage of your luggage in the storage locker and not retrieve it, you can inform the attendant and pay for the extended period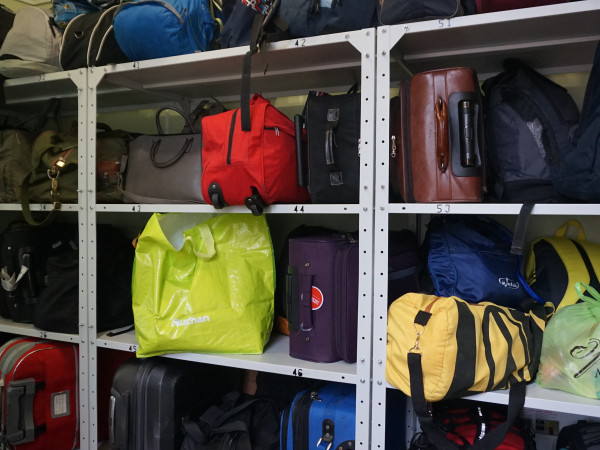 Storage Rules
Rules to be aware of when leaving luggage in the storage locker:
We can accept fairly heavy luggage for storage, but please note that the weight should not exceed 80 kg.
It's important to highlight that any item attached or tied to the luggage is considered a separate unit and will require additional payment according to the established prices.
You do not need to leave copies of documents or carry original identification documents with you. However, for registration purposes, our staff will ask for your contact information (Last name, first name, patronymic, and phone number).
Regarding restrictions:
Animals, narcotics, explosives, flammable substances (alcohol, gasoline, acetone), pyrotechnics, infectious materials, radioactive items, corrosive or poisonous substances, as well as items with unpleasant odours or the potential to damage or soil other items, cannot be deposited.
The storage locker staff may refuse to store items in case of rule violations.
If a client does not retrieve their items within 30 days, it is considered a personal and voluntary relinquishment of ownership rights to those items. That's why we recommend being attentive and not forgetting about the items left in the storage locker.
The storage facility also serves as a great assistant for accomplishing any tasks in the center of Lviv. You no longer need to carry heavy and cumbersome items with you, as you have the option to leave anything in the storage locker!
This is an excellent solution and an answer to questions like: Where to leave a camera, drone, or video equipment for storage in the city center? Where to store items purchased during shopping and continue your city stroll?
We wish you a comfortable, safe and easy journey to Lviv! Remember that your luggage can be securely stored in the storage lockers in the city center.