"-What's for the breakfast?
- Lvivs'ki plyatsky, sir."
"Lvivs'ki plyatsky" bakery embodies the receipts of Galician "syrnyk" (curd fritter; a dessert made with sour milk cheese, eggs, sugar, flour or semolina) and strudel (a dish, usually a sweet one, made with different fillings wrapped in dough). Dwellers and visitors of Lviv begin their day with the dishes made by "Lvivs'ki plyatsky" as well as inhabitants of Kyiv, Zaporizhzhya, Chernivtsi, and Zhytomyr where the bakery has been also established.
The day ends up with strudels and syrnyks likewise due to convenient hours of work Mn – Fr from 9 a.m. till 9 p.m., and till 10 p.m. on the weekends.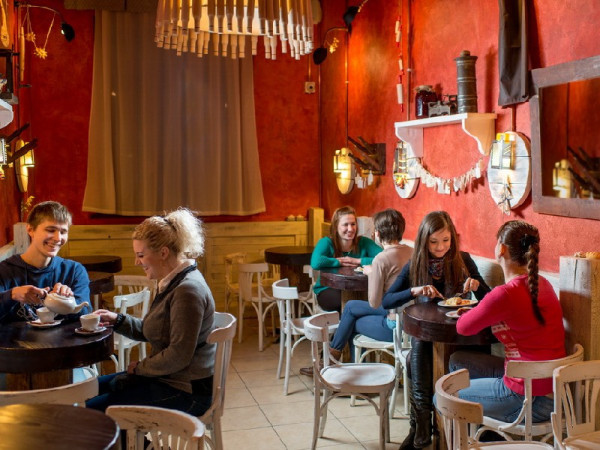 At "Lvivs'ki plyatsky" bakery you can pay in cash or use a credit card. Also, the card "Local" is valid here.

If you are not a fan of delivery, which "Lvivs'ki plyatsky" can offer to you with the help of such services as !FEST delivery or Raketa app, then be ready to plunge into the fragrant and warm atmosphere as soon as you cross the doorstep at 13, Rynok Square.
Take a friend, relatives or your beloved one to share tasty moments at cozy tables for 2-4 persons.

What's on the menu?
Bakers offer to feast diverse syrnyks, for example with peanuts and salted caramel or with raisins and chocolate. Don't miss an opportunity to taste sweet or salty strudels. And a variety of polyvka (souce) will make a good accompaniment to ordered dishes. By the way, you as a guest is empowered to decide when you have enough polyvka on your plate.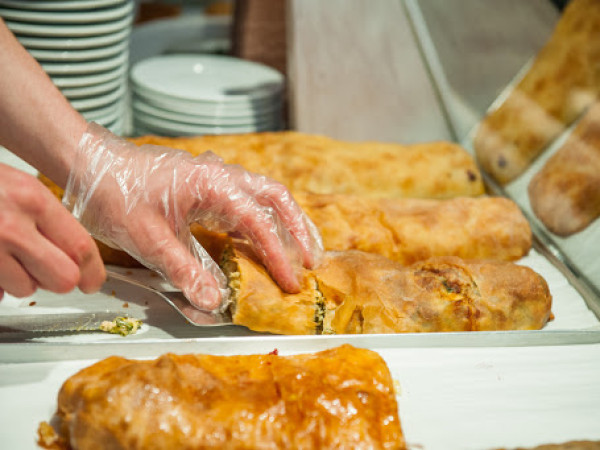 Tea, coffee, cocoa, or maybe mulled wine?

The place offers many drinks: hot ginger tea or cool mojito, for example. So, be sure that you will find your perfect one. Just inhale the smell of the bakery and it will push you to the definite "coffee fan" path or the other one.
Going far away to visit your closest ones? Take a piece of "Lvivs'ki plyatsky" with yourself!

I know from the own experience that it's possible to bring a piece of Lviv even having traveled 1,000 km – a one-day train trip doesn't spoil the quality of bakery products!
Waiters of the bakery will help you to choose the dishes and pack them tightly.
Voilà! And your close people get to know Galicia remotely.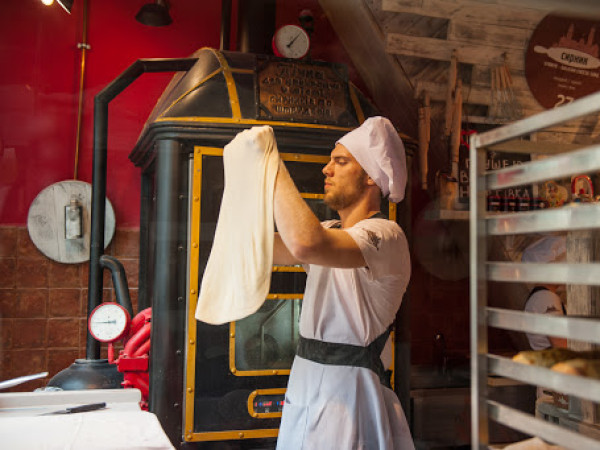 Want to cook the strudel by myself! But how?

You can do it easily! Offer a certificate for the master class, then come and learn how to cook the true apple strudel according to a traditional recipe.
Previously, check details with the help of bakery managers by phone (noted in the header of the publication).
The certificate is also a great gift for any occasion!
During the quarantine, the master class may be held no more than for 2 people at a time.

Since you have eaten… Take a stroll!

Opposite the bakery, you will see a well-known architectural monument – Lviv City Council, which is surrounded by fountains with sculptures of the mythical Amphitrite, Neptune, Adonis, and Diana. Townhouses of Bandinelli, Ubaldini, Korniakt Palace, and other outstanding locations rise nearby on the Rynok Square.
And just like that, you will get cultural enrichment as a bonus to your simple plan to taste "Lvivs'ki plyatsky"…
Author Lyudmyla Tsyhanenko
* The main photo is taken from https://revizion.info/pliacky and https://www.the-village.com.ua/