Google Calendar is a powerful online tool for organizing your time, teamwork, and communication. With its help it is possible to plan the schedule of the day, week or month in advance, visualize it and share it with anyone.
We decided to use this tool to inform you about all the interesting events in the city and for convenience we will tell you:
How to connect Google Calendar to your PC and smartphone
How to add an Events Calendar from Tourist Information Center
How to synchronize it with your own calendars
And also try to answer the most common questions.
How to connect Google Calendar to your PC
To use the service, you must first be logged in to a Google account.
To go to Google Calendar, you will need to find the calendar icon on Google services on the Google homepage on the right, or go to the Google Calendar link.
A standard Calendar will open in front of you, where public holidays will be available by default, as well as previously created remind
You will be able to add your own calendar at the top left. Below are all your calendars. It is also possible to disable unnecessary or unimportant, as well as change the color.
At the top you can change the viewing format - day, week, etc.
By clicking on a specific date or time you will have the opportunity to create your own event, as well as edit it.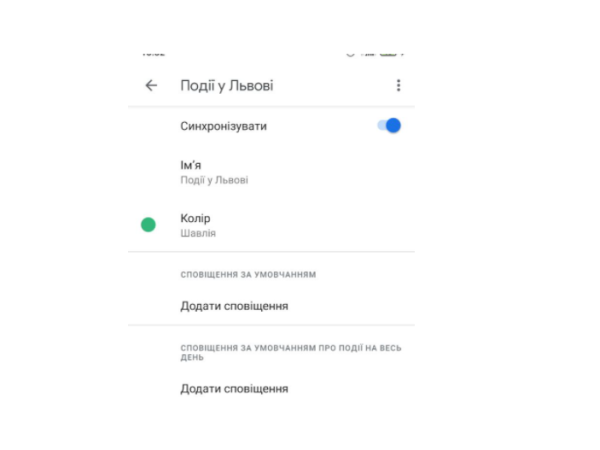 How to connect Google Calendar on a smartphone with Mac OC.
The easiest way to sync events is to download the official Google Calendar app. You can sync events with Apple Calendar using an existing app on your iPhone or iPad.
Option 1. Download the Google Calendar app
Download the Google Calendar app from the App Store to your iPhone or iPad.
Log in to your Google Account. As soon as you log in, all events will be synchronized with your computer.
Option 2. View events from Google Calendar in Apple Calendar
Open iPhone or iPad settings.
Scroll down and choose Passwords and accounts.
Сhoose Add entry and then Google.
Enter your email address and then click "Next".
Enter your password. If your device does not have the latest version of the operating system installed, and you are using 2-step verification, enter the application password instead of the regular account password.
Click Next.
Email, contacts, and calendar events will then be synced to your Google Account. To synchronize only calendar data, turn off the corresponding feature for other services.
Open the Calendar app on your iPhone to view Google Calendar events.
To synchronize with an existing account, turn on Calendars.
How to connect Google Calendar on a smartphone with Android.
It is possible to open and use the calendar in a standard browser, but frankly - this is not the best experience and at times it does not work properly. Therefore, the best option is:
Download the Google Calendar app from the Google Play Store on your Android phone or tablet.
When you open the application, all events will be synchronized with your computer.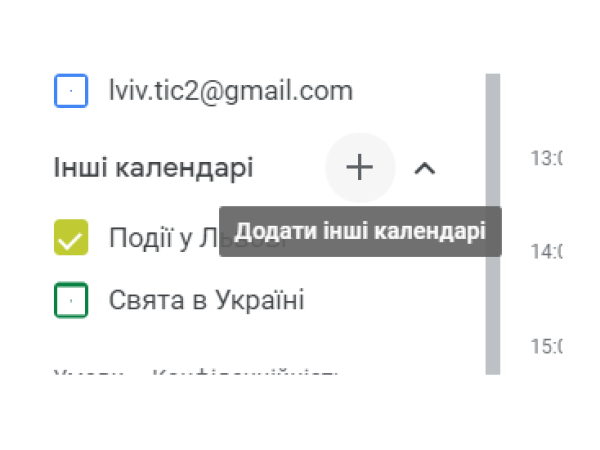 How to add a Calendar of Events from the Tourist Information Center
It's realy easy to do:
Choose Add Calendar.
Calendar will appear in your list.
Otherwise:
Open Google Calendar on your computer.
On the left, next to the "Other calendars" section, click the icon "Add by URL"
Enter the calendar address in the new field.
Choose Add Calendar.
There may be difficulties when using the Android application Google Calendar. Here you will also need to perform a number of operations.
You will first need to add a calendar in the computer version
Open the Google Calendar app
Click "Settings" at the bottom left
Click on the calendar "Events in Lviv" and "Synchronize"
Application may need time to synchronize and update calendars.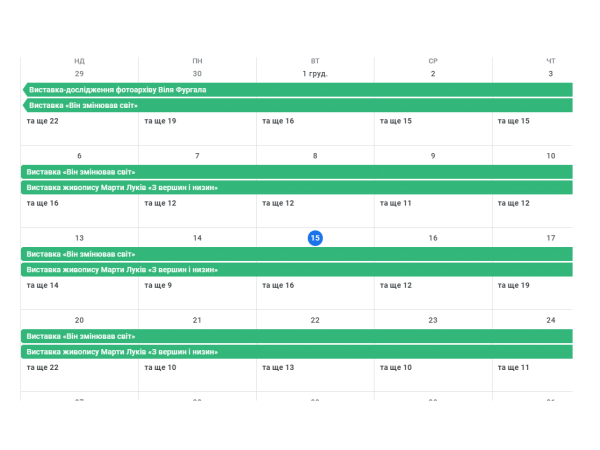 How to use Calendar of events.
To the average user, the calendar may seem too cluttered at first. However, in reality it is realy easy to use.
If you open the "Month" tab, you will see the longest events in the first place. That is, exhibitions, festivals, fairs. Also under each day writes the number of events available on that day.
The current day will always be highlighted in a different color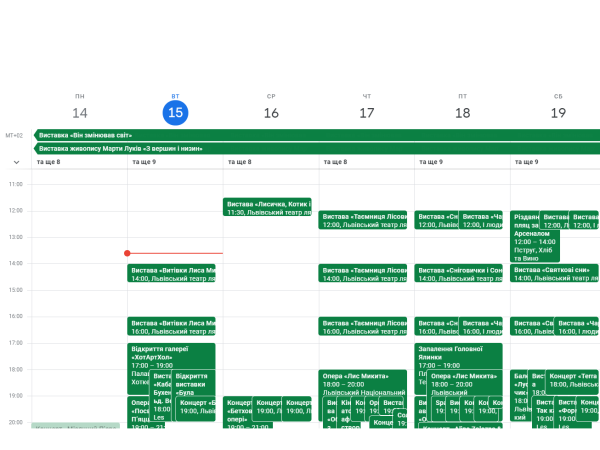 It is most convenient to use the calendar by setting the display mark as "Week". In this case, a timeline will appear on the left side and it will be convenient for you to pick up an interesting location for yourself according to time preferences.
However, the most interesting thing is that detailed information, as well as links to the event on social networks or websites, you can get just by clicking on it.